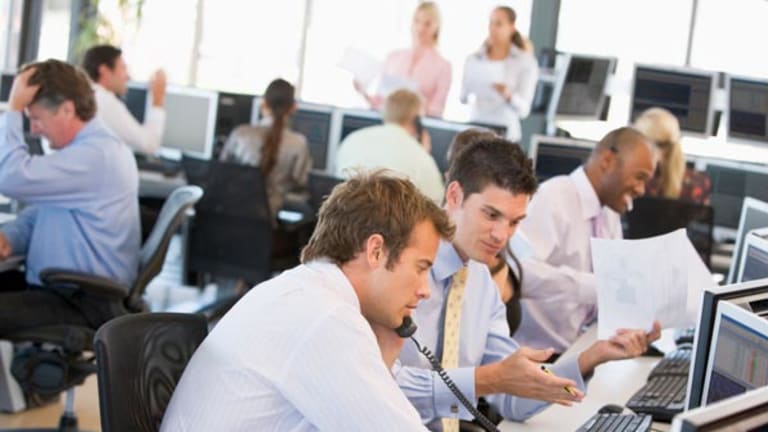 Slight Advance for Wall Street
The market is volatile as the second quarter begins.
Updated from 4:19 p.m. EDT
The volatility that marked Wall Street's first quarter all the way through its end last week was on display again Monday, but stocks did manage to close a bit to the upside.
The
Dow Jones Industrial Average
rose 27.95 points, or 0.23%, to 12,382.30. The
S&P 500
added 3.69 points, or 0.26%, at 1424.55, and the
Nasdaq Composite
ticked up 0.62 point, or 0.03%, to 2422.26.
About 2.86 billion shares changed hands on the
New York Stock Exchange
, with advancers beating decliners by a 5-to-3 margin. Volume on the Nasdaq reached 1.77 billion shares, with winners nearly matching decliners.
Bulls started what will be a busy week for economic data with a small victory. First on the docket was the Institute for Supply Management's report on the nation's factory sector, which fell to a reading of 50.9 in March from 52.3 in February. On average, economists were looking for the index to have fallen to 51 last month.
Peter Cardillo, chief market economist with Avalon Partners, said that any contraction is a negative for equities, before adding that traders should prepare themselves for more forthcoming information.
"The important numbers this week are still to come," he said. "That means we should remain in a trading range today."
Later this week, the Labor Department's monthly nonfarm payrolls report is due, as well as the latest reading on the ISM's services index.
"The coming week will be all about the economy," said Paul Nolte, director of investments with Hinsdale Associates. "Oil and the global news will impact this week in between these reports, but we should have a good sense of economic strength by next weekend."
To view Brittany Umar's video take on today's market, click here.
Treasury prices were little changed. The 10-year note was flat in price, yielding 4.64%, and the 30-year bond added 3/32 to yield 4.84%. The dollar was edging lower against the world's major currencies.
Earlier, St. Louis
Federal Reserve
Bank President William Poole said that the policymaking Federal Open Market Committee should communicate its goals "in a transparent and credible fashion," and that "the bond market and other forward-looking financial markets will amplify the committee's near-term decisions and thereby do a good deal of its work for it."
Meanwhile, corporate headlines included plenty of M&A news. The biggest will see Kohlberg Kravis Roberts has set plans to acquire payment processor
First Data
(FDC) - Get First Data Corporation Class A Report
in a $29 billion deal. The $34-a-share transaction is a 26% premium to First Data's last close and is the latest in a string of giant purchases that have seen arrangements signed for the likes of
TXU
( TXU) and HCA.
First Data was up $5.55, or 20.6%, to $32.45.
Also on the merger front, copier maker
Xerox
(XRX) - Get Xerox Holdings Corporation Report
struck an agreement to take over
Global Imaging Systems
( GISX) for around $1.5 billion. Global Imaging soared 46.9% to $28.64.
Elsewhere,
Tribune
( TRB) ended with a 2.2% gain after word that the company's board has accepted Sam Zell's buyout offer. Tribune had been considering competing offers from Zell and from Los Angeles billionaires Eli Broad and Ron Burkle. Tribune added 70 cents to $32.81.
Starwood Hotels
(HOT)
was also making news. Chief Executive Steven Heyer announced his resignation after the company's board said it has lost confidence in his leadership. Starwood climbed $2.97, or 4.6%, to $67.82 following the news.
Apple
(AAPL) - Get Apple Inc. Report
announced plans to offer EMI Group's catalog digitally without any digital-rights management. EMI said the digital downloads will be available at a higher sound quality than current offerings. Apple finished up 74 cents, or 0.8% to $93.65.
Among analyst actions, Prudential upgraded
U.S. Steel
(X) - Get United States Steel Corporation Report
to neutral from underweight, raising the stock price target to $95 a share from $65 a share. Also, Goldman Sachs upped
Merrill Lynch
( MER) to buy from neutral. U.S. Steel rose 1.7% at $100.85, and Merrill gained 1.4% at $82.78.
Citigroup lowered its rating for
FedEx
(FDX) - Get FedEx Corporation Report
to hold from buy, and Stifel Nicolaus downgraded
Deere
(DE) - Get Deere & Company Report
to hold from buy. FedEx eased 1.3% to close at $106.07, and Deere fell 3.8% to $104.48.
Commodities turned higher and finished in positive territory. Oil futures tacked on 7 cents to $65.94 a barrel, and gold gained $2.50 to $671.50 an ounce.
Overseas, stocks were mixed. Tokyo's Nikkei 225 fell 1.5% to 17,028, and Hong Kong's Hang Seng was fractionally higher at 19,810. London's FTSE 100 edged 0.1% higher at 6315, and Frankfurt's Xetra DAX was up 0.3% at 6937.