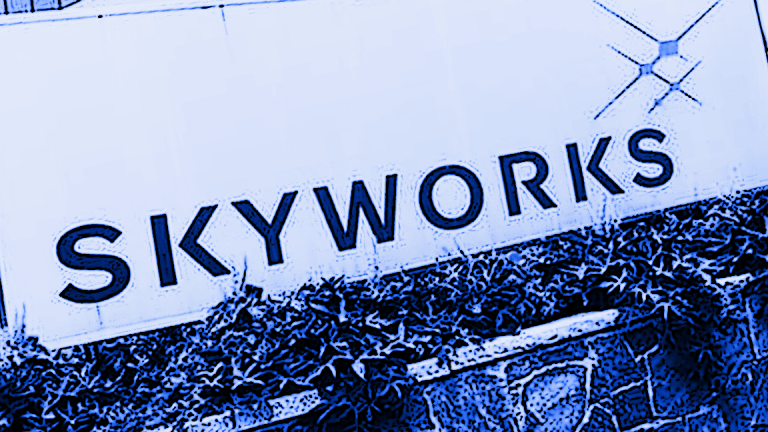 Skyworks Tunes Into New Industries; Pepsi Leadership in Flux -- ICYMI
Here's what you need to know now for Monday, Aug. 6.
Merger Monday was upon us deal enthusiasts today though some of the most interesting news of the day was buried by a late appeal by the DOJ in the merger of AT&T (T) - Get Report and Time Warner (TWX) . Skyworks Solutions (SWKS) - Get Report looked beyond smartphones with a $405 million purchase of Avnera Corp announced Monday. The Beaverton, Ore., target develops analog circuits for consumer audio companies such as Samsung's Harman and JBL; Panasonic; Koninklijke Philips; Sony (SNE) - Get Report and others. Avnera's backers -- which include Onkyo Corp., Best Buy (BBY) - Get Report, Panasonic, Polycom, Intel's (INTC) - Get Report venture arm, Altien Ventures, Bessemer Venture Partners, DAG Ventures and Redpoint Ventures -- could pick up another $20 million if the target exceeds forecasts in the 12 months following the deal. Though shares of Skyworks fell on the deal, the Woburn, Mass., chipmaker said in a Monday press release would plug Avnera's products into its global sales force to expand its presence in cars, home automation, industrial and other markets.
Indra Nooyi, PepsiCo's (PEP) - Get Report first woman chief executive, is leaving her role at the food snack and beverage giant in October, after 12 years as CEO and 24 years with the company. She will be replaced by Pepsi president, Ramon Laguarta, who had worked at Spanish candy maker Chupa Chups before joining Pepsi. While it's likely that it will be business as usual at Pepsi, there is always a chance that someone looks to shake things up. The Deal's Ron Orol walks us through some of those possibilities, especially since the company has been targeted by activists in the past. Sales of the conglomerate's mainstay Pepsi sodas have been declining at the same time that the company has lagged the S&P 500 since September 2017, according to FactSet, points out Orol, and a massive change-over in the C-Suite combined with the company's struggling stock price could give an activist, perhaps Peltz, an opening to break up the business again. The ensuing possibilities for Pepsi's broad portfolio are expansive and if the company did decide to break up it wouldn't be a quick turnaround. Something a little less like the dismantling of General Electric (GE) - Get Report would likely be appreciated, I'm sure.
Markets Today: Stocks closed higher on Monday, Aug. 6, even amid rising fears of an escalation in the trade war between Washington and Beijing. The Dow Jones Industrial Average rose 40 points, or 0.16%, to 25,503, the S&P 500 rose 0.36% and the Nasdaq was up 0.61%.
This is an excerpt from "In Case You Missed It," a daily newsletter brought to you by TheStreet. Sign up here.