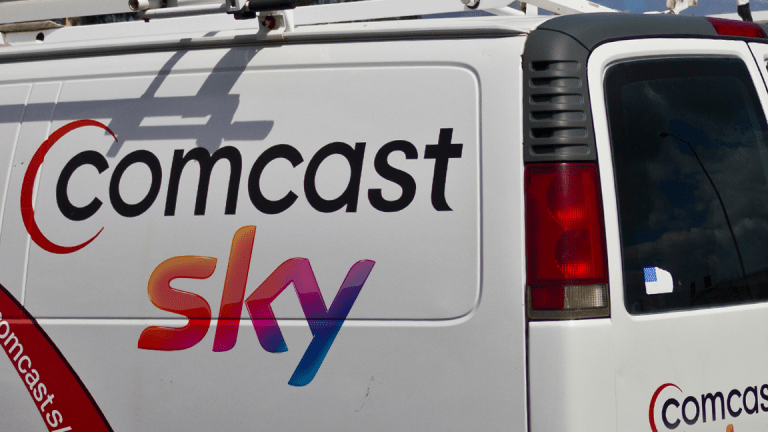 Sky Surges After Improved Comcast Approach as Bidding War With Fox Intensifies
Sky shares surged in early London trading Thursday after the U.S. media giant Comcast trumped Rupert Murdoch's 21st Century Fox with a $34 billion for the U.K. broadcaster.
Sky plc (SKYAY) shares extended gains Thursday following an improved takeover bid from Comcast Corp (CMCSA) that looks to ignite a bidding war for Europe's biggest pay-TV group and U.K. approval for a rival bid from 21st Century Fox (FOXA) .
Comcast said last Wednesday that it will pay £14.75 per share for Sky, which is 39% owned by Fox, in a bid that tops its prior £12.50 approach and trumps the improved £14 per share bid the Rupert Murdoch-controlled group which was announced only yesterday. The stock was also boosted past the highest level in 18 years after the new U.K. Culture Secretary, Jeremy Wright, approved Fox's takeover approach, adding "it is now a matter for the Sky shareholders to decide whether to accept 21st Century Fox's bid."
Comcast's bid values Sky at $34 billion, just ahead of the $32.5 billion bid from Fox, while both companies claim to have the inside track in regulatory approval from authorities in the U.K. and the European Union.
Sky shares rose 2.9% in early London trading to change hands at £15.38 each, a move that extends their one-month advance to just over 15%.
"Comcast has long admired Sky and believes it is an outstanding company and a great fit with Comcast," the company said in a statement, noting its improved bid "further underscores Comcast's belief and its commitment to owning Sky."
"Comcast has committed financing available to satisfy the full cash consideration payable to Sky shareholders under the terms of the acquisition," the statement added. "Comcast has already received relevant regulatory approvals in the EU, Austria, Germany, Italy, and Jersey. Comcast expects to complete the acquisition before the end of October 2018."
Sky sits at the heart of the takeover battle between Comcast and Walt Disney Corp (DIS) in the race for Rupert Murdoch's U.S. media assets, which he has provisionally agreed to sell to the iconic group for $71.3 billion.
Last month, Disney said it would pay Fox $38 per share in either cash or stock for the assets -- including flim studios, FX Networks, Fox Sports Regional Networks; Fox's international networks; Indian satellite TV group Star India; and stakes in National Geographic Partners, Hulu LLC and Sky -- again topping Comcast's offer of $35 per share in cash.
The new bid is constructed as a 50/50 "cash and shares" proposal, Disney said, and it has secured financing for the cash portion. Fox said the new bid would mean it will cancel its planned shareholder meeting regarding the $65 billion bid -- or $35 a share -- from Comcast and could not, at this time, consider it a "superior proposal."
Disney said it thinks the deal has a "clear and timely path to regulatory approval", while Comcast CEO Brian Roberts has said he was "highly confident" regulators would approve his company's approach following the go-ahead given to the $85 billion AT&T Inc. (T) and Time Warner Inc. (TWX) deal last week.