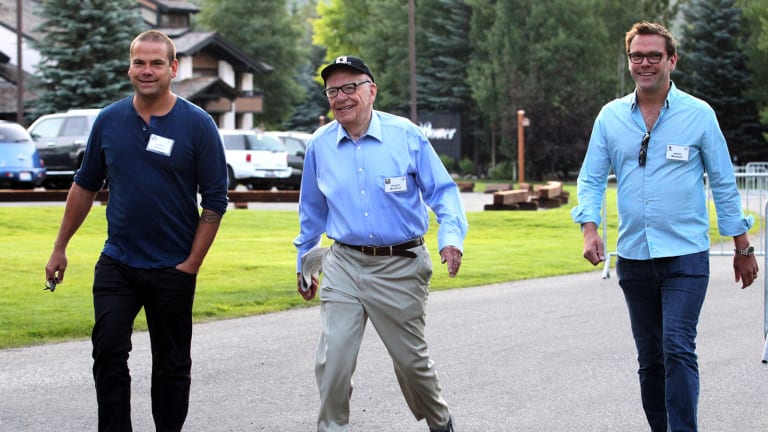 Sky Shares Leap After Britain's Media Watchdog Delays Decision on Fox Takeover
Britain's Competition and Markets Authority will make a provisional ruling on Fox/Sky takeover in January, triggering special dividend to Sky shareholders.
Sky Plc (SKYAY) shares jumped to the top of the market in London Thursday after Britain's competition watchdog said it would delay its final decision on the proposed $15 billion takeover bid from 21st Century Fox, triggering a special payout to shareholders.
The Competition and Markets Authority, which is reviewing the Rupert Murdoch-controlled group's attempt to buy the 61% of Sky that it doesn't already own, said Wednesday it had received 12,000 submissions of evidence regarding the takeover and, as such, needs more time to come to a decision.
"It is not unusual for us to update our timetables," a CMA spokeswoman told Reuters. "In this case, we have received a large body of evidence, so it is vital that we spend the time to reach an informed and considered provisional view."
The delay means that Sky shareholders will receive a special dividend of 10 pence (13 U.S. cents) per share "without a reduction in the offer price of £10.75 per Sky share," according to Sky's Oct. 12 earnings release.
"We can now confirm that the ex-dividend date will be 11 January 2018 and the dividend will be paid on 9 February 2018 to shareholders on the register at close of business on 12 January 2018 should the Offer not have completed by 31 December 2017," the company added.
Sky shares were marked 1.9% higher at £10.06 per share in earl London trading, taking their three-week gain to around 11.6%. It's gains have mirrored the bidding interest in Fox, which is reportedly prepared to sell portions of its media empire to either Walt Disney Co. (DIS) - Get Walt Disney Company Report or Comcast Corp. (CMCSA) - Get Comcast Corporation Class A Report
Any potential deal would not only extend Disney's reach internationally, but would also likely scupper Murdoch's plans to buy the remaining portion of Sky that it doesn't already own, a process which has been hamstrung by investor indifference and regulatory roadblocks.
However, with revived bid talks, Sky could suddenly become attractive in the short term, as investors bet that either Fox or Disney will need to offer a premium to offset the potential collapse of a Murdoch-led bid.
"Under UK Takeover Panel rules, Fox cannot withdraw its bid unless it fails to gain regulatory approval, or there is a mutual agreement with Sky," wrote UBS analyst Polo Tang in a recent client note. "Should Disney acquire Fox's 39% stake in Sky, this will trigger a mandatory offer and it is likely it will have to be on the same terms as the Fox offer."