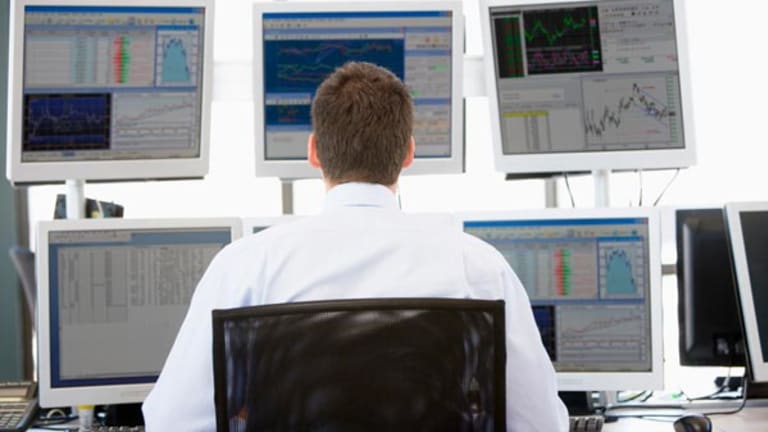 Sirius Blinks in the Satellite-Radio Wars
But despite the short-term setback, the future remains rosy.
This column was originally published on RealMoney on Dec. 5 at 11:37 a.m. EST. It's being republished as a bonus for TheStreet.com readers. For more information about subscribing to RealMoney, please click here.
It's been less than two weeks since Santa Claus rode down Broadway in the Macy's Thanksgiving Day Parade, but he doesn't seem to have brought a ton of shoppers with him.
First, we heard from
Wal-Mart
(WMT)
that business was
not exactly robust, and now
Sirius
(SIRI)
is
pulling in its horns.
Investors may be on their own shopping spree, buying stocks on Wall Street, but signs are not robust for many retailers for the holiday selling season.
Chilly Reception
Late Monday afternoon, Sirius issued a press release saying that business was softer than expected and lowering its guidance for total year-end subscribers to a new range of 5.9 million to 6.1 million vs. its Nov. 8 forecast of 6.3 million subscribers. Shares were slipping on the news.
One must presume that management was originally hoping for more robust numbers throughout the year and thought it was low-balling when it first provided guidance during its 2005 year-end conference call. While it raised its year-end subscriber forecast during the year, it did so very gingerly by adding only 100,000 each quarter to 6.2 million and then 6.3 million. Now, it's back to the opening bid of 6.1 million subs as the top end of the range.
By contrast,
XM Satellite Radio
( XMSR) has been lowering its year-end subscription numbers all year from an original estimate of 9 million to its most recent forecast of 7.7 million to 7.9 million. That last estimate equates to expectations of only 600,000 fourth-quarter additions, which had seemed small in comparison to Sirius' vigorous expectations of adding 1.2 million new fourth-quarter subscribers.
If XM does add 600,000 new subscribers in the fourth quarter, that will mark the biggest quarter of its 2006 year. But if Sirius is only able to add 800,000 new customers, it will only barely nose out the 761,000 it added in the first quarter of 2006. Sirius also expects more factory-installed car units in its mix this year, which would push retail even lower as a contributor to total new subscribers.
Has Howard Gone Underground?
One problem for anyone following or owning shares in satellite-radio companies is that more than a lion's share of their sales usually comes in the fourth quarter. A year ago, a very different scenario unfolded for Sirius.
Last year, fueled by unrelenting media coverage of Howard Stern's imminent arrival, shoppers made Sirius receivers a very hot Christmas item. More than 500,000 units -- if you could even find one -- were sold in just the final 10 days of the quarter. This year has not been "all Howard, all the time." In fact, Stern has almost been a no-show, at least so far. One wonders why he hasn't been front and center if he is such a big draw and in light of his big pay package. He certainly helped enhance Sirius' brand awareness last year, but it's hard to know why he isn't being used now.
Holiday advertising also doesn't appear to be optimally used, as promotions for XM Satellite Radio and Sirius are hard to find in the papers. I scanned the Sunday newspaper preprints for
CompUSA
,
Best Buy
(BBY)
and
Circuit City
(CC)
, and the ads show the two competitors next to each other, with some of the more popular channels that each features. The ads are also buried in the inside pages where you have to look for them.
We also know that Thanksgiving was early this year, adding one extra week to the Christmas selling season. It's hard to know if consumers are primarily interested in the biggest and best HDTVs they can afford to lug home, or if this is just going to be a soft holiday season overall. It's also possible that folks haven't started shopping yet -- at least Sirius can hope!
Put on a Happy Face
Always trying to put the best spin on any situation, Sirius CEO Mel Karmazin's press release pointed out that even at the low end of the range, total new Sirius subscribers will grow this year by 80% to 85%. The company is still hopeful that it will turn free-cash-flow positive after capital expenditures as soon as the current quarter. That also is backpedaling from previous, more optimistic goals that Sirius would get there before year-end.
Last week, Sirius and
DaimlerChrysler
( DCX) announced -- or re-announced -- old plans to launch three channels of children's programming for TV monitors in the backseat of cars. That gave Sirius' stock a bit of a pop, but it will surely give back those gains with this news of lower subscriber expectations.
Earlier this week, New York's Cardinal Edward Egan appeared at Sirius headquarters to bless the studio from which the new Catholic Channel will broadcast. There are more than 60 million Catholics in the U.S., and it is hoped that this new channel will spur some Christmas buying.
Plus, Nascar fans will be joining Sirius after the first of the year. This joint promotion to another audience of 60 million is also hoped to spur holiday sales. It still might.
Judging from the letters I have received from many
RealMoney
readers, those who have satellite radios seem to love them. I am in that camp. It isn't just the issue of commercial-free radio.
For instance, if you live in a smaller community with only a handful of radio outlets, you are limited in your musical choices. Believe it or not, with dozens of radio stations and millions of listeners, New York City cannot support a single country-and-western station and has only one classical station. National Public Radio's WBGO is the only station in the New York metro area to offer jazz 24 hours a day. Both XM and Sirius offer multiple choices within each of these three genres.
The automobile companies have bought into satellite radio, and by 2010 or 2011, most cars will come off the assembly line with units built in. At today's penetration rates, only 6% of cars on the road will be so equipped this year.
The future seems rosy, even though the road to get there may be taking a bit longer to find on the map than most of us expected.
At the time of publication, Lappin was long Sirius, although holdings can change at any time.
Joan Lappin, CFA, is chairman and chief investment officer of Gramercy Capital Management Corp., a registered investment advisor based in New York City, which she founded in 1986. Under no circumstances does the information in this column represent a recommendation to buy or sell stocks. Lappin appreciates your feedback;
to send her an email.