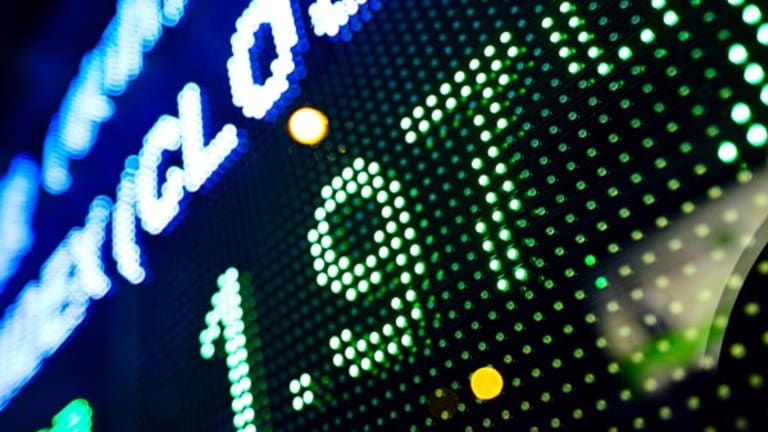 Singing the Blue-Chips' Praises
The Dow closes up about 2%, while the Nasdaq gains 1.4%.
Updated from 3:15 p.m. EST
Blue-chips ended sharply higher and tech shares also rose Wednesday as strength in a hodgepodge of Dow names began to outweigh accounting paranoia.
Preliminary numbers showed the
Dow Jones Industrial Average ended up 196 points, or 2%, to 9941, while the
Nasdaq, buttressed by an earnings affirmation from
Lucent
(LU) - Get Lufax Holding Ltd American Depositary Shares two of which representing one Report
, gained 25 points, or 1.4%, to 1776. The
S&P 500 gained 15 points, or 1%, to 1098.
The Dow's strength came from
Alcoa
(AA) - Get Alcoa Corporation Report
, up 3.86%;
AT&T
, up 4.4%;
Eastman Kodak
(EK)
, up 3.9%;
Disney
(DIS) - Get The Walt Disney Company Report
, up 6.4%;
Honeywell
(HON) - Get Honeywell International Inc. Report
, up 5.7%; and
General Motors
(GM) - Get General Motors Company Report
, up 4.5%.
Lucent Chief Executive Patricia Russo soothed technology investors by affirming previously given second-quarter guidance. Last month the company said it expects second-quarter sales growth of 10% to 15% above the first quarter. "We have not seen anything different, and we're 30 days into this
quarter," she told reporters at the company's shareholder meeting in Wilmington, Del. The shares closed up 39 cents, or 7.4%, to $5.68.
The latest company under accounting pressure was
Computer Associates
. The Islandia, N.Y., software maker is being
investigated by federal regulators for inflating its results, according to articles published in
The New York Times
and Long Island's
Newsday
. Even though the company denied being contacted by the authorities, the stock fell $4.40, or 17.4%, to $20.91.
Meanwhile,
General Electric
(GE) - Get General Electric Company Report
was slightly higher after a story in
The Wall Street Journal
reported that the company will amend its disclosure policy for its financial reports, specifically regarding its GE Capital financial services unit. Shares of GE gained $1.17, or 3.2%, to $37.57.
Amid the volatile corporate news, the Labor Department issued its
consumer price index for January, with the results matching economists' expectations. The index, which measures inflation at the consumer level, rose 0.2%, compared with a 0.2% decline the previous month. The core rate, excluding food and energy, also met expectations, rising 0.2%.
Lehman Brothers analyst Holly Becker weighed in on
AOL Time Warner
(AOL)
, downgrading the stock to
market perform from a buy rating, citing the media titan's lower growth projections for its America Online business. AOL's shares closed off $1.32, or 5.2%, at $24.20.
Elsewhere, Banc of America Securities upgraded
Oracle
(ORCL) - Get Oracle Corporation Report
to buy from market perform, citing the stock's valuation. The firm believes that an improvement in the economy could lead to database and earnings per share growth of 25% to 30%.
Oracle climbed 72 cents, or 4.9%, to $15.51, but for the most part, software stocks were lower most of the day but then rallied.
Siebel Systems
(SEBL)
sunk 3.2% to close at $30.89.
PeopleSoft
(PSFT)
was down 6% early in the day, but closed up 30 cents at $29.40, while
Veritas
(VRTS) - Get Virtus Investment Partners Inc. Report
and
BEA Systems
undefined
were also lower early then rebounded to close up slightly.
Microsoft
(MSFT) - Get Microsoft Corporation Report
inched higher, gaining 97 cents to close at $59.90.
The Philadelphia Stock Exchange Semiconductor Index was slightly lower a day after January book-to-bill numbers were released. The headline number ticked up from December, but analysts offered mixed views on the report. Separately, chip equipment maker
Applied Materials
(AMAT) - Get Applied Materials Inc. Report
said at a technology conference that it expects growth in the second half of 2002. The company also said it is gaining market share in nearly every product category, but specifically in metrology and inspection.
Consumer electronics retailer
Circuit City
(CC) - Get Chemours Company (The) Report
reclaimed some of Tuesday's losses after Merrill Lynch came out in defense of the company. Merrill said there was nothing unusual about the company taking charge to account for extraordinary remodeling costs. Merrill's retail analyst Peter Caruso raised his investment rating on the stock to strong buy from buy, and the stock climbed 10% to $24.32 in today's trading.
Treasuries turned higher around midday. Recently, the 10-year note was up 1/32 to 100 2/32, yielding 4.86%.
Overseas, stocks were mostly lower, with London's FTSE 100 losing 1.3% to 5024 and Germany's Xetra Dax roughly unchanged at 4767. Japan's Nikkei 225 closed down 0.1% to 9834, and the Hang Seng lost 0.8% to 10,749.