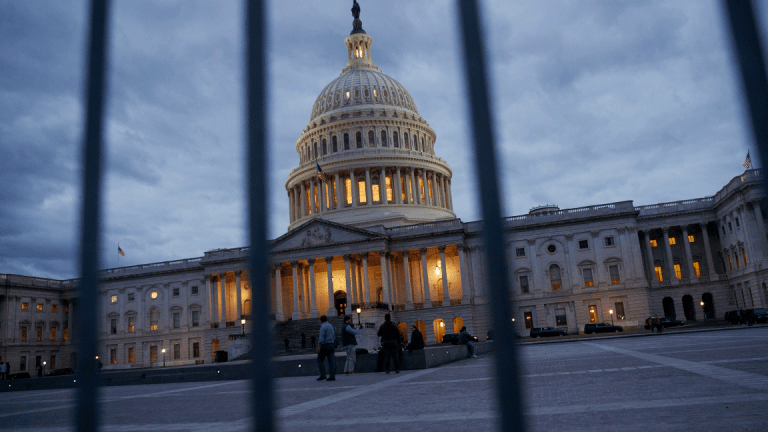 GDP Report on Shutdown's Effects May Not Be Issued, Because of Shutdown
Worries grow that fourth-quarter GDP data won't be released on time, adding to uncertainty over health of economy.
As the partial shutdown of the federal government grinds on with no end in sight, it's growing more likely that fourth-quarter gross domestic product data won't be released as scheduled later this month, potentially throwing a wrench in forecasts and analysis about the economy, even extending to the Federal Reserve. 
The shutdown over whether President Trump will receive some $5 billion in funding to build a wall on the Mexican border has shrouded the flow of data about the nation and its economic health under a virtual blackout, starving economists, analysts and policymakers of increasingly critical information.
Census data and Commerce department reports, economic analysis, housing data, and even monthly retail numbers regularly released throughout December and January have gone dark.
"This is unprecedented," said one federal employee on background, noting the uncertainty and unease over the rippling effects of the four-week-old shutdown on the release of government reports. "This isn't a vacation... I know everyone really cares about what they do. They will do their best to get it out when the shutdown ends."
But for now, much of the flow of information has been spotty.
That's because with some exceptions - such as the Bureau of Labor Statistics - many departments and agencies are closed. Data typically released from the Bureau of Economic Analysis, the Economic Development Administration, the Minority Business Development Agency, the U.S. Census Bureau and the International Trade Administration are not being released. And agencies that are open are feeling the bite because they rely on data from closed agencies, such as data from the U.S. Department of Agriculture and elsewhere.
"It's been quite disruptive, and it will take some time for the release schedule to return to normal even after the shutdown ends," said Nancy Vanden Houten, a senior economist at Oxford Economics in New York. "Government economists have missed almost four weeks of work at this point that would have been devoted in part to compiling the (GDP) report."
Government officials said it's unclear when the flow of information would return to normal after the shutdown. Because most unfunded departments have either no one at work or only limited coverage, employees are not putting together reports and data are not getting collected. Release schedules -- which are typically drawn up six months to a year in advance -- will have to be revised. 
"After the October 2013 shutdown, which was 10 days shorter than the current, ongoing shutdown, the economic release calendar didn't completely sort itself out until the following January," pointed out Vanden Houten in an email to TheStreet.
That the data blackout is coming when U.S. growth appears to be slipping is especially concerning, said Lawrence D.W. Schmidt, an assistant professor of finance at MIT's Sloan School of Management. "Everyone is in a holding pattern," said Schmidt, who said he relies heavily on census data not currently available.
But especially worrying will be the GDP numbers that are pieced together from hundreds of sources of information and are considered the gold-standard gauge of the U.S. economy.
Noting that the Fed Reserve is touting its data-driven approach to decision making, Joel Prakken, chief U.S. economist at Macroeconomic Advisers by IHS Markit, said the punchline is now, "It's hard to be data-dependent if there is no data."
The lack of data "will handicap the Fed" when it meets later this month, pointed out Vanden Houten. This lack of data is especially critical, she said, as the Fed "is shifting gears from a steady pace of rate increases to a more cautious approach."
Still, how the shutdown is hitting various agencies is uneven, and some, limited data - such as employment statistics and inflation numbers - are coming out or are in the works.
The Census Bureau, for example is mostly lights out, but thanks to past funds, the 2020 Census is on track, and so is some survey data funded by other agencies. Most economic indicators, however, are not being released during during the shutdown. 
"We will produce and disseminate a revised Economic Indicators' schedule once the government reopens," said the Census Bureau in a statement.
Retail numbers covering part of the holiday shopping season were also not put out Wednesday by the Commerce Department as planned, because of the shutdown.
But the lights are on at the Bureau of Labor Statistics, which is helping economists and others take the nation's pulse.
"We're just literally going about our day-to-day activity," said an official at the U.S. Bureau of Labor Statistics, who did caution that the bureau gathers information from some agencies on furlough, but that, "for the most part the .... we're in business and we can continue to do our work."
Most reports from payroll surveys, big-picture household surveys, and the consumer price index are expected to run on schedule, but other data produced by the BLS might be compromised, such as export price indexes that rely on USDA information and information on productivity that relies on the GDP numbers.
But the available data - in combination with other so-called "soft data" - are helping groups like IHS Markit produce their own economic forecasts on schedule, said Prakken, who has seen extended shutdowns from mid-1990s to today. The group expects GDP growth for the fourth quarter to hit 2.8%.
Oxford Economics, meanwhile, estimates "the drag on real GDP is roughly $700 million or 0.05% per week of government shutdown."
"The longer the shutdown lasts, the larger the multiplier could be via disruption to essential services like food stamps and increased private sector uncertainty," said Oxford in a report released Wednesday.
"If it goes on for another month," said Prakken, the shutdown is going to be "creating a lot of fiscal policy uncertainty."