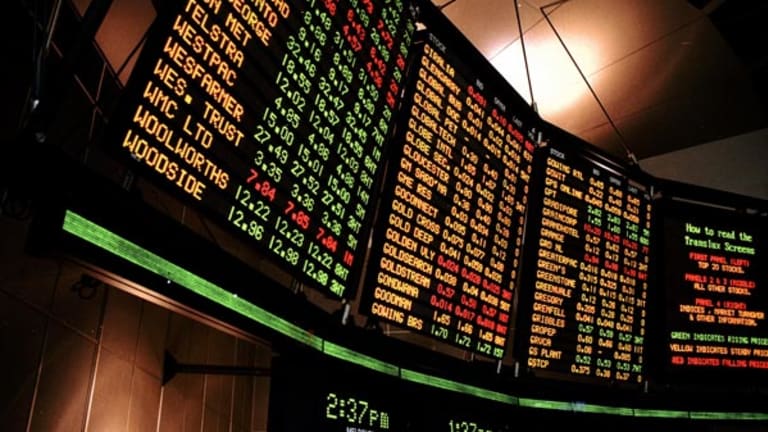 Should I Do It? Not Plugged In To Circuit City
It's on the watch list, but not worth chasing on good momentum here.
Editor's note: This alert originally appeared in TheStreet.com Breakout Stocks newsletter on Sept. 20 at 2:48 p.m. EDT. It's being offered as a bonus for TheStreet.com readers. For a free trial to Breakout Stocks, click here .
We have a generally bullish outlook for consumer electronics this holiday season, and
Circuit City
(CC) - Get Chemours Co. Report
looks like an ideal candidate for the Breakout Stocks portfolio given the strong second-quarter earnings report and forward guidance the retailer delivered Wednesday morning. The stock closed in Wednesday trading at $26.26.
It is time to take a serious look at Circuit City. Should we snap up shares in this name or wait for a pullback? First our analysis, and then our answer.
Circuit City is one of the largest electronics retailers in North America, with nearly 1,600 locations in the U.S. and Canada. Its main rivals include electronics specialists like
Best Buy
(BBY) - Get Best Buy Co., Inc. Report
, as well as mainstream retailers like
Wal-Mart
(WMT) - Get Walmart Inc. Report
and
Sears Holdings
(SHLD)
.
The company's second-quarter report paints a favorable picture of the company. Sales rose 11% year over year, driven by a same-store sales gain of 8.3%. Operating margins rose to 0.7% from 0.2% as selling, general, and administrative expenses fell as a percentage of sales.
In addition, Internet sales rose 74% year over year, which is dramatically faster than the recent sales growth of Internet retailers like
Amazon.com
(AMZN) - Get Amazon.com, Inc. Report
and
Overstock
(OSTK) - Get Overstock.com, Inc. Report
.
In addition, Circuit City gave a solid fiscal 2007 (ending in February) outlook, calling for overall revenue growth of 9% to 11%, up from a prior range of 7% to 11%. Same-store sales growth is now expected to be 7% to 9%, a substantial boost from the prior range of 5% to 7%. The company credited continued strong sales of televisions, notebook computers, and digital audio players -- as well as strong Internet sales trends -- as its rationale behind the bullish outlook.
However, we believe that Circuit City could be conservative with its outlook. For one, Circuit City is not mentioning the quickly rebounding video-game market, which could provide some sales upside this holiday season due to easy year-over-year comparisons and a big wave of hot new products on the way, including the Nintendo Wii and Sony PlayStation 3 game consoles.
In addition, the release of
Microsoft's
(MSFT) - Get Microsoft Corporation Report
Windows Vista system is likely to give desktop-PC sales a boost from their recently weak levels, which should benefit Circuit City dramatically due to its large store base.
PC-industry leader
Dell
(DELL) - Get Dell Technologies Inc Class C Report
, which sells computers directly to consumers via the Web or telephone, has seen its price advantage over competitors erode, making in-store purchases more attractive to consumers relative to past years.
Televisions and PCs are particularly attractive products for retailers, because these purchases are likely to be accompanied by higher-margin warranties, accessories and installation services. In fact, the main area of profitability for electronics retailers comes from selling warranties rather than the products themselves. Therefore, as unit sales of televisions and PCs accelerate, Circuit City will benefit through these add-on sales.
Another potential growth area that could pick up in 2007 and 2008 is next-generation DVD players. For those not familiar, there are two next-generation formats, called Blu-ray and HD-DVD, being pushed by rival factions led by Sony and Toshiba, respectively.
As of now, these new players cost enormous amounts of money -- $500 and up vs. $50 and up for current-generation DVD players. But as one format takes a lead, as has happened historically with rival content formats, production will rise and prices will drop, driving growth for retailers like Circuit City. In turn, that would drive sales of the actual DVDs.
So is it time to get bullish on Circuit City? From a portfolio standpoint, with gasoline prices falling so quickly, we are actively considering increasing our retail exposure from our two current names. We have pointed out that we are focused on very specific classes of retailers -- those that benefit from product cycles or those that are priced very cheaply -- and Circuit City most definitely fits the product cycle aspect. However, even though the company is executing well in a tough retail environment, the stock's valuation is keeping us on the sidelines for now.
Circuit City is trading at 25 times expected fiscal 2007 earnings, while main competitor Best Buy trades at just 20 times expected fiscal 2007 (ending in February, like Circuit City). In addition, Circuit City shares have largely been the domain of momentum traders, and the stock is up more than 17% in the past two weeks.
However, we are keeping it on our watch list because we would like to add the stock between $22 and $24 a share. Given the choppy market environment, we don't believe it makes sense to chase momentum names during good weeks for stocks, especially on the recent bounce for retail.
Rather, we would like to add Circuit City when it is out of favor due to some unrelated event. For instance, weakness at a larger retailer like Wal-Mart or
Target
(TGT) - Get Target Corporation Report
could drive stocks in the sector down, even though a company like Circuit City is driven just as much by the secular growth of spending on electronics as economic growth. But for now we are sticking to our discipline and waiting until the valuation swings in our favor.
In keeping with TSC's editorial policy, Michael Comeau doesn't own or short individual stocks. He also doesn't invest in hedge funds or other private investment partnerships. Comeau is a research analyst at TheStreet.com. In this role he performs stock analysis for
, and is also a regular contributor to RealMoney.com. Prior to his arrival at TSC in June 2004, Comeau worked as a Consultant to Toyota Motor North America, performing in-depth research on automotive industry issues, primarily in the areas of alternative engine technologies, competitive analysis and macroeconomics. His primary market interests include consumer technology, specialty retail, and small-caps. Comeau received a bachelor's degree in Finance from Brooklyn College, and has completed Level 1 of the CFA program.. He appreciates your feedback;
to send him an email.