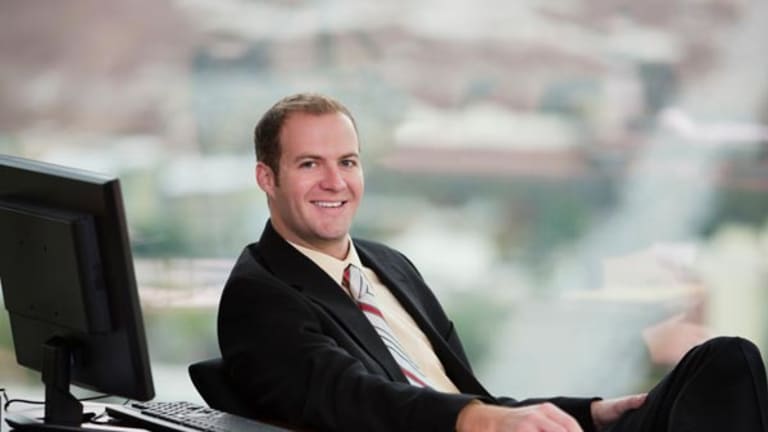 Should I Do It? Appreciating Microsoft
The software giant's stock looks compelling for the longer term.
And the debate goes on...
Looking at
RealMoney's
Columnist Conversation over the past few weeks, I am amazed to see the interest and opinions generated when debating
Microsoft
(MSFT) - Get Microsoft Corporation Report
. In a matter of 10 days, I saw comments ranging from Microsoft being "the best investment in a lifetime" to "I wouldn't touch Microsoft with a 10-foot pole."
Although there's plenty of reason to be skittish about this stock in the short term, investors with a 12-to-18 month time frame could do well to add Microsoft here. The negatives are known and accounted for, and the positives are being treated as nonentities.
What's Gone Wrong
On March 22, Microsoft again said it will push back the consumer release of Windows Vista, its new operating system. Two days later, the largest software maker in the world told investors that it also will delay Office 2007. Shares declined only slightly on the news, but a larger selloff followed.
On April 28, Microsoft missed earnings estimates by 2 cents, but shares plummeted 15% on the news, its largest decline in seven years. That knocked more than $30 billion off market cap. To put this in perspective, there are only 87 companies in the
S&P 500
that have a market cap greater than $30 billion.
Looking at the numbers, the quarter did not warrant a 15% selloff.
After all, Microsoft's Home and Entertainment revenue was up more than 80% because of strong demand for the Xbox 360 system; Microsoft Business Solutions delivered 21% revenue growth. Total revenue increased 13% to $10.9 billion, and operating income jumped 17% to $3.89 billion. Also, management said that it will deliver even stronger revenue growth next fiscal year.
Ultimately, I'd attribute the drop in Microsoft's shares not to the earnings, but to the cumulative weight of disappointment.
To view Frank Curzio's video take of this column, click here
.
Consider that Vista actually was forecast by some analysts to be available in 2003, and now researchers at Gartner, the world's largest information technology research and advisory company, said that Windows Vista may not be broadly available to consumers until sometime between March and June 2007. If the launch is the broad side of a barn, they missed it.
But that's in the past, and in 2007, Vista and Office 2007 will be brought to market. I believe this launch will change investors' perception of Microsoft, as the delay has been an effort to reduce problems at launch that have plagued previous Microsoft products. There is precedent to my expectation, as this would be similar to when Windows XP was released. Windows XP was officially launched on Oct. 25, 2001, just six weeks after Sept. 11.
However, shares of Microsoft defied the market's trend then, rising more than 30% from Oct. 1, 2001, to Dec. 31, 2001, despite turbulent market conditions. Unfortunately, that was the last good news for shares, as Microsoft stock has steadily declined for more than four straight years to its current price of $22.50.
The release of these two products in 2007 could have the same or greater impact, and that should translate into a higher stock price.
Swimming in Lucre
Another factor that makes Microsoft a buy at its 52-week low is its enormous cash hoard. Bears will argue that Microsoft has had this large cash position for some time, and that shares have done nothing but decline. CEO Steve Ballmer further disappointed investors when he announced in April that Microsoft will sit on its $35 billion cash pile instead of returning more money to investors. (In 2004, Microsoft paid out $32 billion in a special dividend of $3 a share.)
But I agree with the strategy because Microsoft paid that special dividend in a much different market environment, highlighted with markedly lower interest rates and not a whisper about inflation. Today, times and opportunities are different.
Inflation is a growing concern, and the
Federal Reserve
has raised short-term rates to 5% from 1% in hopes of slowing down the economy. As interest rates rise, companies face increased debt costs, leading to higher payments -- or even worse, a lower debt rating.
This makes some companies cheaper, and Microsoft could take advantage of that to become active in the acquisition market. If an opportunity presents itself, using the cash that way would be better than paying out a dividend.
Alternatively, companies that have huge cash positions, such as Microsoft, benefit from higher interest rates. Money market accounts are now paying 5%. Hypothetically, if Microsoft chose to park its $35 billion in a money market account, it would earn $1.75 billion on the investment with very little risk.
Finally, if Microsoft wants to get really aggressive, it could hire Goldman Sachs, whose trading unit returned 40% last quarter, to invest a portion of its cash.
My point is that having cash in the current market environment is more valuable than returning it to shareholders. It may serve a better purpose over the next year or so, during which earnings and the economy are expected to slow.
Microsoft remains well positioned with a full product cycle ready to come to market in 2007. At the current price, I see little downside risk compared with high-beta competitors that are getting trounced in the current marketplace, and if Vista and the new Microsoft Office receive positive grades, we could see a nice run-up in the share price.
Should you invest in Microsoft? If your investment horizon is 12 months to a year and a half, it definately merits a look, as shares could appreciate 25% to 30% from the recent $22.50, or to as high as $30.
Interested in more value stock picks? Check out David Peltier's TheStreet.com Value Investor.
In keeping with TSC's editorial policy, Frank Curzio doesn't own or short individual stocks. He also doesn't invest in hedge funds or other private investment partnerships. Frank X. Curzio is a research associate at TheStreet.com, where he works closely with Jim Cramer. Previously, he was the editor of The FXC Newsletter and senior research analyst for Greentree Financial.
He appreciates your feedback;
to send him an email.