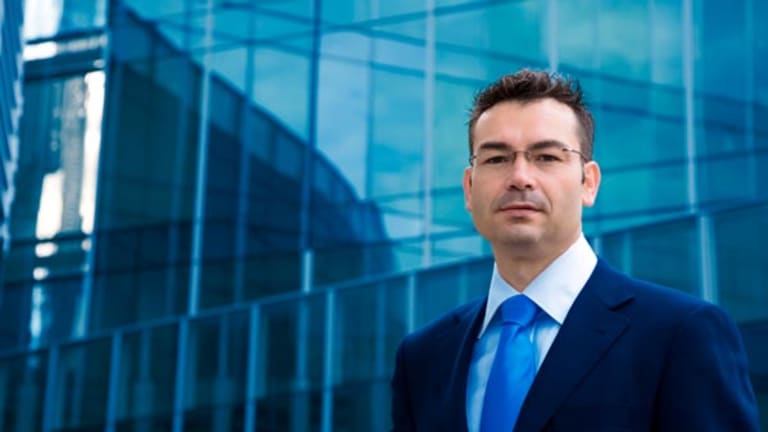 Shotgun Weddings in Network Market
Nortel is in a tough spot after the Lucent-Alcatel and Nokia-Siemens infrastructure mergers.
This column was originally published on RealMoney on June 19 at 11:16 a.m. EDT. It's being republished as a bonus for TheStreet.com readers.
The mobile network market waited about half a decade for its first major merger, but the second arrived in a snap. Just two months after
Lucent
(LU) - Get Lufax Holding Ltd American Depositary Shares two of which representing one Report
and
Alcatel
(ALA)
hooked up,
Nokia
(NOK) - Get Nokia Corporation Sponsored American Depositary Shares Report
and
Siemens
(SI) - Get Silvergate Capital Corporation Class A Report
are creating a joint venture housing their infrastructure units.
All of a sudden, the infrastructure market has acquired a new shape.
There are three megavendors:
Ericsson
(ERICY)
, Alcatel-Lucent and Nokia-Siemens.
And there are two weaklings:
Motorola
(MOT)
and
Nortel
(NT)
. The possible future merger between these last two is going to be the furthest thing from a love match.
Nightmare After Christmas
The question of why we suddenly had two major mergers this spring and early summer is an interesting one. Since the infrastructure market cratered so spectacularly around 2002-03, there has been a strong suspicion that there are simply too many major vendors. But the vendors waited until spring 2006 to commit to substantial mergers.
There is some reason to suspect that these big mergers are shotgun weddings. Perhaps the biggest telecom surprise of first quarter of 2006 was the series of noteworthy drops in mobile infrastructure operating margins at several key vendors, from Ericsson to Motorola. Was this weak quarter the gun on the infra companies' temples? Did the mergers happen relatively quickly after the first quarter because everyone was terrified of ending up with Nortel as a corpse bride?
Inevitably, there is a suspicion that the network mergers of this summer were triggered by the emergence of a new wave of pricing pressure and/or demand slowdown in Europe and North America. Thus, while the Nokia-Siemens news is now helping the telecom rebound that emerged last week, the merger timing may be seen as an evil omen as investors digest the implications.
Nevertheless, Lucent got a relatively appealing Alcatel with its emerging market dowry, and Nokia got something of a China play in Siemens' network unit. The Germans have been rather hapless in the W-CDMA market, but they have been getting cozy with the Chinese, preparing for a possible TD-SCDMA mandate in the upcoming Chinese 3G auctions. This might be a plus for Nokia.
It's interesting how clearly the Nokia-Siemens merger is presented as a de facto Nokia takeover.
Sony Ericsson set up shop in London to find the most neutral HQ site outside Zurich. Lucent brought a CEO with a nearly ironclad contract to Paris, another compromise. But the Nokia-Siemens network unit is going to be based in Helsinki with a leader from Nokia. Helsinki has many attractive qualities, but it is not a magnet for multinational headquarters.
The Nokia-Siemens network unit is clearly on its way to being dominated by Nokia's executives. It is a notable concession to Siemens that the profit split is going to be 50/50, because any money made by this company is likely to be dominated by Nokia's W-CDMA products in the longer run.
After two wedding banquets, Motorola and Nortel are now left at the loser's table, nervously eyeing each other while the rest of the crowd dances the Macarena. It's not a happy image.
Nortel is now a code word for accounting trouble, and Motorola's '90s network cash cow -- the iDen technology used by Nextel -- is being phased out after the recent Sprint-Nextel merger. Nortel dropped out of the recent Indian GSM network auction at a very early stage, and neither is well positioned for the upcoming Chinese 3G auctions.
Ericsson is floating up there in the rarified air of a company holding more than 40% market share in the hot new sectors like W-CDMA and value-added network services. It's unlikely to entertain merger notions on the mobile side. Lucent, Alcatel, Nokia and Siemens are going to be busy dealing with their new mergers.
That leaves the infra division of Motorola and Nortel in its entirety either with each other or fodder to the Chinese network raptors emerging from the underbrush. Whatever the companies decide to do, the clock is now ticking. The heft of the new Big Three network vendors is probably going to drive costs -- and contract prices -- down further by end of 2007.
P.S. from TheStreet.com Editor-in-Chief, Dave Morrow:
It's always been my opinion that it pays to have more -- not fewer -- expert market views and analyses when you're making investing or trading decisions. That's why I recommend you take advantage of our
to TheStreet.com's
RealMoney
premium Web site, where you'll get in-depth commentary
and
money-making strategies from over 50 Wall Street pros, including Jim Cramer. Take my advice --
At time of publication, Kuittinen had no positions in any stocks mentioned, although holdings can change at any time.
Tero Kuittinen is a senior product specialist for Nordic Partners, Inc., a pan-Nordic brokerage firm. Although Kuittinen is an employee of Nordic Partners, Inc., the statements above are being made in Kuittinen's personal capacity and are in no way are the statements of Nordic Partners, Inc., nor attributable to the company. Under no circumstances does the information in this column represent a recommendation to buy or sell stocks. Kuittinen appreciates your feedback;
to send an email.