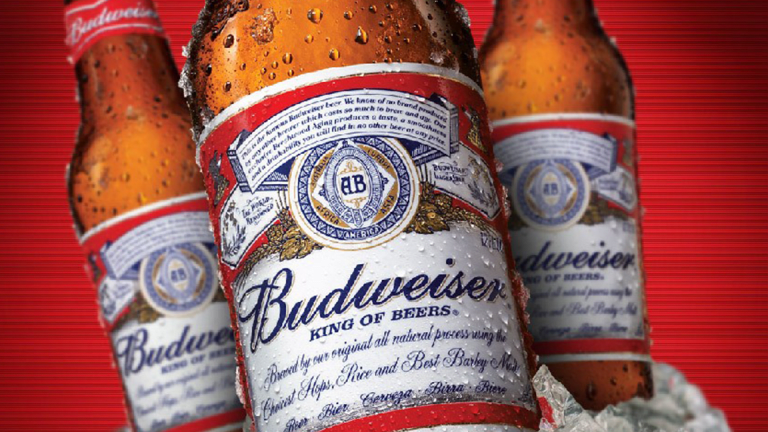 Shares of Budweiser Brewer AB InBev Frothing Over Possible Asian IPO
Beaten down in recent months, AB InBev's stock is on the rise amid reports the global beer giant is discussing with advisers a potential IPO of its Asian operations.
Shares of Anheuser-Busch InBev (BUD) - Get Anheuser-Busch Inbev SA Sponsored ADR (Belgium) Report were hopping Friday amid talk of a potential IPO of its Asian operations by the global brewer.
AB InBev's stock price rose 4.20% to close at $73.73 following a report by Bloomberg News the Belgium-based beer giant is discussing with advisers whether to turn its Asian operations into a publicly traded company.
The deal could raise as much as $5 billion for the maker of Budweiser, which has been struggling under a high debt load since its $100 billion deal in 2016 for SABMiller Plc., the news service reports.
The rise in AB InBev's stock price comes after a tough year for the global beer company, which had been trading at more than $115 a year ago.
The valuation of a potential IPO of its Asian operations is a matter of some debate among experts, with numbers floated ranging from a high of $70 billion to $40 billion-$50 billion, according to news reports.
The potential Asian IPO by AB InBev got a thumbs up from Jefferies beverages analyst Edward Mundy.
The deal will help AB InBev pay down debt and unlock value while giving the global brewer the financial flexibility to pursue deals, such as acquiring French beverage giant Castel Group, which would require as much as $30 billion to do, Mundy wrote.
The Jefferies analyst also called into question the $70 billion valuation offered for an Asian IPP, arguing the implied number - 23 times EBITDA - looks "rich." 
AB InBev's "stock is beaten up and does not need much good news to perform," Mundy wrote.
AB InBev has been aggressively pushing to expand its market share in Asia, with a major push in China where it is now the largest foreign brewer. The company reported a 1% increase in sales volume in the third quarter with help from a distribution deal with Japanese brewer Sapporo.
But the brewer's latest financial results have been less encouraging, with AB InBev having slashed its dividend in half in October to $1.80 per share after disappointing third-quarter numbers, including a .5% drop in North American sales to retailers.
"In line with our culture, we are always looking at opportunities to optimize our business and drive long-term growth, of course subject to our strict financial discipline," AB InBev said in a statement. "We are committed to our businesses in the Asia Pacific region and excited about the potential in this geography."