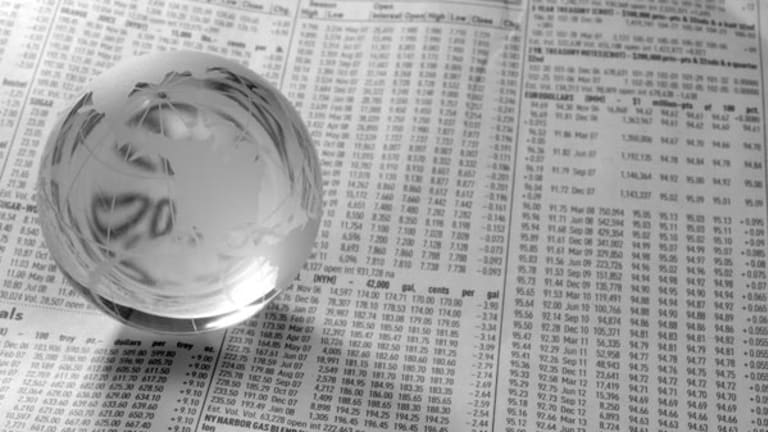 Shanghai Stock Market Falls After Quake
Most markets elsewhere in Asia were higher.
One day after
a giant earthquake in south China
, shares on the mainland fell nearly 2%, but markets elsewhere in Asia were unaffected as traders mulled the possibility that a months-long global financial crisis could be nearing an end.
In China, the Shanghai Composite Index fell 67 points, or 1.8%, to 3560.24, while in Hong Kong, the Hang Seng climbed 490 points, or 2%, to 25,552.77. In Japan, the Nikkei gained 210 points, or 1.5%, to 13,953.73 as the yen plunged to 104.51 from 103.83 previously.
"The Hang Seng closed at a day high. Despite some negative impact regarding the earthquake on some of the China stocks, investors are buying on the dips," says Brooke Babington, a director at Helmsman Global Trading in Hong Kong.
Leading gainers in Hong Kong was market heavyweight
China Mobile
(CHL) - Get China Mobile Ltd. Report
, as most investors shrugged off reports that the company lost around 2,300 base stations in the earthquake, and bet instead that the Hang Seng is ready for another rally. China Mobile rose 3% to HK$133, and rival
China Netcom
(CN) - Get Xtrackers MSCI All China Equity ETF Report
added 0.4% to HK$25.60, after the company said that it will expand Internet services in more than 10 cities in China this year.
Hang Seng proxy
Hong Kong Exchanges
(HKXCF)
was also the recipient of heavy buying, ahead of earnings announcements for the first quarter due out Wednesday. Analysts expect the company to announce up to an 84% increase in earnings on the year, at HK$1.7 billion ($218 million). The stock climbed 2.4% to HK$153.80.
Also among financials,
HSBC Holdings
(HBC)
said that it registered $3.2 billion in loan-impairment charges during the first quarter for its U.S. consumer finance business. HSBC rose 2% to HK$135.50, and was the day's most actively traded stock.
As for tech stocks,
Alibaba.com
( ALBCF) surged 4.5% to HK$14.78 after it was announced that retail sales in China rose 22% in April vs. the 21% expected by analysts.
Market turnover in Hong Kong was strong, at HK$80.84 ($10.4 billion).
In Singapore, commodities were weaker for the day, as the dollar rallied against Asian currencies. Gold was little changed, at $883 an ounce, while crude oil declined nearly 1%, to $123.10 a barrel.
On the mainland, airline stocks were struggling in the wake of the earthquake, despite lower fuel prices.
Air China
(AIRYY)
tumbled 5.2% to 13.56 yuan, and
China Eastern Airlines
(CEA) - Get China Eastern Airlines Corp. Ltd. Report
was 3.7% lower at 10.02 yuan.
Life insurers were also hit hard from the impact of the quake, which so far has claimed the lives of an estimated 12,000 people in the area.
China Life Insurance
(LFC) - Get China Life Insurance Co. Ltd. Report
dove 4.7% to 31.63 yuan.
Analysts at global investment bank Lehman Brothers were telling clients that despite the "enormous human tragedy" of the earthquake in Sichuan Province, they expected the impact on China's economic growth to be "temporary and limited."
Still, while the Sichuan and Chongqing regions represented just 1% of China's total exports in 2007, they constituted more than 8.2% of national food output, according to data provided by the investment bank.
Disruptions to one of China's largest centers of arable land may lead to further interest rate hikes to stem food inflation, which played a pivotal role in driving consumer prices up 8.5% in April. After market hours Monday, Beijing officials lifted the reserve requirement ratio -- the percentage amount of money banks are required to hold vs. deposits -- to 16.5% from 16% previously.
In Japan, gainers were mainly among the exporters, which were rising along with the dollar.
Sony
advanced 3% to 4,790 yen, and
Canon
added 2.9% to 5,410 yen. International game console leader
Nintendo
(NTDOY)
inched ahead 0.9% to 58,000 yen.
Elsewhere in Asia, the Taiwanese Taiex rose 1.8% to 8989.53, and the South Korean Kospi gained 1.1% to 1842.80. Shares in India fell on more speculation that a year-long rally may be over, as the Bombay Sensitive Index lost 0.6% to 16,752.86.
Be sure to check out the Far East Portfolio at Stockpickr.com to find out which Indian and Chinese companies are making big moves and announcing major news.
Daniel M. Harrison is a business journalist specialising in European and emerging markets, in particular Asia. He has an MBA from BI, Norway and a blog at
. He lives in New York.