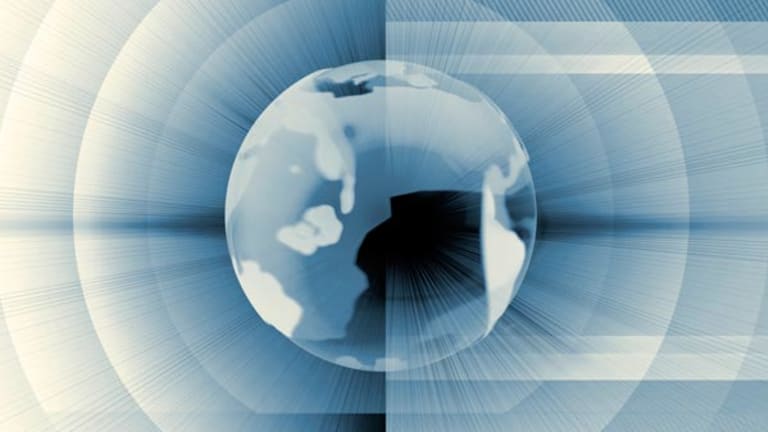 Shanghai Skirts Asian Selloff
Most markets are weak, including a 1.9% drop in the Nikkei.
HONG KONG -- At the end of a mixed and volatile week, Asian markets mostly sank on reports that Merrill Lynch( MER) may write down as much as $15 billion.
However, in a further demonstration of decoupling, China held up against selling pressure, as the Shanghai Composite Index gained 28 points, or 0.5%, to 5484.
In Hong Kong, the Hang Seng succumbed to global selling after starting strong, falling 364 points, or 1.3%, to 26,867. In Japan, the Nikkei plunged 277 points, or 1.9%, to 14,110.
"If there is a correction right now, it's a short-term phenomenon in a longer-term bull market, but corrections can be nasty," says Emil Wolter, who runs $150 million for Polar Capital in Singapore. "We could see falling share prices for six to nine months, to shake out the exuberance and overconfidence in the market."
Leading the day's decliners in Hong Kong were
HSBC Holdings
(HBC)
, which fell 2.1% to a two-year low of HK$123.60, and property developer
Cheung Kong
(CHEUY)
, down 3% to HK$136.80.
HSBC Holdings was the day's most actively traded stock, and fell as a result of the gloomy Merrill news, while Cheung Kong continued to slide as investors mulled a discounted share sale Thursday. On dealing floors, however, it was rumored that the HK$4.7 billion ($602 million) placement sold within 25 minutes.
Other financials and property stocks responded to the bearish sentiment, as
Sun Hung Kai Properties
(SUHJY)
fell 0.2% to HK$166.40, conglomerate
Hutchison
(HUWHY)
lost 1.3% to HK$86.45, and insurers
China Life Insurance
(LFC) - Get China Life Insurance Co. Ltd. Report
and
Ping An
(PNGAY)
declined 2.2% to HK$38.25 and 1.6% to HK$77.60, respectively.
Another notable weak name was fashion retailer
Esprit Holdings
(ESHDF)
, which dropped 4.1% to HK$96, after investors reacted to earnings reductions of European retailers. While Hong Kong brokers expect Esprit to weather the dropoff in European consumer spending, not everyone is convinced. Some dealers now project a decline in the price of Esprit to around HK$90 in the near term, as a result of weaker earnings.
"Esprit continues to slide on fears of Eurozone consumer weakness, and European currency retracement," wrote Bryan Watkins, head of trading for Daiwa Bank in Hong Kong, in a research memo to dealers in the afternoon. "I see no way in which Esprit can avoid earnings downgrades."
Among telecoms, after a week of strong performance
China Telecom
(CHA) - Get China Telecom Corp. Ltd. Report
plunged 5.1% to HK$6.64, as investors took profits in the afternoon session.
China Unicom
(CHU) - Get China Unicom (Hong Kong) Ltd. Report
, which is selling various mobile assets to China Telecom, was one of the region's top performers, however, surging 6.6% to HK$18.68.
Most gold stocks couldn't hold early gains, even as the price of gold rose 0.4% to $896.90 an ounce, after hitting a record $897.50 overnight.
Zhaojin Mining
(ZHAOF)
lost 1.6% to HK$40.30, while
Zijin Mining
(ZIJMF)
slipped 0.5% to HK$12.86.
Sino Gold
( SIOGF), though, surged 4.8% to HK$54.70.
In a note to Nomura Bank's clients issued today, Sean Darby, head of Asian strategy, wrote that he recommends investors accumulate a basket of inflation-protection stocks. Specifically, he named gold miners, soft commodity suppliers, such as food stocks, and energy companies. He also wrote that Nomura is bullish on Hong Kong, Korean and Taiwanese equities.
Dealers seemed to concur, saying that they were using the day's dips to buy
China Foods
(CHFHF)
,
Yanzhou Coal
(YZC)
and
Hang Seng H Share
, an ETF similar to the U.S.-listed
iShares Hong Kong
(EWH) - Get iShares MSCI Hong Kong ETF Report
. China Foods slipped 1.5% to HK$6.45, while Yanzhou Coal jumped 3.3% to HK$16.42. The Hang Seng H Share lost 1.6%, to HK$158.50.
In China, official data released Friday showed that the country's trade surplus shrank by 13.4% in December, to $22.7 billion, on slower growth in exports. Some market commentators were calling for a faster appreciation of the yuan vs. the dollar and euro as a result. The yuan gained about 0.01, to 7.26 against the dollar in Asian trading.
Among Chinese equities,
PetroChina
(PTR) - Get PetroChina Co. Ltd. Report
rose 0.7% to 30.76 yuan, while financials were also strong, as
China CITIC Bank
(CHBJF)
gained 3% to 10.65 yuan. Most notable this week has been China's apparent resilience to global volatility, as the Shanghai Compsite Index has risen in four out of five trading sessions, showing total gains of 1.6%.
In Japan, a rising yen hurt exporters, as Japanese stocks suffered the worst of the Asian selling. The yen was trading at 108.90 vs. 109.33 previously, according to
Bloomberg
.
Among exporters,
Canon
was down 2.9% to 4,750 yen, while
Kobe Steel
(KBSTY)
lost 1.7% to 351 yen. Asian market participants are broadly bearish about investing in Japan, since they say the economy is impacted negatively by U.S. recessionary fears, low domestic consumption growth, and the Bank of Japan's inability to induce interest rate cuts to stimulate investment.
In other Asian markets, the Taiwanese Taiex lost 28 points, or 0.4%, to 8029, while the Korean Kospi dropped 42 points, or 2.3%, to 1782. In India, the Bombay Sensitive Index followed China's lead, rising 1.2% to 20,827, propelled by the week's domestic favorite
ICICI Bank
(IBN) - Get ICICI Bank Ltd. Report
, which jumped 3.5% to 1,356 rupees.
Daniel M. Harrison is a business journalist specialising in European and emerging markets, in particular Asia. He has an MBA from BI, Norway and a blog at
. He lives in New York.