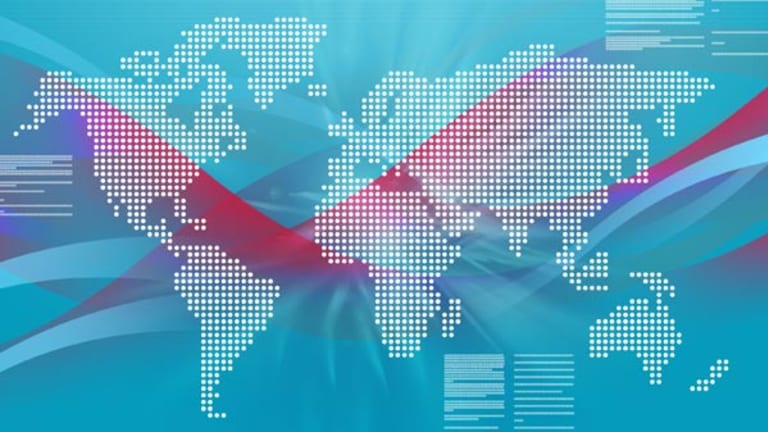 Shanghai Index Roars Ahead
Mainland equities surge 8%, and markets across Asia rally.
An 8% surge in Chinese mainland equities helped Asian markets have a bullish start to the week Monday, as all the major indices followed the country's largest one-day surge since April 2005.
The Shanghai Composite Index leaped 351 points to 4672, while the Hang Seng jumped 908 points, or 3.8%, to 25,032, making a close above the psychologically crucial 25,000 level for the first time in a week. In Japan, the Nikkei rose 362 points, or 2.7%, to 13,859.
"The market is so sold-off, especially for China, and emerging market volatility is very, very high," says Kit Wong, an analyst for Harris-Fraser in Hong Kong. "The fundamentals are still very good, and this recent technical correction is not a problem for long-term investors. There have been no fundamental changes."
Chinese shares rose after reports that the local securities regulator has approved two new closed-end mutual funds, which are rumored to be raising up to 14 billion yuan ($1.9 billion) for investment in domestic equities.
Leading the charge on the mainland was
Aluminum Corp. of China
(ACH) - Get Aluminum Corporation of China Limited American Depositary Shares Report
, which soared the maximum daily limit allowed of 10%, to 32.34 yuan, after an announcement Friday that the company and
Alcoa
(AA) - Get Alcoa Corporation Report
paid $14 billion for a 12% stake in miner
Rio Tinto
(ACH) - Get Aluminum Corporation of China Limited American Depositary Shares Report
.China's sovereign wealth fund
China Investment Corp.
has now agreed to provide up to $120 billion if the company seeks a full acquisition.
China Investment also announced that it may team up with state-owned
China Shenhua Energy
(CUAEF)
to make a bid for around 16% of Australian iron ore giant
Fortescue
(FSUMF)
in a deal worth around $2 billion.
Shares in China Shenhua added 8.6% to 61.62 yuan. Other commodity giants followed in the big gains.
PetroChina
(PTR) - Get PetroChina Company Limited Report
surged 8.1% to 26.39 yuan, while
Sinopec Shanghai Petrochemical
(SHI) - Get SINOPEC Shangai Petrochemical Company Ltd. Report
gained 5% to 13.02 yuan, after losing as much as 7% of its value last week in snowstorm jitters.
Financials on the mainland also powered ahead.
Bank of China
(BACHF)
rose 6.9% to 5.71 yuan, and
Industrial & Commercial Bank of China
(IDCBF)
jumped 7.4% to 7.23 yuan.
In Hong Kong trading, coal producers
Yanzhou Coal
(YZC)
and
China Coal
(CCOZF)
rose as reports of supply disruptions in China, South Africa and Australia sent prices higher. Yanzhou Coal was 7% higher at HK$14.26, while China Coal rose 6.4%, to HK$19.60.
Mainland insurance stocks got an uplift after reports of damage caused by the snowstorm last week are now said to have been exaggerated.
Ping An
(PIAIF)
climbed 11.7% to HK$62.30, while
China Life Insurance
(LFC) - Get China Life Insurance Company Limited American Depositary Shares Report
advanced 9.3% to HK$32.25. Dealers said that they may become heavy buyers of China Life in the event of a further 5% decline in the price of stock this week.
Telcos also saw gains.
China Mobile
(CHL) - Get China Mobile Ltd. Report
rose 4.9% to HK$123.40, and
China Telecom
(CHA) - Get China Telecom Corp. Ltd. Report
ended 3.6% higher at HK$6.03.
Alibaba.com
( ALBCF) soared 13.6% to HK$20.35, following
Microsoft's
(MSFT) - Get Microsoft Corporation Report
offer for
Yahoo!
(YHOO)
on Friday, since Yahoo! owns a stake in the Chinese company.
Although many dealers are still wary of Chinese tech shares, some anticipate further rises if more positive news in the sector appears in the U.S. On Friday,
Baidu.com
(BIDU) - Get Baidu Inc. 百度 Report
failed to catch the sector's momentum, and rumors circulated that investors may use the 3.7% losses as a buying excuse following China's gains.
Not all market participants are convinced of the bullish longevity of mainland shares, however. Sean Darby, head of strategy for Nomura in Hong Kong, says that the Fed's deep cutting may have negative side effects on mainland Chinese shares, while having the reverse effect on shares in Hong Kong.
"The absence of coordinated easing will hamper Asian equity rallies. Last week's 50 basis point
Federal Reserve
rate cut to 3% will create substantial policy problems for China as interest rate differentials narrow, adding pressure on the renminbi to appreciate," Darby wrote in a research note.
Darby recommends buying an inflation-protected basket of stocks, including plays like
CNOOC
and Japanese precious metals producer
Matsuda Sangyo
(MTSYF)
.
In Japan, shares in
Yahoo! Japan
(YAHOF)
also rose as a result of the Microsoft bid, since the company is one-third-owned by the U.S. company. Yahoo! Japan rose 9.5% to 46,000 yen.
Other exporters gained mildly after the yen weakened to 106.96 against the dollar from 106.49 previously.
Sony
inched up 0.6% to 4,820 yen, and
Canon
(CAJ) - Get Canon Inc. American Depositary Shares Report
added 0.7% to 4,620 yen.
Kobe Steel
(KBSTY)
gained 4% to 363 yen.
Other Asian markets followed in the buying. In India, the Bombay Sensitive Index rose 417 points, or 2.3%, to 18,660. The South Korean Kospi finished 56 points, or 3.4% higher, at 1690, and in Taiwan the Taiex gained 152 points, or 2%, to 7673.
Daniel M. Harrison is a business journalist specialising in European and emerging markets, in particular Asia. He has an MBA from BI, Norway and a blog at
. He lives in New York.