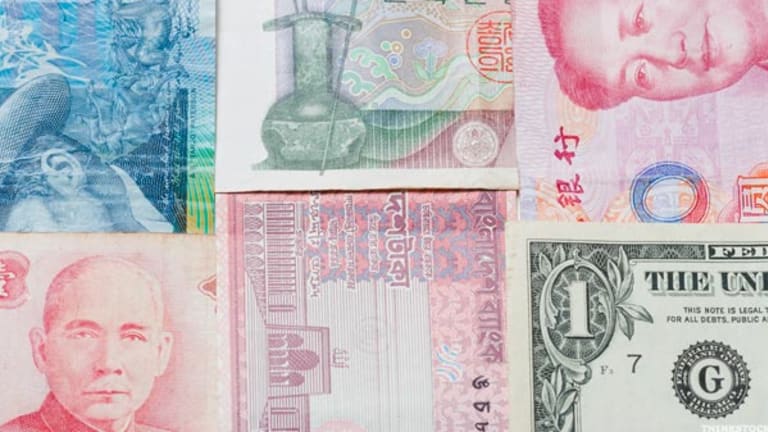 Shanghai Index Hits Nine-Month Low
Petrochina fell behind Exxon, and dragged the index down with it.
Shares in Hong Kong strengthened Thursday, as companies there continued a run of better-than-expected earnings for 2007, but China's leading index dropped 5.4% after PetroChina (PTR) - Get Report fell to the world's second largest company after Exxon.
The Hang Seng rose slightly, up 47 points, or 0.2%, to 22,664.22, while the Shanghai Composite Index lost 195 points, to 3411.49. Shanghai's exchange has been at a 9-month low throughout this week. Japan was also weaker, with the Nikkei falling 102 points, or 0.8%, to 12,604.58.
"The Shanghai index looks awful," said an internal report compiled for traders by Citigroup's technical analysis desk in Hong Kong Thursday. "For now, good support is met at 3,570, but a break below here would suggest extended losses towards the 200-week moving average presently at 2,407, or 36% below present levels."
A range of companies reported earnings in Hong Kong, which were broadly upbeat.
Cheung Kong
(CHEUY)
, Hong Kong's largest property developer, said that its net profit for 2007 rose by 54%, to HK$27.68 billion ($3.6 billion), excluding contributions by subsidiary
Hutchison
(HUWHY)
. That figure surpassed analysts' estimates of around HK$26 billion ($3.3 billion). Hutchison saw net profit for last year rise 53%, to HK$30.6 billion ($3.9 billion).
Henderson Land
(HLDCY)
, another property developer, announced that its second half 2007 earnings more than doubled, rising 142%, to HK$9.19 billion ($1.18 billion). Cheung Kong rose 1.6%, to HK$110.10, and Henderson Land gained 0.5%, to HK$55.60. Hutchison climbed 0.9%, to HK$73.70, and
Hang Lung Properties
(HLPPY)
jumped 0.9%, to HK$27.10.
Telco upstart
China Unicom
(CHU) - Get Report
also reported better-than-expected earnings, confirming many analysts' recent forecasts that the telecom sector is fast becoming a hedge against slowing growth spurred by a pending U.S. recession. The company said that net profit for 2007 jumped 115%, to HK$9.3 billion ($1.2 billion) vs. around HK$7 billion ($900 million) forecast by analysts.
China Unicom fell back on profit taking, down 1%, to HK$17.54, while
China Telecom
(CHA) - Get Report
lost 1.4%, to HK$4.90.
China Netcom
(CN) - Get Report
jumped 3.1%, to HK$21.85, and
China Mobile
(CHL) - Get Report
leapt 1.9%, to HK$115.40, helping the Hang Seng index remain in the green as the index's largest weighting.
In the commodity sector, surging prices of crude oil helped
CNOOC
(CEO) - Get Report
report a 14% rise in net profits for the second half of 2007. Net income increased a little more than analysts' estimates, to 16.7 billion yuan ($2.4 billion).
Shares in CNOOC jumped 1.5%, to HK$11.12, but rival PetroChina continued a recent freefall into the red. PetroChina lost 2.3%, to HK$9.47 in Hong Kong, and dove 8.3%, to 16.99 in Shanghai. The losses are part of a downward trend for PetroChina, which is the Shanghai Composite's largest weighting, and the Hang Seng's fifth largest. Despite rumors that Beijing will provide subsidies to China's largest oil company, and introduce policy measures to stimulate the Shanghai stock market, nothing has materialized so far.
Shanghai also lost out on results of
Baosteel
, China's largest steel producer. Baosteel said that its net profit for the fiscal year 2007 fell by 3%, to 12.72 billion yuan ($1.81 billion) vs. analysts' expectations of around 14 billion yuan, according to a
Reuters
poll. Shares in Baosteel fell 9%.
In Japan, rumors that electronics maker
TDK
( TDK) would miss earnings forecasts weighed on share prices, while a higher yen stifled exporters. TDK dropped 7.5%, to 5910 yen.
The Nikkei rebounded from mid-day lows however, which traders said was a result of the investors' increasing confidence that already beaten-down prices may have nearly hit a technical bottom.
Sony
(SNE) - Get Report
fell 3.8%, to 4070 yen, and
Honda
(HMC) - Get Report
lost 2.5%, to 2985 yen.
Kobe Steel
(KBSTY)
eased 0.7%, to 289 yen. The yen remained steadily below the 100 yen benchmark, at 99.46 yen vs. the dollar. Exporters generally price the dividing line between profits and losses from U.S. sales at 105 yen, with any weakness in the dollar below that point amounting to negative earnings.
Other Asian markets fell. The Taiwanese Taiex dropped 1.9%, to 8605, while South Korea's Kospi was down 0.2%, at 1676. Investors in Asia generally attribute recent losses in Taiwan to profit taking following a surge in prices on the recent election result. India's Bombay Sensitive Index fell 0.44%, to 16,015.
Be sure to check out the Far East Portfolio at Stockpickr.com to find out which stocks in India and China are making big moves and announcing major news.
Daniel M. Harrison is a business journalist specialising in European and emerging markets, in particular Asia. He has an MBA from BI, Norway and a blog at
. He lives in New York.