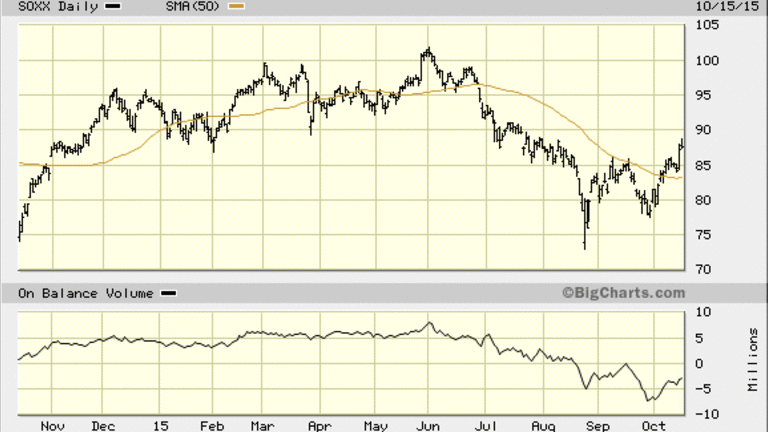 Semiconductor Stocks Are Looking Up
It will take a while, but we will look for an upward bias in the semiconductor industry in the next few months.
NEW YORK (TheStreet) -- It is always interesting analyzing an index. The SOX, the PHLX Semiconductor Index, is no exception.
From the Nasdaq site, we found that the PHLX Semiconductor Sector Index is a modified market capitalization-weighted index composed of companies primarily involved in the design, distribution, manufacture, and sale of semiconductors.
In this first chart of the SOX, above, we see a classic bottom reversal. The SOX declines to 550 from 750, it bounces and then retests the low by a dip to 575 and has now rallied over its September high from the bounce.
We have just described a turnaround breaking the pattern of lower lows and lower highs. We can't use volume-based indicators on the SOX, but we can see the oversold readings at the lows from the stochastic indicator and the rising Moving Average Convergence Divergence (MACD) oscillator.
In this longer-term view of the SOX, above, we can see why the SOX held the 550 level this year as it was the low of 2014. Also note that in the lower panel we can see the crossing of the MACD oscillator in negative territory similar to the successful crossover seen in 2011.
Looking at prices and ignoring volume is not the ideal situation so we added this last chart above of the (SOXX) - Get iShares Semiconductor ETF Report , the iShares PHLX Semiconductor ETF, to see some volume.
The On-Balance-Volume (OBV) line of the SOXX has mirrored the decline in the SOXX and the rebound. The OBV line is still in a downtrend but should take only a few more days of improvement to break the downward trend of the OBV line.
Bottom line, it will take a while, but we look for a 600 to 725 trading range with an upward bias for the SOX over the next few months.