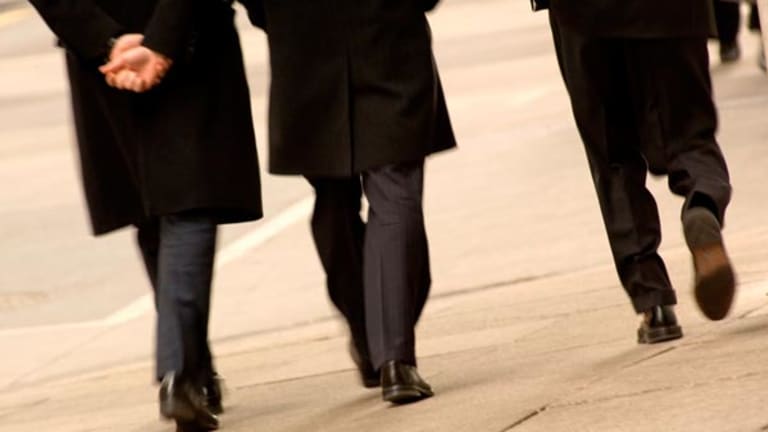 Selling Gets Heavy in Tech
The Nasdaq ends down 2.1% as buyers fail to materialize ahead of the Fed meeting.
Updated from 4:05 p.m. EDT
Apprehension ahead of the
Federal Reserve's
monetary policy meeting this week prompted investors to take some money off the table Monday after a recent advance.
The
Dow Jones Industrial Average
ended down 128 points, or 1.4%, at 9073, while the
Nasdaq
fell 34 points, or 2.1%, to 1610. The
S&P 500
lost 14 points, or 1.4%, to 981. All three major averages advanced last week, marking the fourth week of gains for the Dow and S&P 500.
"I think we're taking a breather," said Sean Martin, head trader at A. Gary Shilling & Co. "You can find many excuses for this selloff, but the fact is, stocks have run up pretty well, and people are looking to take profits."
Some market watchers said investors were nervous about being long ahead of the Fed's decision. The central bank's policymaking arm begins its two-day meeting on Tuesday, and most investors expect a quarter-point cut Wednesday. A more aggressive half-point cut hasn't been ruled out, but recent economic data have suggested that this might not be necessary.
Also weighing on investor sentiment Monday were comments from Morgan Stanley analyst Steve Galbraith, who said he is becoming more defensive on the market. Galbraith recommended that investors underweight technology stocks and said they should overweight consumer and industrial issues.
"With the S&P 500 at our year-end target of 1000, the market is already discounting a fairly healthy recovery," he said. "As such, we believe investors will benefit by paring weightings in sectors that have outperformed and adding to sectors that have underperformed."
Volume on the
Big Board
reached 1.35 billion, with losers beating winners by 2 to 1. Volume on the Nasdaq hit 1.7 billion, with decliners beating advancers by 2 to 1.
Richard McCabe, chief market analyst at Merrill Lynch, said he believes the market has lost some momentum in the last two weeks, "and a temporary pullback could develop in late June-early July." Still, McCabe believes there is much more potential for stocks to climb this year, because technical indicators remain strong.
Merrill's chief quantitative strategist, Richard Bernstein, advises investors to be more selective, however, noting that earnings expectations for the second half of the year are too high. He suggests that investors overweight higher-quality issues, which he said are undervalued, have higher dividend yields "and tend to outperform during periods when earnings expectations are revised down."
Jeffrey Saut, chief investment strategist at Raymond James, said that while he does think the economy is improving, it is doing so at "crawl speed."
"Unfortunately, crawl speed is not fast enough to bolt us out of the economic soft spot, or support the stock market's current valuation level," he said.
In merger and acquisitions news,
Idec Pharmaceuticals
(IDPH)
agreed to buy
Biogen
undefined
for $6.9 billion, creating a $1.5-billion-a-year-in-revenue challenger to
Amgen
(AMGN) - Get Amgen Inc. Report
and
Genentech
(DNA)
. Idec shares were down $2.12, or 5.4%, at $36.96, while Biogen was down $2.59, or 6%, at $41.55. Biogen lowered its second-quarter earnings guidance Monday.
Also in merger news, online auction house
eBay
said late Friday that it has agreed to acquire what's left of Internet technology company
FairMarket
undefined
for $4.5 million. eBay was up 51 cents, or 0.5%, at $102.30. FairMarket was flat at $1.72.
In the insurance sector,
MetLife
(MET) - Get MetLife, Inc. (MET) Report
said it would buy the group life-insurance business of
John Hancock Financial Services
(JHF)
for an undisclosed sum. Metlife was down 0.4%, or 0.1%, at $28.21. John Hancock was down 28 cents, or 0.9%, at $30.81.
Beleaguered hospital operator
Tenet Healthcare
(THC) - Get Tenet Healthcare Corporation Report
warned that its second-quarter earnings will fall short of analysts' expectations on lower sales, as the company faces internal and industrywide difficulties. The shares were down $4.22, or 26%, at $12.01.
Sun Microsystems
(SUNW) - Get Sunworks, Inc. Report
was down 37 cents, or 7%, at $4.80 after Goldman Sachs suggested the company's sales could fall short of estimates in its June quarter.
Bidders for
Vivendi's
(V) - Get Visa Inc. Class A Report
U.S. entertainment unit faced a noon deadline Monday for making an offer for the portfolio containing Universal Studios and the USA cable network. Potential bidders include
General Electric
(GE) - Get General Electric Company (GE) Report
,
Liberty Media
(L) - Get Loews Corporation (L) Report
,
Metro-Goldwyn Mayer
(MGM) - Get MGM Resorts International (MGM) Report
and
Viacom
(VIA) - Get Viacom Inc. Class A Report
, as well as media mogul Edgar Bronfman Jr. and oil billionaire Marvin Davis. The auction is expected to take weeks to be completed. Vivendi was down 67 cents, or 3.5%, at $18.55.
Goodyear Tire & Rubber
(GT) - Get Goodyear Tire & Rubber Company Report
was down 7% after saying that its North American shipments to car makers fell more than the overall industry.
Boeing
(BA) - Get Boeing Company Report
was down $1.07, or 3%, at $34.46 after the aircraft maker's CEO, Phil Condit, said demand will take time to strengthen amid the slowdown in tourism and the outbreak of SARS.
In analyst actions, J.P. Morgan increased its second-quarter sales and earnings estimates for
Coca-Cola
(KO) - Get Coca-Cola Company Report
because of gains from exchange rate fluctuations. Coke was up 28 cents, or 0.6%, at $46.75.
R.J. Reynolds
(RJR)
was downgraded by Morgan Stanley to underweight from equal weight. Morgan Stanley said the stock is trading at a "sector-high valuation despite weak fundamentals." Shares were down 64 cents, or 1.7%, at $36.36. Still, Morgan Stanley analyst David Adelman published a glowing report on the future of the tobacco industry, citing strong financials, sales growth in Europe, consumer loyalty and a reduction in legal risks in America.
Meanwhile, Lehman Brothers raised its 12-month price target on Genentech after the FDA approved the company's Xolair treatment for asthma. The drug will be marketed alongside
Novartis
(NVS) - Get Novartis AG Sponsored ADR Report
. Genentech was down $3.22, or 4%, at $71.10.
Elsewhere in the pharmaceutical arena,
AstraZeneca
(AZN) - Get Astrazeneca PLC Sponsored ADR Report
announced a $355 million settlement of federal fraud charges related to the sales and marketing practices of its prostate cancer drug Zoladex. AstraZeneca was down 93 cents, or 2%, at $42.28.
Procter & Gamble
(PG) - Get Procter & Gamble Company Report
won U.S. approval for the sale of Prilosec, a heartburn drug, increasing the chances the company will boost its health care products production. Shares were up 27 cents, or 0.3%, at 91.50.
Walgreen
(WAG)
was down $2.46, or 7.6%, at $29.79 after it met third-quarter earnings estimates but said operating performance lagged its expectations due to weak sales.
Overseas markets were mostly lower, with London's FTSE 100 down 1.7% at 4087 and Germany's Xetra DAX down 1.6% at 3186. In Asia, Japan's Nikkei closed 0.2% higher at 9137, while Hong Kong's Hang Seng shed 2% to 9734.
Treasuries were higher, with the yield on the 10-year slipping to 3.32%. Crude oil futures were down 1.6% at $29 in New York, while the dollar was stronger against the euro and slightly lower against the yen.