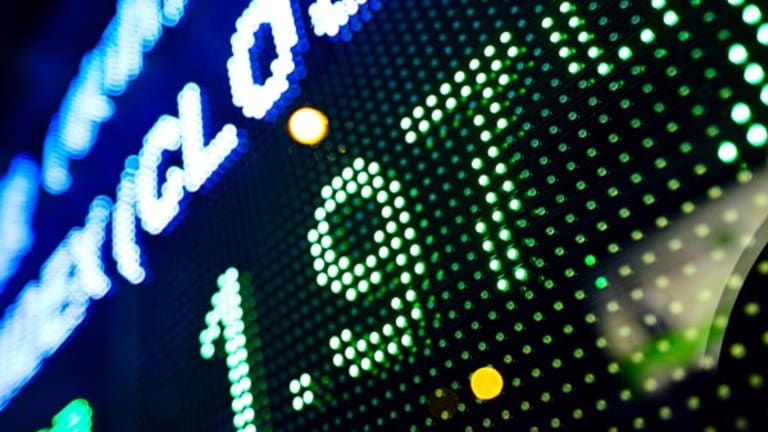 Sellers Crash Profit Party
Stocks tumble as inflation concerns get another leg up.
Updated from 2:33 p.m. EDT
Stocks took another dive to fresh year lows Wednesday as a series of bullish earnings catalysts ran into a wall of inflation worry.
The
Dow Jones Industrial Average
closed down 115.05 points, or 1.14%, at 10,012.36, despite a 3.6% rise in
Caterpillar
(CAT) - Get Report
.
The
S&P 500
fell 15.28 points, or 1.33%, to 1137.50, while the
Nasdaq
lost 18.60 points, or 0.96%, to 1913.76. The Dow and S&P 500 ended at fresh lows for 2005. The Dow closed at a level not seen since Oct. 28, while the S&P 500 reached a closing low not hit since Nov. 2.
Trading volume on the
New York Stock Exchange
was heavy at 2.21 billion shares, with decliners beating advancers by a 3-to-1 margin. Volume on the Nasdaq was 2 billion shares, with decliners outpacing advancers 2 to 1.
In other markets, the 10-year Treasury bond traded up 4/32 in price to yield 4.19%, while the dollar firmed against the yen and euro.
"It's hard to determine day to day which the market will focus on -- good earnings or inflation," says Barry Hyman, equity market strategist with Ehrenkrantz King Nussbaum. "The CPI number, core and total, brings the inflation and
Fed
risk back into the market. The market is saying it's forgetting about earnings this quarter and is instead looking at questionable growth for the second half of the year and into 2006."
Investors were hamstrung by the Labor Department's consumer price index for March, which rose 0.6%. Economists expected an increase of 0.5%, up from the 0.4% increase in February. The core index, which excludes food and energy, rose 0.4%, higher than the expected rise of 0.2%.
"The overall numbers were a good deal higher than expected, surprising people," says John Canavan, market analyst with Stone & McCarthy Research Associates. "You're seeing an outright selling in Treasuries, given the nature of the inflation data. There's renewed and growing fear of how the
Fed
will tighten."
Stocks endured a second wave of selling around 2 p.m. EDT after the Fed's beige book report on economic conditions noted that "upward price pressures have strengthened." The rest of the survey was generally positive, although "high oil" came up several times.
"Reports from all 12 Federal Reserve districts indicate that business activity continued to expand from late February through early April," said the Fed in its report. "Price pressures have intensified in a number of districts, and most report that high or rising energy prices are a concern across sectors.
Oil closed higher by 14 cents to $52.44 a barrel in Nymex floor trading. An inventory report from the Department of Energy showed a 1.8-million-barrel decrease in U.S. crude supplies last week. Gasoline supplies fell by 1.5 million barrels. The May crude contract added almost $2 Tuesday after falling to a seven-week low on Monday.
Exxon Mobil
(XOM) - Get Report
, which turned positive after the inventory report, finished down $1.49, or 2.5%, to $57.14.
"The petroleum inventory news was bullish for energy stocks, which helped to push the Dow higher without being bearish on other stocks," says Ken Tower, chief market strategist with CyberTrader. "I think it will still be a choppy day because of so many cross-currents. Having said that, what we've seen so far is very constructive, considering the CPI number."
Stronger sectors include energy, technology and semiconductor. Weaker areas Wednesday include health care, materials and financial.
The premarket mood was buoyant after Intel reported a 25% jump in first-quarter earnings late Tuesday, beating estimates, and
Yahoo!
(YHOO)
said profit doubled and also topped forecasts. Intel added 3 cents, or 0.1%, to $22.66, while Yahoo! gained $1.43, or 4.3% to $34.65.
In the first quarter, Intel earned $2.15 billion, or 34 cents a share, compared with $1.73 billion, or 26 cents a share, last year. Sales jumped 17% from a year ago to $9.43 billion. Analysts had been expecting earnings of 31 cents a share on sales of $9.31 billion. The chip giant guided second-quarter sales in line.
Yahoo! earned $204.6 million, or 14 cents a share, including a gain of 1 cent a share, in its first quarter, compared with earnings of $101.2 million, or 7 cents a share, last year. Revenue before paid-search royalties rose 49% to $821 million. Analysts had been forecasting earnings of 11 cents a share on sales of $797 million.
Other companies reporting stronger-than-expected earnings Tuesday night included
Seagate Technology
(STX) - Get Report
,
Gilead Sciences
(GILD) - Get Report
and
Washington Mutual
(WM) - Get Report
.
After the bell Wednesday,
eBay
(EBAY) - Get Report
said it earned $256.3 million, or 19 cents a share. Excluding items, the internet heavyweight earned $275.5 million, or 20 cents a share, beating analyst expectations by 2 cents, according to Thomson First Call. Sales in the quarter rose 36% to $1.032 billion from $756 million last year, matching expectations.
Also after the close, both
Qualcomm
(QCOM) - Get Report
and
Motorola
(MOT)
reported better-than-expected earnings.
Earlier, Caterpillar reported first-quarter earnings of $581 million, or $1.63 a share, up from $420 million, or $1.19 a share, a year ago. Sales for the quarter jumped to $8.34 billion from $6.48 billion a year earlier. Analysts were looking for earnings of $1.36 and revenue of $7.3 billion, according to Thomson First Call. Shares rose $3.09, or 3.6%, to $88.04.
"As 2005 unfolds, we are encouraged by the fundamental strength of the key markets we serve," Caterpillar said in a release. "Mining companies will continue to add capacity to meet anticipated growth in demand for the next several years. In addition, global demand for energy, including coal as well as oil and gas, and large infrastructure projects are growing. Likewise, commercial construction and housing in most countries will create even further demand for our products and services."
Ford
(F) - Get Report
posted a drop in first-quarter earnings to $1.18 billion, or 58 cents a share, compared with $1.96 billion, or 95 cents a share, last year. Automotive revenue rose to $39.3 billion from $38 billion a year ago. Excluding special items, earnings were 62 cents a share, well above the 39-cent analyst consensus.
Ford maintained its 2005 guidance, saying it would focus for the rest of the year on cutting costs, boosting quality and improving product development. But Ford guided toward a second-quarter loss of up to 15 cents a share, while analysts had forecast a 38-cent profit. Shares of Ford were up 6 cents, or 0.6%, to close at $9.34.
Altria
(MO) - Get Report
earned $2.60 billion, or $1.25 a share, in the first quarter, compared with earnings of $2.19 billion, or $1.07 a share, last year. On a continuing operations basis, the company earned $2.58 billion, or $1.24 a share, beating estimates by a penny. Most of the improvement came from the company's cigarette subsidiaries. Shares fell $1.37, or 2.1%, to $62.75, having been up for most of Wednesday's session.
According to reports published late Tuesday,
US Airways
(UAIRQ)
and
America West Airlines
(AWA)
are in advanced merger talks to create a national low-cost carrier. Together, the companies hope to compete more efficiently against rival
Southwest Airlines
(LUV) - Get Report
.
Dell
(DELL) - Get Report
was upgraded to buy from hold at Smith Barney, which said market share improvement and new geographies should lift the stock. The brokerage set a price target of $45. Shares gained 37 cents, or 1%, to $35.99.
RBC Capital upgraded shares of
Google
(GOOG) - Get Report
to outperform from sector perform, raising the stock price target to $230 from $220. Google rose $6.70, or 3.5%, to $198.10.
Overseas markets were mostly lower, with London's FTSE 100 closing down 0.7% to 4822 and Germany's Xetra DAX losing 0.6% to 4178. In Asia, Japan's Nikkei rose 0.2% overnight to 11,089, while Hong Kong's Hang Seng added 0.4% to 13,502.