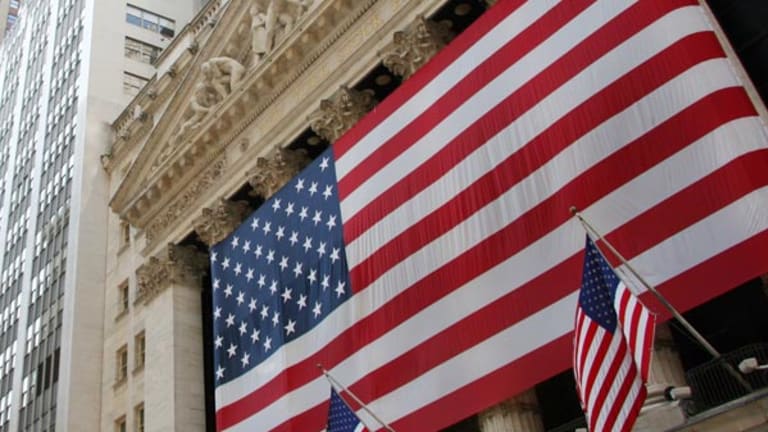 Sellers Batter Major Averages
A late rally isn't in the cards for the Dow and the Nasdaq this time.
Updated from 3:34 p.m. EDT
Stocks closed sharply lower Thursday as steep declines overseas and growing concerns about the U.S. economy took their toll.
Blue-chips and tech stocks tried repeatedly to mount minor rallies during the session, but sellers easily carried the day. The
Dow Jones Industrial Average
closed down 383 points, or 4.4%, at 8376, while the
Nasdaq
fell 57 points, or 3.7%, to 1471. The
S&P 500
lost 32 points, or 3.1%, to close at 984.
Technology and financial shares led the way lower. Safe havens were hard to find, as chips, cyclicals and Internet stocks were also dropping, but biotechs were slightly higher.
TheStreet.com
took a
broader look at how various sectors are faring.
This morning, the government said housing starts fell 6.9% in August to their lowest level since October 2000. New claims for unemployment fell 49,000 to 387,000 in the week ended Sept. 15, although the figure reflected a seasonal adjustment and wasn't viewed as a clear indication of the situation after last week's terrorist attacks.
More ominous was the mounting pessimism in the airline industry, which might lay off as many as 100,000 workers in the face of flagging demand.
Overseas stock indexes were uniformly lower. In Japan, the Nikkei closed down 1.5% at 9785, while Hong Kong's Hang Seng ended 2.5% lower at 9318. London's FTSE 100 was off 3.5% to 4557, while Paris's CAC-40 was down 3.9% to 3738. Frankfurt's DAX slumped 5.3% to 3826.
Stocks staged a rally late Wednesday to pare huge losses, but still ended lower. The Dow Jones Industrial Average closed down about 144 points, or 1.6%, at 8759, while the Nasdaq fell only 27 points for the day, about 1.8%, to 1528. The S&P 500 lost 17 points, or about 1.7%, to 1015.
The 10-year Treasury note recently was at 102, yielding 4.74%.