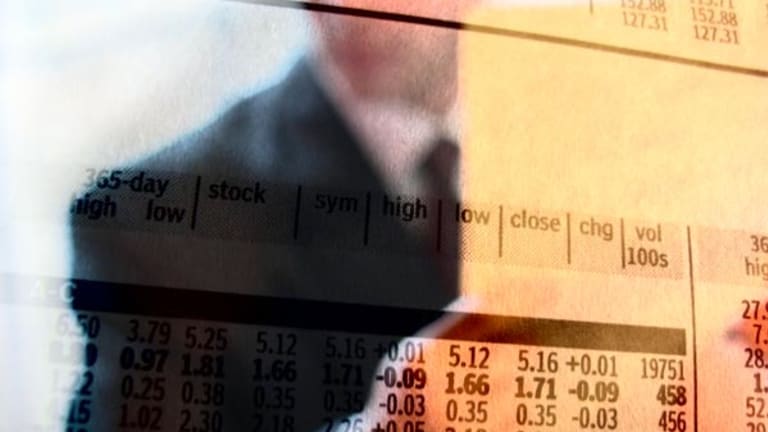 Scent of Scandal Sinks Stocks
A shake-up at Freddie Mac and Motorola's warning take the Dow down 0.9%.
Updated from 4:06 p.m. EDT
An earnings warning from
Motorola
(MOT)
and problems at a big mortgage player deflated stocks on Monday.
Once down more than 100 points, the
Dow Jones Industrial Average
ended down 82.79 points, or 0.9%, at 8980.00. Tech stocks were the day's big losers, with the
Nasdaq
down 23.45 points, or 1.4%, at 1603.97, while the
S&P 500
was down 11.83 points, or 1.2%, at 1603.93.
The negative tone was pronounced on Monday, with decliners doubling up advancers on both the NYSE and Nasdaq on solid volume. And while stocks sank, Treasuries rallied, with the 10-year bond up 16/32, lowering its yield to 3.29%.
The stock market slide comes after some serious gains, with the Dow hitting 9062 on Friday, about 23% above its March 11 nadir. But traders were taking profits after Motorola reduced its second-quarter sales and earnings outlook because of lower-than-expected sales of cell phones in Asia. It cited the SARS outbreak and large inventories. Shares fell 21 cents, or 2.4%, to $8.68.
The government said wholesale inventory levels fell 0.1% during April, better than the consensus expectation of a 0.2% rise and better than March's 0.5% rise. As suggested in
TheStreet.com
's look at
this week's market activity, falling inventories bodes well for capital expenditures down the road and could be a sign of recovery.
Elsewhere in company news,
Freddie Mac
undefined
said it is replacing its top three executives amid a federal investigation of employee misconduct. Five months ago, the second-biggest buyer of U.S. mortgages had to restate results for the previous three years because of accounting changes.
UBS Warburg weighed in positively on the Freddie Mac housecleaning, reiterating its buy rating on shares, telling investors that personality issues and not legal issues drove the resignation of its company president. A.G. Edwards, citing the distrust caused by the management shake-up, downgraded the company to hold from buy. Freddie Mac shares lost $9.62, or 16.1%, to $50.25, hitting a 52-week low.
Other mortgage-related companies were feeling the heat as well.
Fremont General
(FMT)
fell 70 cents, or 5.2%, to $12.80, while
New Century Financial
(NCEN)
dropped $3.18, or 6.5%, to $45.98 and
Fannie Mae
undefined
fell $3.63, or 4.8%, to $71.31.
Freddie Mac wasn't the only company with an executive shake-up on Monday. Tobacco maker
R.J. Reynolds
(RJR)
said its finance chief resigned to pursue other opportunities, sending shares down $1.22, or 3.4%, to $34.97.
Alcoa
was a battleground stock on Monday, with a pair of conflicting analyst reports out on the blue-chip. Merrill Lynch upgraded the stock to buy from neutral, on the basis of low valuation and better aluminum industry fundamentals. On the flip side, UBS Warburg downgraded the company to reduce from neutral, saying that valuation was too high and that the aluminum industry faces challenges in the near term. The bears were winning, with Alcoa off 43 cents, or 1.7%, at $25.50.
Defense contractor
Northrop Grumman
(NOC) - Get Northrop Grumman Corporation Report
said it expects to pay $111.2 million in a federal lawsuit settlement related to overcharges on space projects,
The Wall Street Journal
reported. Shares fell $1.90, or 2.2%, to $83.50.
Also in the defense arena,
Lockheed Martin
(LMT) - Get Lockheed Martin Corporation (LMT) Report
said it was awarded a $267.5 million contract from the U.S. Navy to provide engineering, computer program development and test support to the South Korean Navy. Shares gained 9 cents, or 0.2%, to $46.50.
Lockheed Martin and
Boeing
(BA) - Get Boeing Company Report
, the world's biggest airplane maker, could also rise on news that BAE Systems, Europe's largest defense company, is close to merging its business with either one of the companies,
The Sunday Telegraph
reported. Boeing fell $1.69, or 4.9%, to $33.17.
General Dynamics
(GD) - Get General Dynamics Corporation (GD) Report
fell $1.42, or 2.1%, to $67.19 after announcing plans to buy
Veridian
(VNX)
for $1.5 billion in cash, valuing the company at $35 a share. The merger is expected to close by the end of the third quarter. Veridian rose $7.13, or 26.1%, to $34.48.
Electronics retailer
Circuit City
(CC) - Get Chemours Co. Report
said Friday that it is thinking of selling its battered credit card business. Shares gained 5 cents, or 0.8%, to $6.49.
In analyst actions,
Sun Microsystems
(SUNW) - Get Sunworks, Inc. Report
slid 6 cents, or 1.2%, to $5.14 despite the fact Goldman Sachs upgraded the company to in line from underperform, telling investors that demand has stabilized, end markets have bottomed and valuation seems reasonable.
Also, Lehman Brothers downgraded a few telecom-equipment stocks to underweight from equal weight, including
Nortel Networks
(NT)
and
Tellabs
(TLAB)
. Nortel fell 16 cents, or 4.9%, to $3.14, while Tellabs fell 41 cents, or 5.1%, to $7.68.
Lehman Brothers also raised its rating on
SBC Communications
(SBC)
to overweight from equal weight. Shares gained 62 cents, or 2.4%, to $25.80.
Overseas markets were mixed, with London's FTSE 100 closing down 0.5% at 4129 and Germany's Xetra DAX closing down 1.1% at 3095. In Asia, Japan's Nikkei closed up 0.4% at 8822, while Hong Kong's Hang Seng gained 0.4% to 9733.