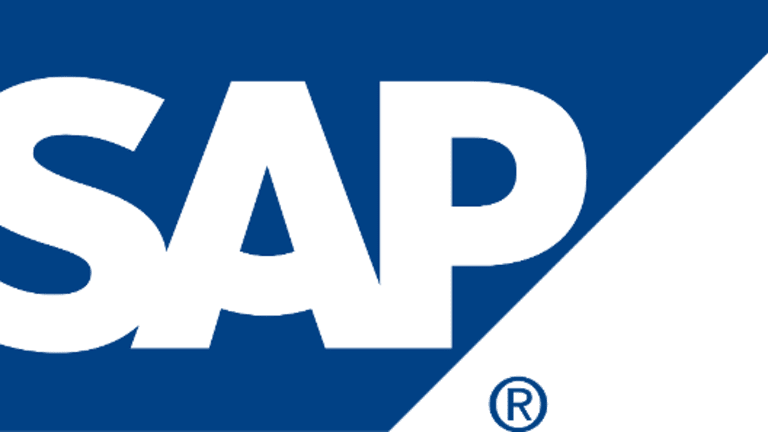 SAP SE (SAP) - Get SAP SE Sponsored ADR Report  shares at a fresh 52-week high in Frankfurt Tuesday after it posted weaker-than-expected first quarter earnings but held on to improved full year revenue and profit targets as its cloud subscriptions showed "strong momentum".
SAP said its earnings for the first three months of the year came in at €0.69 per share, a figure that fell shy of the market's forecast of €0.74 per share. Operating profits rose 8% to €1.198 billion, SAP said, just below the consenus forecast of €1.229 billion. Revenues for the quarter were marked at €5.285 billion, the company said, modestly higher than the €5.179 billion expectation but up 12% from the same period last year. 
"SAP's outstanding first quarter results are a decisive follow-on to our record setting 2016. Led by S/4HANA, we are seeing mass customer adoption of our solutions globallym," said CEO Bill McDermott. "Our inspired workforce is firmly committed to staying focused on the success of our customers and shareholders."
SAP lifted its full year revenue target to a range of €23.2 billion to €23.6 billion on a constant currency basis in January and said 2017 operating profits would come in between €6.8 billion and €7 billion. Those figures were reiterated in Tuesday's earnings release. 
New bookings to SAP Cloud service rose 49% to €215 million in the first three months of the year, the company said, and SAP expects its Cloud subscriptions business would grow 34% this year on a constant currency basis, with subscriptions and support revenue in the €3.8 billion to €4 billion range.
SAP shares were marked 0.64% higher at €93.75 each by noon CET in Frankfurt after hitting a fresh 52-week high of €94.11 earlier in the session.