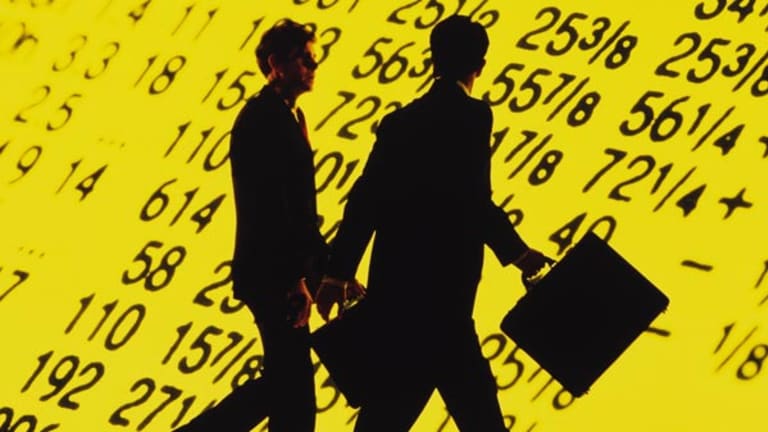 Santa Visits Wall Street
Stocks soar as strong economic data and RIM's big quarter bring good cheer.
Updated from 4:06 p.m. EST
Stocks surged Friday as a host of cheery news, from strong economic data to another blowout tech profit report, put traders in a buying mood ahead of the Christmas holiday week.
The
Dow Jones Industrial Average
rose 205.01 points, or 1.55%, to 13,450.65. Each of the Dow's 30 components finished the session with gains, with
AT&T
(T) - Get Free Report
leading the pack with a 3% rise.
Elsewhere, the
added 24.34 points, or 1.67%, to 1484.46. The
Nasdaq Composite
jumped 51.13 points, or 1.94%, to 2691.99.
With the rally, the major averages each finished a week of uneven trading with modest gains. The Dow was higher 0.8% for the week, and the S&P 500 ended up 1.1%.
The Nasdaq was the best performer, adding 2.1% over the five sessions as strong earnings from
Research In Motion
( RIMM) and
Oracle
(ORCL) - Get Free Report
invigorated the tech sector.
Stocks raced out of the gates after the Commerce Department said personal income rose 0.5% last month, as expected, while spending jumped 1.1%, much higher than forecasts. It was the largest surge in spending since May 2004.
The report also said the
preferred inflation measure, the core personal consumption expenditures deflator, rose 0.2%, in line with expectations. The core inflation measure is up 2.2% over the last year, outside the Fed's so-called comfort zone of 1% to 2%.
Ian Shepherdson, chief economist with High Frequency Economics, said that the spending number came in much higher than forecasts due to an early Thanksgiving holiday last month.
"Given the strong core retail sales numbers and the surge in energy prices, the consensus forecasts for both nominal and real spending were bafflingly low," said Shepherdson. "You should now expect a wave of modest
gross domestic product forecast upgrades for the fourth quarter."
Stocks also celebrated the results of the second of four planned Federal Reserve loan auctions. The Fed said it has accepted $20 billion in propositions from U.S. banks, which will borrow money for 35 days at 4.67%, below the current discount rate banks would normally borrow at. Overall, 73 banks bid $57.7 billion in the auction.
The Fed added that it intends to conduct the biweekly auctions as long as needed in order to address the pressures in short-term funding markets.
"This is a definite plus, and it will hopefully break the logjam in the credit arena," said Robert Pavlik, chief investment officer with Oaktree Asset Management. "This is a different environment than we've had in the past, so we're hoping to see a freeing up of these credit concerns."
Research In Motion's blockbuster report after the prior close also provided a boost. The BlackBerry maker posted third-quarter earnings and revenue that more than doubled from a year ago.
RIM also said that income should top projections for the fourth quarter. Shares added $11.64, or 10.9%, to $118.63.
The RIM report came on the heels of strong earnings from software maker Oracle, which helped spur a tech rally last time out. In the prior session, the Nasdaq surged 39.85 points, or 1.5%, to 2640.86. The Dow rose 38.37 points, or 0.3%, to 13,245.64, while the S&P 500 added 7.12 points, or 0.5%, to 1460.12.
"This is a tech-led rally thanks to RIM and Oracle," said Pavlik. "There's a positive feeling among tech stocks. There's been cash building up on the sidelines, so there's some rotation into these tech names."
Ahead of the new session, a report circulated that
Merrill Lynch
( MER) may become the latest investment bank to receive a cash boost from overseas funding. Singapore's Temasek Holdings is in talks with Merrill to deliver a $5 billion cash infusion, according to
The Wall Street Journal
. Shares of Merrill rose $1.04, or 1.9%, to $55.54.
Friday's gains came despite expectations of increased volatility during the expiration of four separate derivatives contracts, an event known as quadruple witching. Single-stock futures, stock options, index futures and index options all were trading for the last time. The simultaneous expiration happens quarterly and can lead to considerable volatility.
Amid the options expiration, the
said it set trading volume records during the first 30 and 60 minutes of the trading day. In the first half hour, the exchange saw 790 million shares traded, topping the old record of 704 million. During the first hour, the NYSE saw a record 903 million shares traded, beating the old record by more than 100 million
By the end of trading, volume on the NYSE hit 4.37 billion shares, with advancers beating decliners by a 3-to-1 margin. On the Nasdaq, volume touched 2.46 billion shares as winners outpaced losers 2 to 1.
Elsewhere on the economic front, the University of Michigan revised its final read of its consumer sentiment index for December to 75.5. Economists had expected no revision from the preliminary read of 74.5.
U.S. Treasurys were tumbling. The 10-year note was down 28/32 in price, pushing the yield to 4.16%. The 30-year bond was losing 1-21/32 in price, yielding 4.58%.
Commodity prices climbed. Crude oil was up $2.25 to close at $93.31 a barrel, and gold and silver futures finished sharply higher.
In other corporate news, shares of
Circuit City
(CC) - Get Free Report
plunged 28.7% early after the retailer posted a much wider-than-expected third-quarter loss. Shares were down $1.91 to $4.75.
Walgreen
(WAG)
, on the other hand, traded higher after posting a fiscal first-quarter profit that rose almost 6% from a year ago. Walgreen climbed $2.22, or 6.1%, to end at $38.47.
Overseas markets rallied overnight. In Asia, Hong Kong's Hang Seng jumped 2.3% and Japan's Nikkei 225 added 1.5%. Among European bourses, London's FTSE 100 tacked on 1.4% and Germany's Xetra Dax was up 1.7%.