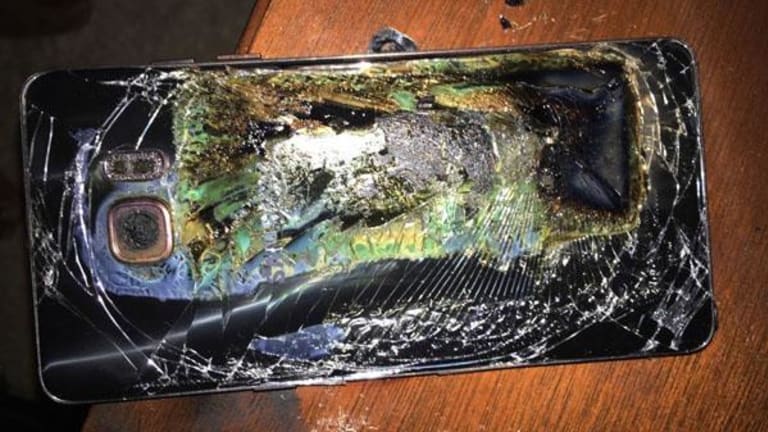 Samsung (SSNLF) Having a 'Marketing Breakdown' at Airports Worldwide
Samsung (SSNLF) is setting up exchange booths at airports worldwide where Galaxy Note 7 owners can switch their phone out for one that won't overheat or explode.
NEW YORK (TheStreet) -- After the Samsung (SSNLF) Galaxy Note 7 smartphone was banned on a number of airlines due to reports of them overheating or exploding, the company decided to open exchange booths at busy airport terminals worldwide. 
Galaxy Note 7 owners can go to the booths to exchange their phone for a different Samsung phone, with employees available to transfer data to the new phone. 
"The airport is the absolute point of the marketing breakdown for Samsung right now," CNBC's Jon Fortt said on "Squawk Alley" Tuesday morning. 
Now when Samsung Note 7 owners go to an airport, they are singled out for having a faulty phone and non-Samsung phone owners are reminded that they're glad they don't own a Samsung device, he pointed out. 
When people see the booths, they think, 'I'm not sure what model that is, but it's Samsung and I don't want it,' Fortt said. 
The one good thing that could possibly come out of the airport exchange service is that Galaxy Note 7 owners will see it as a "positive interaction," Fortt claimed. 
That's not going to happen, Elevation Partners cofounder and CNBC contributor Roger McNamee said in response. 
"The one thing it's better than is getting on the plane and having your phone blow up," McNamee said. "I'm not sure that it's better than anything else." 
By setting up these booths, people are just reminded of the connection, "If Samsung, then problem," McNamee said.