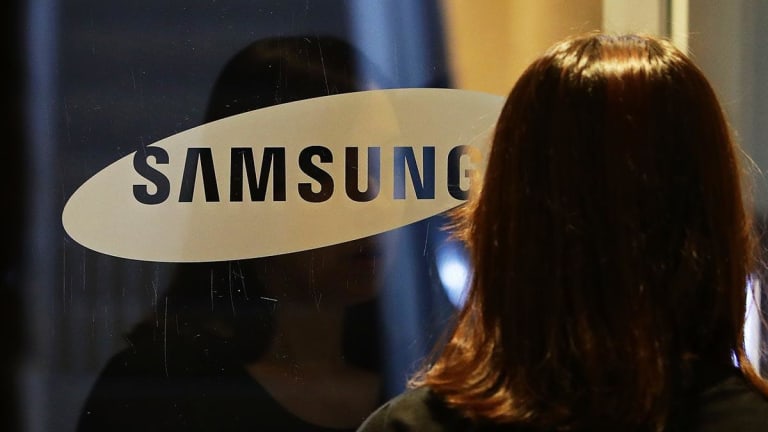 Samsung Shares Dip as Profit Growth Slows Amid Waning Smartphone Demand
Apple's chief smartphone rival, Samsung, is forecasting its weakest quarterly profit growth in a year as waning global demand hits sales after a poor showing in overseas markets for its flagship Galaxy S-9.
Selling smartphones is a tougher gig.
Samsung Electronics  (SSNLF) forecast its slowest profit growth in a least a year Friday as global smartphone demand slows and competition from low-cost rivals intensifies, suggesting the Apple Inc. (AAPL) rival may miss full year sales targets. 
Samsung said it expects operating profits of around $13.2 billion for the three months ending in June, a figure that fell modestly shy analysts forecasts but is still a 5.2% advance from the same period last year. However, disappointing demand for its flagship Galaxy S9 and ongoing concerns related to its chip sector sales and a price fixing investigation in China weighed on shares and point to a tough road ahead in the second half of the year.
Samsung shares were marked 2.3% lower by the close of trading in Seoul following the earnings forecast, which will be detailed in full later in the month. The stock has fallen just under 12% so far this year, compared to a 9.5% gain for smartphone rival and Action Alerts Plus holding Apple.
Last month, market searchers at CounterPoint said the iPhone 8 topped the Galaxy S9 as the world's top-selling smartphone, thanks in part to the latter's poor sales in Europe. Samsung has a full-year handset shipments target of 350 million units - an upgrade from 320 million earlier this year and a figure it may need to revise if second quarter sales dip below the 72 million unit market . However, the impending August launch of its new Galaxy Note flagship could alter both the company's and investors' expectations. 
Samsung is not only seeing increased competition from Apple and its new iPhone suite, but also from China-based handset makers, many of which are moving from their "low cost" reputation to the higher-end of the global market, especially as demand wanes.
Oppo, for example, China's second-largest handset maker, unveiled a €999 ($1,320) unit called the FindX  while its domestic rival, Vivo, is marketing a $780 smartphone called the Nex. 
That said, Strategy Analytics, a closely-watched industry benchmark, sees global handset sales only rising by 1.4% by the end of the year to 1.49 billion units, although 5-G network rollouts in 2019 and beyond should reignite appetite in the near-term. 
Apple will publish its fiscal third quarter earnings on July 31, with investors looking for the Cupertino, Calif.-based group to meet or beat its $51.5 billion to $53.5 billion revenue guidance with a gross margin of between 38% and 38.5%. Apple shifted 52.2 million handsets in it previous quarter, a figure which translated into $61.1 billion in revenue and a $728.30 average selling price.