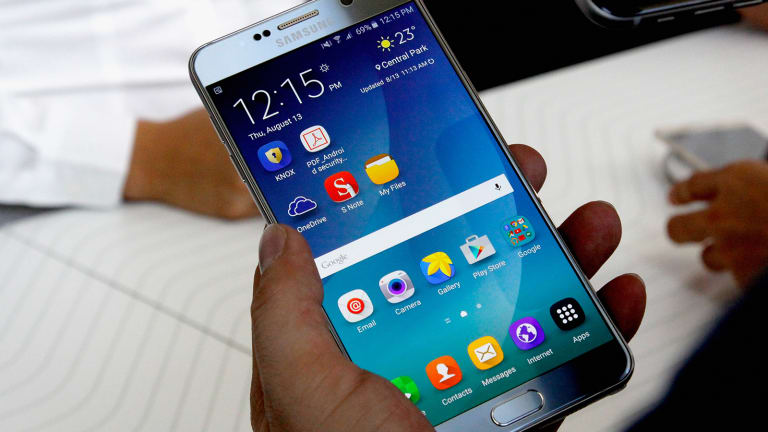 Samsung Sees Record Profits, Top Executive Nicknamed 'Mr. Chip' Flees
Samsung's 'Mr. Chip' says goodbye amid 'unprecedented crisis' swirling around the tech giant.
Samsung Electronics (SSNLF)  shares slipped from an all-time high Friday after the group said another of its top executives is leaving the smartphone giant just hours after it forecast record profits on the back of surging demand for its memory chips and smartphones.
Kwon Oh-Hyun, the group's vice president and heir apparent to the incarcerated former chairman, Jay Y. Lee, will step down after more than three decades at the world's second-biggest smartphone maker to make room for what he called "a new spirit and young leadership".
"We are fortunately making record earnings right now, but this is the fruit of past decisions and investments; we are not able to even get close to finding new growth engines by reading future trends right now," he said in a statement Friday. "As we are confronted with unprecedented crisis inside out, I believe that time has now come for the company start anew, with a new spirit and young leadership to better respond to challenges arising from the rapidly changing IT industry."
Kwon, who has been Samsung's vice chairman since 2012, will retire next March, the company said. His departure comes as Lee, the son of the company's de-facto founder, is appealing a five-year sentence for bribery and corruption in a nationwide scandal that ultimately toppled the country's first woman President, Park Geun-hye, late last year.
Samsung had earlier said it sees operating earnings rising nearly fourfold from last year in its fiscal third quarter, which ended in September, to around 14.5 trillion Korean won ($12.8 billion). Group sales, the company said, are likely to have hit 62 trillion won. The Seoul, South Korea based group will publish its formal quarterly earnings by the end of this month.
However, the departure of Kown kept investors from extending gains for Samsung shares, which have risen 50% so far this year to a record 2.74 million won each. The stock was marked 1.46% lower, at 2.7 million won, by the close of trading Friday, giving the company a market cap of just under $350 billion.
Last month, Samsung said pre-orders for its flagship Galaxy Note 8, which will hit stores Friday, had topped 650,000 and have steamed well past the demand recorded for Samsung's ill-fated Note 7 release last year, despite what some consider to be a hefty price tag that approaches $1,000 for even its cheapest version.
The update stole some of Apple Inc's (AAPL) - Get Apple Inc. (AAPL) Report iPhone launch thunder as the two tech giants square off in what could be their most important battle for global smartphone dominance.
Samsung's piece of the global smartphone pie slipped 2.6 percentage points to 20.7% over the first quarter, according to industry trackers Gartner, while Apple's dipped to 13.7% from 14.8%. That said, the two groups still shifted a collective 130.6 million units, or just over one third of the worldwide total, during the first three months of the year.
However, both groups could also be courting fate as they head into 2018 with premium phones price in the $1,000 region just as customers in key Asia markets look to be more interested in cheaper options and buyers in Western European and North America suffer from "upgrade fatigue" as they hit their own personal ceiling on smartphone capabilities.
More of What's Trending on TheStreet: