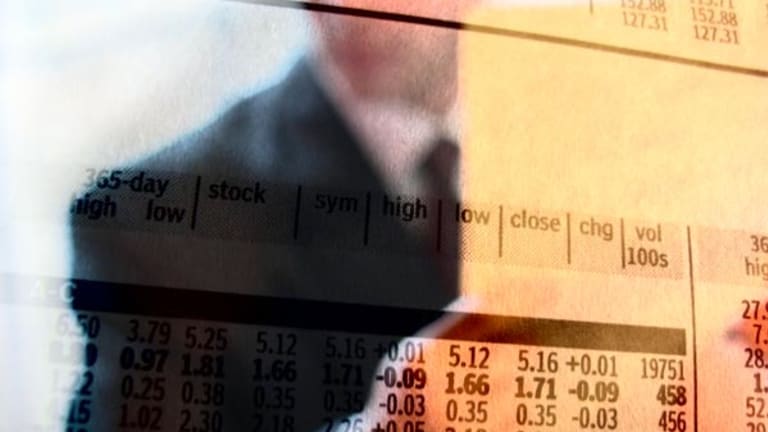 Sad Sack Day for Stocks
The Dow falls more than 200 points in a session that saw a dour second-quarter GDP report and disappointing weekly initial jobless claims. Frank Curzio fills you in with The Real Story.
The Dow falls more than 200 points in a session that saw a dour second-quarter GDP report and disappointing weekly initial jobless claims. Frank Curzio fills you in with The Real Story.
Updated from 4:09 p.m. EDT
Stocks in New York finished a gloomy Thursday with losses as a discouraging government report about the state of the domestic economy and news of a softening job market weighed on investor sentiment.
The
Dow Jones Industrial Average
finished down 205.67 points, or 1.8%, at 11,378.02, and the
S&P 500
dropped 16.88 points, or 1.3%, to 1267.38. After spending much of the day in positive territory, the
Nasdaq
sold off in the final hour of trading, losing 4.17 points, or 0.2%, to 2325.55.
For the month, the Dow lost 0.4%, the S&P 500 dropped 1.4% and the Nasdaq tacked on 0.9%.
Traders had been in a holding pattern ahead of Thursday morning's economic data, but when the figures were released, the mood took a turn for the worse.
The big number came from the Commerce Department, which said second-quarter gross domestic product rose at a 1.9% annual rate. While that exceeded the first-quarter pace, it still fell short of the 2.3% consensus estimate. The government also made benchmark revisions that showed negative economic growth in the fourth quarter of 2007.
"Within today's GDP report the details paint a picture of weakness, although it is extremely important to note that if not for a massive decline in inventories, GDP would have been reported to have increased at a 3.9% pace," wrote Tony Crescenzi, chief bond market strategist at Miller Tabak and a contributor to
TheStreet.com's
sister site,
. He said that the inventory decline is the fifth largest in the past 20 years and indicates future growth.
However, Crescenzi wrote, the GDP numbers, particularly the recessionary figure for the fourth quarter of 2007 will cause concern, "despite how obvious it has been that the economy has performed poorly since then." He said he foresees an improvement in business and consumer sentiment creating an upturn for the economy in the first quarter of 2009.
Alan Gayle, senior investment strategist at RidgeWorth Capital Management, wrote in an email that investors may have been more optimistic about the economy after yesterday's Automatic Data Processing payroll data, stable consumer confidence, the signing of the U.S. housing bill and declines in new-home inventories. "The reports today re-open the debate of how deep and prolonged the current weakness might be," he said.
"We can expect the economy to remain sluggish at best through the second half of the year," said Gayle. He said he sees the economy as in a consumer-centric recession that has been supported by U.S. exports and says a recovery will be modest by historical standards. He also said that the rebate-led spending and reduction in inventory indicates that businesses have been cautious, which limits downside risks for the economy.
Another disappointment was registered with the Labor Department's weekly initial jobless claims. According to the government, 448,000 claims were filed last week, more than 50,000 more than had been anticipated.
"The tenor of the jobs report continues to drive other major economic reports such as industrial production and personal income," wrote Gayle. Although the rise in initial claims may be somewhat inflated, the numbers do suggest that the job market remains difficult, he said.
Offering a brighter picture of the economy, the July Chicago Purchasing Managers Index came in at 50.8, up from 49.6 in June and ahead of the consensus estimate of 49.0.
On Friday, the monthly employment report, always a key economic indicator, will be released.
The end of the prior session saw the market rally in the afternoon even as it faced an increase in crude oil prices, after the government signed into law a housing-relief bill and Automatic Data Processing released stronger-than-expected employment data.
After the close, coffee-shop operator
Starbucks
(SBUX) - Get Report
missed analysts' estimates
. Shares ended the day up fractionally at $14.69.
Visa
(V) - Get Report
, on the other hand, delivered
carried by its debit-card business. The stock finished the day down 6.9% at $73.06.
Also showing resilience was media company and Dow member
Disney
(DIS) - Get Report
, which
. Shares nonetheless dropped 4.2% to $30.35.
Dow stock and oil company
Exxon Mobil
(XOM) - Get Report
announced a 14% increase in profits on the record oil prices of the past quarter. Gold miner
Barrick
(ABX)
announced a 22% year-over-year increase in net income. ExxonMobil stumbled 4.7% to $80.43. Barrick was off 0.1% at $42.35.
Among retailers, pharmacy chain
CVS
(CVS) - Get Report
reported an earnings increase that left its financial results in line with expectations, but the stock sold down 5.4% to $36.50.
Traders likewise heard from consumer goods providers such as tobacco concern
Altria
(MO) - Get Report
, food conglomerate
Unilever
(UL) - Get Report
and cereal maker
Kellogg
(K) - Get Report
. Altria and Unilever both said profits declined from a year ago, while Kellogg announced rising income thanks to price increases that counteracted rising food-input costs. Altria skidded 6.2% to $20.35. Unilever plummeted 9% to $27.39, and Kellogg was off 2% at $53.06.
Meanwhile, communications-technology name Motorola
announced an unexpected profit
. Technology-sector compatriot
Symantec
(SYMC) - Get Report
also beat estimates. Motorola caught a 13% updraft to $8.64, and Symantec rallied 7% to $21.07.
Elsewhere, drugmaker
AstraZeneca
(AZN) - Get Report
said earnings were up 13% year over year and issued a positive full-year profit outlook. Health insurer
Aetna
(AET)
reported an increase in second-quarter profit thanks to increased membership and higher premiums. AstraZeneca climbed 3.8% to $48.55, and Aetna added 1.7% to $41.01.
In the financial space, credit card company
MasterCard
(MA) - Get Report
said it lost $747 million in the second quarter thanks to a $1 billion after-tax charge stemming from a settlement with rival card company
American Express
(AXP) - Get Report
. Shares plummeted 9.8% to $244.15.
Away from earnings, pharmaceutical concern
Bristol-Myers Squibb
(BMY) - Get Report
announced its
biotech firm
ImClone
(IMCL)
, in which it already owns a minority stake, for $4.5 billion, or $60 a share, a 30% premium over its last closing price. Bristol-Myers Squibb slipped 1.8% to $21.12, while ImClone rocketed 38% to $63.93.
Oil company
Marathon
(MRO) - Get Report
said it is considering separating its oil and gas production business from its refinery segment, which is facing difficulties in a tough gasoline market. Shares jumped 9.6% to $49.47.
In commodities, the price of crude oil was fell $2.69 to settle $124.08. Gold for December shipment jumped $10.40 to end at $922.70.
As for Treasuries, the 10-year note was adding 26/32, yielding 3.94%, and the 30-year was up 1-5/32 to yield 4.57%. The dollar was falling vs. the euro, the yen and the pound.
Abroad, European indices were mixed, while Asian markets showed modest gains. London's FTSE was lower, while the DAX in Frankfurt, the Nikkei in Japan and the Hang Seng in Hong Kong were edging higher.
For a quick take on more of today's earnings, please click here.
For additional views on the market and investing, check out what the 45+ Wall Street pros of RealMoney have to say. From master investor Jim Cramer to top chartist Helene Meisler, contrarian Doug Kass to markets commentator Vince Farrell, you'll get the 360-degree perspective you need to survive and potentially profit in these tough times. Click here for a limited-time special offer
.