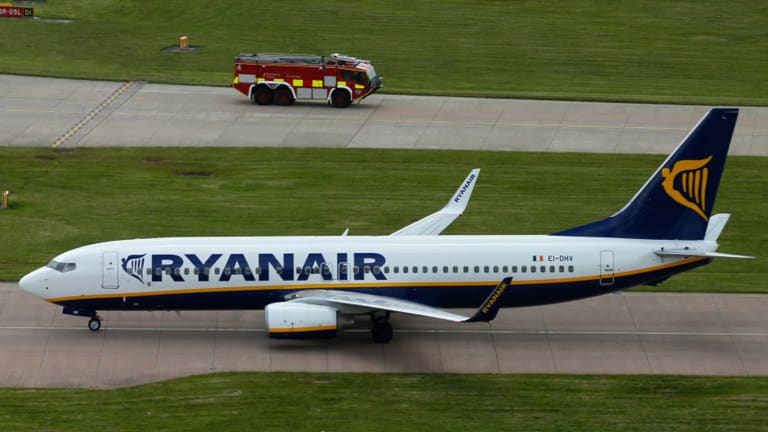 Ryanair Winning Aerial Battle in Europe as Industry Remains In a Tailspin
Ryanair catches the worm among low cost carriers, but profit warnings abound still
Ryanair (RYAAY) - Get Ryanair Holdings Plc Sponsored ADR Report , the controversial European airline founded by Irish businessman Michael O'Leary, is winning the aerial battle for Europe, while German titan Deutsche-Lufthansa (DLAKY)   looks set to remain in a tailspin.
But, for both winners and losers in the air transport sector, the latest round of quarterly profit warnings shows the outlook for earnings growth and margins remains fraught with risks for low-cost carriers and regular airlines.
Multiple factors have colluded to drive a deterioration of investor sentiment toward airlines in 2016, sending stock prices lower and placing the sector performance on a par with that of European banks, - not exactly a glowing endorsement.
Recent terrorist attacks across the Continent have placed tourist volumes under pressure and recovering oil prices have driven up the cost of jet fuel from $1.07 to $1.38 per gallon in the three months to the end of June. Both factors are negative for earnings looking ahead.
But the biggest concern overall has been increasing competition, driven by rapid growth in the number of seats available per passenger, which has led overall European seat capacity to rise by 6% in 2015 and a projected 8% for 2016 according to the Centre for Aviation.
So far, discount carrier Ryanair is winning the battle; its capacity utilization, know in the industry as load factor, has risen the most since oil prices began to plummet in late 2014 and, at 94%, is the highest among its major peers. It's also adding capacity in key European hubs, such as Frankfurt Airport, where it will fly four routes and possibly begin to take more business away from Lufthansa's discount unit Eurowings.
But it also issued a profit warning last month, warning Brexit and falling air fares would hit its bottom line. Ryanair shares are down by just over 13% for the year-to-date, at €13.14, although analysts appear bullish on the carrier: Factset data shows that 14 of the 22 that cover the stock consider it a 'buy', with 8 indicating 'hold'.
Germany's Lufthansa as load factor of 77.7%, down from 85% at the end of 2014. Earlier this week it said it will continue to slow capacity growth this year in order to stabilize pricing. Its budget carrier Eurowings has also been beset by strikes and other union activity during recent weeks.
Lufthansa stock traded at €11.7 Thursday in Frankfurt and is down 17% year-to-date. Nearly half of the 25 analysts that cover the shares have rated it as a sell, according to Factset, while 10 of them have it as a hold.
Airlines around the region, as well, are experiencing similar turbulence. 
EasyJet (ESYJY) , a U.K.-based low cost carrier, issued its third profit warning of the year last month linked to currency moves and the aftereffects of recent terrorist attacks. Its stock has been the biggest loser of all major European airlines in 2016, down more than 40% to 1,000.0 pence each, but some still hold out hope for the beleaguered operator. 
The budget carrier has also managed to keep its load factor relatively stable at 89.7% in recent years, despite having expanded with new routes and seats. Out of 24 analysts covering the stock, Factset data has 12 of them tipping it as a hold and 8 of them rating it as a buy.
Outside of the world of budget airlines, British Airways owner International Consolidated Airlines (ICAGY) also warned on full year profits last week, noting the weaker pound, but nonetheless struck an optimistic tone on overcapacity, saying that the effects on ticket prices could soon begin to wane on its key routes. 
The stock is down by more than 25% for the year-to-date, at 450.0 pence, but the majority of analysts tracked by Factset now recommend it as buy. 
Air France-KLM (AFLYY) , meanwhile, said Thursday that it will launch a low-cost long haul business in an attempt to claw back market share from its international rivals.
Shares in the group soared by 4.9% in Paris, however, despite revealing a 5.1% decline in revenues and indicating that a cabin crew strike would hit operating results by €90 million.