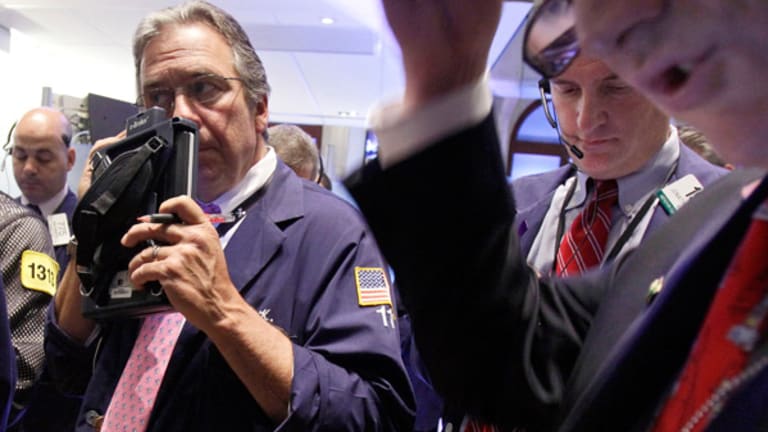 This column was originally published on RealMoney on May 8 at 2:00 p.m. EDT. It's being republished as a bonus for TheStreet.com readers. For more information about subscribing to RealMoney, please click here.
If you follow the ETF space at all, you know there has been a flood of products brought to the market and a slew of funds waiting for approval. Among the various registrations from all the providers are a lot of funds that don't make a lot of sense.
One fund company that seems to have done a good job at picking and choosing its spots and avoiding the head-scratchers has been Van Eck.
Its latest fund is the
Market Vectors Russia ETF
(RSX) - Get VanEck Vectors Russia ETF Report
, which listed a couple of weeks ago and mimics the DAXglobal Russia+ Index. The market had been clamoring for a Russia fund for several years, and this is the first one.
You don't need to be much of an expert on Russian politics to know that the country's stock market has the potential for big risks and big rewards.
As you might expect, the fund is heaviest in energy, at 40%. The fund also has exposure to telecom, 17%; iron/steel, 12% and electric, 11%. Like most single-country ETFs, RSX has a larger-cap bias. Van Eck draws the large-cap line at $6.0 billion, and 92% of the fund is large-cap.
The past results of the index have been very strong. Its one-year return was 41.36%, and its five-year average annualized return is 48.30% compared to a one-year of 20.65% and five-year of 24.45% for iShares MSCI Emerging Markets Index. The numbers are eye-popping, but obviously Russia has benefited from higher oil prices and increased global demand for commodities. A visible threat to investing in Russia would be the collapse of either or both themes.
Vulnerabilities and Alternatives
Another potential risk is that the fund only owns 30 stocks, and five of the 30 have weightings of 7% or more (
Unified Energy Systems
is the largest holding at 8.35%). Any sort of Yukos-like death blow to one of those five, albeit unlikely, would severely impact returns.
I believe a more likely risk is one of uncomfortable volatility in concert with other emerging markets, or a decline in the price for resources. The fund has a beta of 1.36, compared to 1.00 for the
S&P 500
, and annualized volatility of 24.80, according to Van Eck, compared to 10.64 for the S&P 500, according to PortfolioScience.com.
If the Market Vectors Russia ETF does interest you, it would probably be worthwhile to compare it to the
SPDR S&P Emerging Europe Fund
(GUR)
. GUR is more of a regional fund, with only 59% invested in Russia. GUR also has 14% in Poland, 10% in Turkey, 7% in Hungary and 10% in a few smaller countries.
Even though 41% of the fund is outside of Russia, the largest non-Russian holding is OTP Bank from Hungary, with only a 3.25% weight.
I believe the biggest difference between the two is that GUR has a couple of much larger single-stock weights than RSX.
Gazprom
(OGZPY)
is the largest holding in GUR at 20.86%, followed by
Lukoil
(LUKOY)
at 10.7% and Surgutneftegaz at 9.25%. Twenty percent of an emerging-market ETF being in just one stock should be a red flag to seek alternatives, which is why I think RSX might be a superior way to buy the Russian market.
So what is an appropriate allocation to a fund like RSX? I tend to view these things conservatively. Buying Russia, however you do it, is buying volatility. No one buys Russia with the expectation it will be up 8% for the year.
With that mindset, I tend to be conservative with this type of allocation, starting an emerging-market holding at 2% to 3% of the equity portion of the portfolio, with an eye toward using a stop order for part of the position if it grows to 5% to 6%.
Please note that due to factors including low market capitalization and/or insufficient public float, we consider Market Vectors Russia ETF and SPDR S&P Emerging Europe Fund to be small-cap stocks. You should be aware that such stocks are subject to more risk than stocks of larger companies, including greater volatility, lower liquidity and less publicly available information, and that postings such as this one can have an effect on their stock prices.
At the time of publication, Nusbaum and his clients were long Lukoil, although positions may change at any time.
Roger Nusbaum is a portfolio manager with Your Source Financial of Phoenix, and the author of Random Roger's Big Picture Blog. Under no circumstances does the information in this column represent a recommendation to buy or sell stocks. Nusbaum appreciates your feedback;
to send him an email.