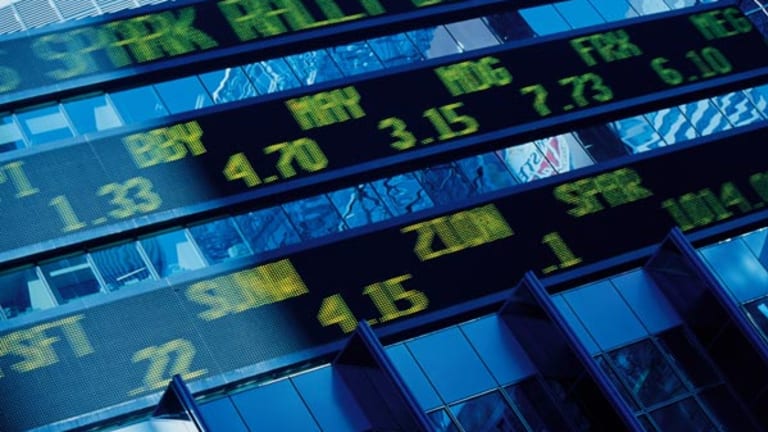 RSA Security Beats Estimates
Revenue moves higher from a year earlier.
Updated from 5:22 p.m. PDT
.
RSA Security
undefined
beat Wall Street's first-quarter revenue and earnings projections and guided results higher for its second quarter now underway.
The company's shares recently bumped up 68 cents, or 4%, to $15.73, in after-hours trading on Instinet.
The company said Monday it boosted its revenue from the year-ago quarter, collecting $87.5 million this quarter, up from $75.6 million.
The security technology company made $5.3 million in net income, or 7 cents a share. Excluding some items, the company made a profit of $10.5 million, or 14 cents a share.
A year ago, the company made $7.2 million, or 10 cents a share, but this GAAP figure did not include stock-based compensation charges.
Analysts polled by Thomson First call forecast earnings of 13 cents a share on sales of $85.5 million.
"The first quarter of 2006 was a record quarter for RSA Security. In addition to generating the highest ever quarterly revenue in the Company's history, we had our best ever first quarter in terms of bookings," Art Coviello, president and chief executive officer of RSA Security said in a statement. "We built on our strong fourth quarter results in the enterprise and consumer businesses, and we generated significant traction from the successful integration of the Cyota acquisition."
The company said it added 800 new customers in the quarter.
On a conference call with analysts after the announcement, Coviello noted that several big deals fell out of the quarter, which only would have improved the company's positive performance.
He said the company's "range of solutions and reputation in the market will give us a leg up," saying there are opportunities in the consumer sector, inside the firewall technologies, and in its developer business. The company is also seeing recovery in its remote access business.
He said he was "somewhat despairing" by July of last year with the consumer product sector but now sees the company's opportunity building.
The integration of Cyota "went spectacularly well in Q1," Coviello said. "I see momentum building....I think we started to see it in Q4."
For the second quarter, RSA said it expected revenue of $88 million to $92 million and earnings before items of 14 cents to 16 cents a share.
Analysts had predicted RSA Security would make 14 cents a share and revenue of $87.6 million.
Coviello also said the company was "pretty close" to hiring a new chief financial officer.