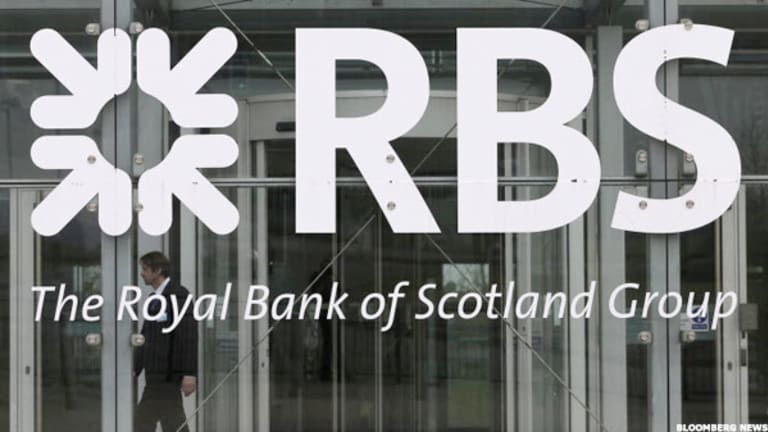 Royal Bank of Scotland Chief Seeks to Reassure After Brexit Slump
McEwan's missive to staff comes as the Bank of England doled out $4 billion of liquidity to U.K. banks.
McEwan's missive to staff comes as the Bank of England doled out $4 billion of liquidity to U.K. banks.
Royal Bank of Scotland (RBS) - Get Report CEO Ross McEwan today sought to calm the nerves of wary staff after the U.K. last week voted to leave the European Union. In a memo sent to staff he wrote that the bank had planned "extensively for both possible outcomes."
He added, "Our day 1 plan worked, but of course the result of the vote carries with it a range of unknowns about the short, medium and long-term prospects for the U.K. and its economy. Added to this we now have a period of political uncertainty."
The combined factors have led to a significant decrease in the value of the pound and the value of U.K. and European banking stocks, McEwan said, adding the reason for the fall and volatility is the inability for the market to find certainty in "what shape and state the U.K. economy and companies" will be in the runup to eventually leaving the EU.
Shares in the state-backed bank were recently up 3.2% in morning trading in London. However, the shares have lost more than 27% since Thursday's close before the results were known.
Trading of the stock was briefly suspended on Monday after circuit breakers were hit when the shares fell 15%.
McEwan said, "Our view as a bank is that the U.K. remains a large, well-developed economy with good long-term prospects."
The Bank of England today doled out GBP3 billion ($3.99 billion) of liquidity to U.K. banks in a special auction today.
This was part of a special lending facility set up by the central bank to ensure financial institutions had enough cash on hand before and after the referendum.
The bank opened the lending facility on three extra days, along with its usual monthly lending operations.
In the auction last week, prior to the vote and while the pound was rallying, banks took GBP370 million, the previous week banks took GBP2.4 billion.
Yesterday, analysts are Jefferies downgraded RBS to hold. The analysts cut earnings estimates for 2016 to 2018 by 46%. "The decline in earnings reflects a slow growth scenario in the U.K. characterized by lower loan growth, higher impairments and increased [risk-weighted asset] density," they noted.
The downgrade also takes into account the possible GBP1 billion of restructuring charges that could be associated with separating their Scottish entities, which Jefferies estimates to be about 5 pence a share.
Scotland, which voted to remain, is seeking to start talks about whether it could stay part of the EU.