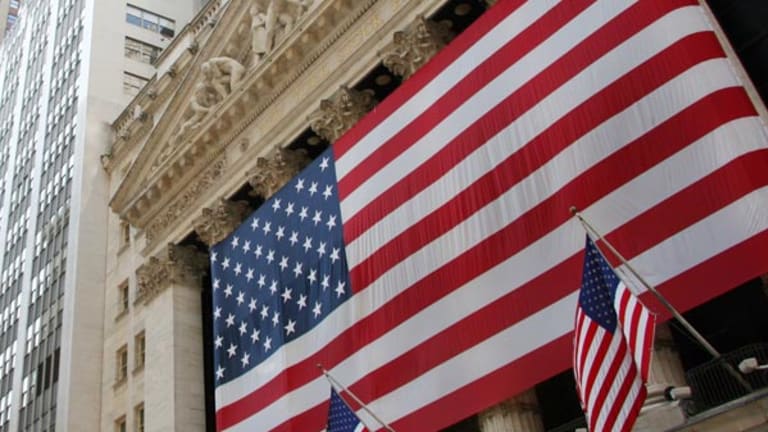 Rout Worsens for Stocks
Weak earnings and economic data extend the selloff to three days.
Updated from 4:09 p.m. EDT
A midweek selloff turned into a full-blown stock market rout Friday, as a steady drumbeat of bad news from the technology sector led investors to a broad reassessment of corporate growth prospects.
The
Dow Jones Industrial Average
closed down 191.24 points, or 1.86%, to 10,087.51, bringing the three-day decline to more than 420 points, or 4%. The
S&P 500
fell 19.43 points, or 1.67%, to 1142.62, while the
Nasdaq Composite
fell by 38.56 points, or 1.98%, to 1908.15. The Nasdaq also lost 4% over the last three sessions.
Friday brought the worst single-session point loss to the Dow since March 24, 2003, leaving it at its lowest level since Nov. 2 of last year. The blue-chip index hadn't posted three consecutive 100-point losses since January 2003. The S&P 500, meanwhile, suffered its worst one-day point loss since Sept. 24, 2003, and hit its lowest level since Nov. 3. The Nasdaq ended at its worst point in six months.
Trading volume on the
New York Stock Exchange
was extremely heavy at 2.69 billion shares, with decliners beating advancers by a 3-to-1 margin. Volume on the Nasdaq was 2.32 billion shares, with decliners outpacing advancers 3 to 1.
IBM
(IBM) - Get Report
, which reported weak earnings Thursday, led the Dow lower with a 8.3% decline, followed by rival hardware maker
Hewlett-Packard
(HPQ) - Get Report
, which lost 4.2%.
Exxon Mobil
(XOM) - Get Report
, pressured by steadily falling oil, fell 4.4%, while
General Motors
(GM) - Get Report
continued to slide, losing 4%.
"It's a culmination of a lousy week, and people don't want to be long over the weekend," said Jay Suskind, head of institutional equity trading with Ryan Beck & Co. "There's a tug of war between ideas of the economy, and people are nervous. People just want to get out and start off fresh next week. It's psychological, too; selling begets selling."
Suskind said Friday's selloff was exacerbated by the expiration of stock options, which often creates volatility in underlying stocks.
Other observers hoped the rout would chase weak hands from the market and set the stage for a rally.
"Somewhere along the line we're going to get a conclusive day to the downside," said Joe Liro, equity strategist with Stone & McCarthy Research Associates. "We've taken out some important support levels. The technical situation looks quite bad, climaxing with a big selloff. From there, we can start a recovery rally."
For the week, the Dow dropped 3.57%, the S&P 500 lost 3.26%, and the Nasdaq gave up 4.56%.
The 10-year Treasury bond rose 17/32 in price Friday to yield 4.25%, while the dollar fell against the yen and euro. Oil prices closed lower Friday, losing 64 cents to $50.49, ending a week that saw a 5.6% decline in prices. Crude prices have fallen in seven of the past nine sessions.
Friday's selling was heaviest in computer stocks, with the Amex networking index falling 3.6%, the Philadelphia semiconductor index falling 2.9%, and
TheStreet.com
Internet index losing 2.8%. Pockets of strength included health care, biotech and drugs.
Stocks were hammered for two straight sessions coming into Friday, falling sharply as investors shifted their focus from inflation to lackluster growth and earnings. All three indices began Friday at their lowest levels of 2005.
The chorus of bad news became a din after the bell Thursday, with IBM,
Sun Microsystems
(SUNW) - Get Report
,
RF Micro Devices
(RFMD)
and
Extreme Networks
(EXTR) - Get Report
each reporting some manner of earnings pain.
"Markets are trying to adjust to a slower economic environment," says Michael Sheldon, chief market strategist with Spencer Clarke. "It's unclear if the economy is going to decelerate into the summer, or if the soft patch will eventually lead to stronger growth. The market technicals are clearly worrisome right now. "
"We're going to get to a stage soon that a market rally is inevitable," Sheldon says. "It's unclear where it is, but it is coming. I'd like to see some stabilization in the market first."
The market's main drag was IBM, which was downgraded to neutral from outperform at CSFB after saying first-quarter earnings rose 3.3% from a year ago to $1.4 billion, or 84 cents a share, on sales of $22.9 billion. Analysts had been forecasting earnings of 90 cents a share on sales of $23.6 billion. First Albany also cut its rating for IBM to neutral from buy. IBM lost $6.94, or 8.3%, to close at $76.70.
The situation was no better at Sun, which reported a third-quarter loss of $9 million and said profit before items was $61 million, or 2 cents a share. Analysts were predicting break-even earnings. Sun's revenue was $2.62 billion, about $100 million below forecasts. Brokerage First Albany cut its rating for Sun to underperform from neutral. Sun was down 31 cents, or 7.8%, to $3.65.
In economic news, the Labor Department said import prices in March were up 1.8%, due to the spike in crude oil. Excluding petroleum prices, which jumped 10.6%, prices rose 0.3%. Export prices rose 0.7%, due to a 3.7% increase in the prices of agricultural exports. Excluding those, export prices were up 0.4%.
The New York Federal Reserve Bank said its Empire State Manufacturing index plunged to 3.1 in April from a revised 20.2 in March, the lowest reading since April 2003.
Economists were expecting the index to fall only to 17.3 or so in April from the initial estimate for March of 19.6. The new orders index fell to -0.2 in April from 8.6 in March, the first negative reading since April 2003.
Meanwhile, the University of Michigan's preliminary April consumer sentiment survey came in at 88.7, compared with 92.6 in March. Economists had expected the survey to register a 91.5 for April's preliminary number. The showing follows surprisingly weak March retail sales data released earlier this week.
Ian Shepardson of High Frequency Economics said the Empire State survey is more volatile than the closely watched Institute of Supply Management manufacturing survey and some other regional ones, suggesting that further evidence of industrial weakness will be needed to show a trend.
"Nothing in the economic reports has us turning a corner, instead giving us more of the same news," says Paul Nolte, director of investments with Hinsdale Associates. "There may, however, be a temporary halt to the selling, as people are being attracted to buy now that we're at the 200-day moving average. Investors are getting another shot now at getting in."
Elsewhere,
Citigroup
(C) - Get Report
said its first-quarter earnings rose 3% to $5.44 billion, or $1.04 a share, while income from continuing operations was 99 cents a share. Analysts were forecasting earnings of $1.02 a share, although it wasn't clear to which line the estimate was comparable. Revenue climbed 6% from a year ago to $21.5 billion. Citigroup added 35 cents, or 0.8%, to $45.75.
General Electric
(GE) - Get Report
reported an unusually strong first quarter, as earnings rose 25% from a year ago to $4 billion, or 38 cents a share, on a 19% jump in revenue to $39.81 billion.
Analysts surveyed by Thomson First Call had been forecasting earnings of 37 cents a share on revenue of $37.96 billion. The industrial conglomerate and sometime economic proxy guided full-year results in line. Shares of GE rose 25 cents, or 0.7%, to finish at $35.75.
Mattel
(MAT) - Get Report
said first-quarter net earnings fell 28% to $6.5 million, or 2 cents a share, from $9 million, or 2 cents a share, a year ago. The toymaker cited the 25% decline in the sale of its Barbie doll line affecting gross margins. Shares of Mattel fell $1.56, or 7.7%, to $18.67.
Wachovia
(WB) - Get Report
reported a first-quarter profit of $1.62 billion, or $1.01 a share, compared with $1.25 billion, or 94 cents a share, a year earlier. Excluding charges from mergers and restructuring, Wachovia earned $1.03 a share, beating analysts' consensus EPS projection of $1.01, according to Thomson First Call. Revenue for the quarter rose to $6.47 billion, as lending income rose 19% and fee income increased 8%. Shares lost 59 cents, or 1.2%, to $49.52.
Knight-Ridder
(KRI)
reported first-quarter net profit of $60.5 million, or 79 cents a share, up from $55.9 million, or 70 cents a share, a year ago. Results included a $7.3 million reduction in tax expense. Revenue in the quarter rose to $724.7 million from $712.3 million a year earlier. Total ad revenue rose 3.3% to $566.1 million. Shares were off 89 cents, or 1.3%, to close at $65.58.
Two stocks bucking Friday morning's downdraft were
Eli Lilly
(LLY) - Get Report
and
Genentech
(DNA)
, both of which reported good news about key drugs since the close of trading Thursday.
Lilly was up more than 5% after a federal judge last night rejected challenges to a key patent underlying its Zyprexa antipsychosis drug, saying generic competitors failed to prove the technology claims are invalid. The drug is Lilly's biggest, and produced well above $4 billion in revenue last year. Shares rose $2.91, or 5.3%, to $58.07.
Genentech jumped over 18% after saying a preliminary analysis of phase III data suggests its drug Avastin is effective at slowing the progression of breast cancer. The drug is currently approved for colon cancer and recently did well in a lung cancer study, helping Genentech's shares triple over the last two years. The company was also upgraded to buy from hold by brokerage Deutsche Securities, and to neutral from overweight by J.P. Morgan. Genentech added $10.72, or 18.3%, to $69.35.
In M&A activity, specialty retailer
Brookstone
(BKST)
jumped Friday after agreeing to be taken private for $20.50 a share, or about $410 million, by two Singapore companies and the Boston-based private equity shop JW Childs. Shares surged $4.26, or 27.3%, to $19.86.
A day after posting first-quarter earnings 41% higher than a year ago and beating estimates,
UnitedHealth
(UNH) - Get Report
saw its rating at Bank of America cut to neutral from buy. The analyst's move was made on concerns that the company's Medicaid enrollment and benefit compensation may be under pressure. Shares dipped 64 cents, or 0.7%, to finish at $93.27.
Overseas stocks reflected the carnage, with London's FTSE 100 finishing down 1.1% to 4891 and Germany's Xetra DAX losing 2% to 4312. In Asia, Japan's Nikkei lost 1.7% overnight to 113,71, while Hong Kong's Hang Seng fall 1% to 134,639.