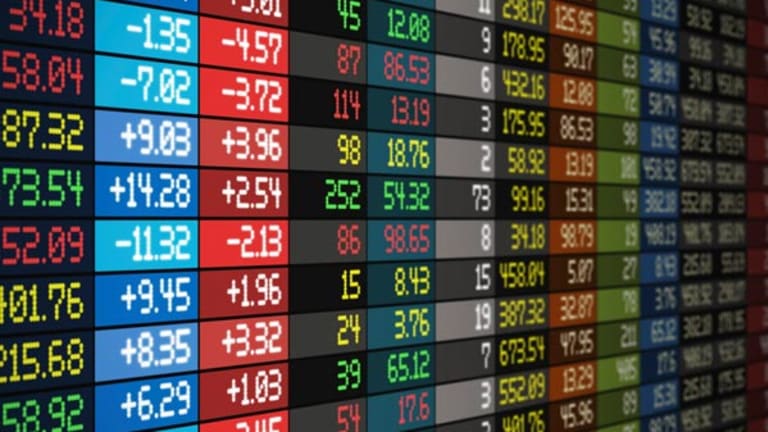 Rough Year Ends Quietly for Stocks
Shares finish Tuesday mixed but end the year down 17% on the Dow and 31% on the Nasdaq.
Shares finish Tuesday mixed but end the year down 17% on the Dow and 31% on the Nasdaq.
Updated from 4:09 p.m. EST
Stocks ended mixed on the last trading day of the year as investors digested a disappointing consumer confidence report and institutional investors made last minute adjustments to their portfolios.
The
Dow
ended the session up 9 points, or 0.11%, to 8341 while the
S&P 500
was up 0.43 points, or 0.05%, to 880. The
Nasdaq
was down 4 points, or 0.30%, to 1335.
All three major averages posted their third consecutive losing year, something that hasn't happened since 1939-1941. The Dow ended the year with a loss of 16.7%--it's worst performance in a quarter century. The Nasdaq has fallen 31.5% for the year while the S&P is down 23.4%.
"Volume
was light but I think some people
were marking up positions ahead of the New Year," said Jay Suskind, head of institutional equity trading at Ryan Beck & Co.
Volume on the NYSE hit 1.0 billion shares with winners beating losers by almost 2 to 1. On the Nasdaq, 1.1 billion shares changed hands with advancers outpacing decliners by 10 to 7.
Adding to the cautious tone in the market Tuesday was a sharp drop in the Conference Board's Consumer Confidence index. The index fell to 80.3 in December, well below economists' expectations for a reading of 86.0 and undershooting last month's revised reading of 84.9.
The expectations index, a gauge of consumers' six-month outlook, declined to 87.2 in December from 89.3 in November, while the present situation index slid to 69.9 from 78.3 last month.
"The major factor dampening consumers' spirits has been the rising unemployment rate and the discouraging job outlook," said Lynn Franco, director of the Conference Board's Consumer Research Center.
Geopolitical concerns have also weighed on investors. On Tuesday, an Iraqi trade minister warned the U.S. of "the heaviest losses" if it attacks Iraq. Meanwhile, U.N. weapons inspectors began searching another eight sites Tuesday.
A drop in crude oil prices has been somewhat supportive, however, after OPEC said it's willing to make up for Venezuela's shortfall in its January production. February crude futures dropped 70 cents to $30.67 a barrel.
On the Dow, shares of
Philip Morris
(MO) - Get Report
added pressure, falling 2% to $40.53 after Morgan Stanley cuts its 2003 earnings per share estimate to $4.65 a share from $4.75 a share.
Elsewhere,
Tyco International
(TYC)
rose 11% to $17.08 after saying it found no evidence of "systemic fraud" following an internal investigation of its books. Still, the company did discover $382 million in accounting errors. Tyco disclosed that it has handed over 1 million pages of documents to U.S. regulators. The company also confirmed guidance for 2003, saying it expects to earn $1.50 to $1.75 a share, compared with analysts' consensus estimate of $1.58 a share.
In the retail sector,
Target
(TGT) - Get Report
said late Monday that same-store sales in the final week of the holiday shopping season came in well above expectations, but proved to be not enough to offset lackluster results in the previous weeks.
The Bank of Tokyo-Mitsubishi reported that U.S. chain store sales rose 2.1% in the week ended Dec. 28 as late Christmas buying and post-holiday shopping lifted retailers' performance. A separate study by Redbook Research showed sales up 0.7% in the fourth week of December compared with the same period in November.
On the research front, Goldman Sachs raised their fourth-quarter earnings estimates for
J.C. Penney
(JCP) - Get Report
following yesterday's better-than-expected same store sales results. Goldman also lowered estimates on
Federated Department Stores
and
May Department Stores
(MAY)
, to reflect their weak sales performance in the all-important holiday shopping season. The firm said it remains cautious on the broadline retail sector.
In the software sector,
Ariba
(ARBA)
announced that it will restate its financial statements for 2001 and delay the filing of its 10-K as a result of an ongoing review by the company's auditors. The internal probe is primarily focused on a $10 million payment by chairman Keith Krach in March 2001 to president Larry Mueller. The shares were recently trading down 5% to $2.48.
Citigroup
(C) - Get Report
said it plans to purchase a stake in investment bank
Shanghai Pudong Development Bamk
, marking its first banking deal in China. Shares of the Dow component were down 0.17% to $35.19.
Ford Motor
(F) - Get Report
reportedly is seeking to replace chief financial officer Allan Gilmour, seven months after he came out of retirement to take the job, the
Financial Times
reported Monday. The company declined to comment on the matter.
U.S. Treasury issues moved higher with the 10-year note up 4/32, yielding 3.78%. The 30-year bond gained 4/32, to yield 4.74%. The bond market close at 2pm Tuesday.