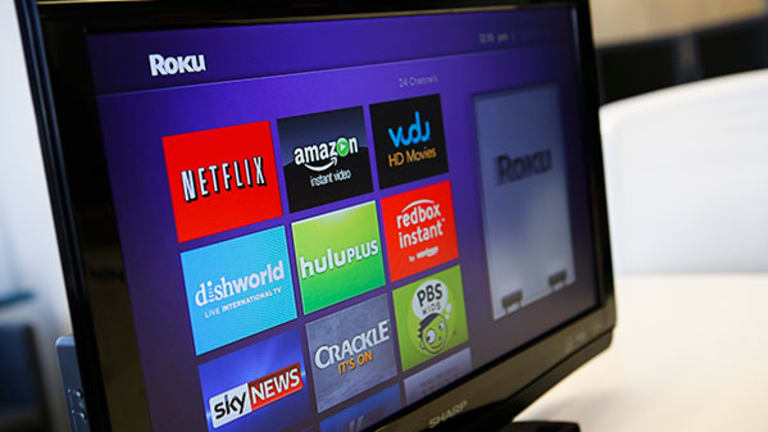 Roku Launches its Most Inexpensive Streaming Device Today
Roku CEO Anthony Wood weighs in on the business of on-demand streaming services, and Roku's strategy moving forward.
Roku CEO Anthony Wood weighs in on the business of on-demand streaming services, and Roku's strategy moving forward.
NEW YORK (TheStreet) --The move to on-demand direct streaming services has accelerated. More and more media companies are gearing up to offer their channels and programs to a direct on-demand streaming platform.
Roku is one of those platforms. The Los Gatos, CA-based streaming company, offers a plethora of on-demand streaming channels on its platform. Roku allows users to download specific streaming channels like ESPN, CNN, and Netflix (NFLX) - Get Report that they can watch upon entering their subscription information.
In the first six months of 2016 Roku consumers have streamed 4 billion hours of content. Additionally, the company just unveiled a new lineup of streaming players for the fall. Boasting the lowest price Roku has ever offered for the devices.
Roku CEO Anthony Wood joined Monday morning's "Squawk Alley" on CNBC to discuss the business of on-demand streaming services.
"We're the leading streaming platform today. We stream more hours in the United States than Apple (AAPL), Google (GOOGL), and Amazon (AMZN) combined. We do that by distributing our platform a few different ways. We sell players, and we do Roku TVs where we license TV vendors," Wood said.
Roku is the leading licensor to smart TVs in the U.S. with 12% of all TVs sold in the U.S. using the Roku platform. Wood commented on the strategy that has allowed Roku to grow to that level of integration.
"Our strategy with players is to cover every price point and give every type of consumer an option. From low-end players that are still great full featured streaming players, its $29. Adding 4k as you get up to our $79 players, and then ultra which is, of course, our top of the line model," he said.
Roku's primary goal as a company is to bring the technology to as many customers as it can. Once accomplished, Wood says the mission becomes monetizing that installed base through high margin services like advertising. However, reiterates the importance of driving down prices as well.
"We launched the first $99 streaming player in 2008, we launched the first $50 price point in 2011, and now we've hit the $29 price point which we think will open up the market to a lot more people," he noted.