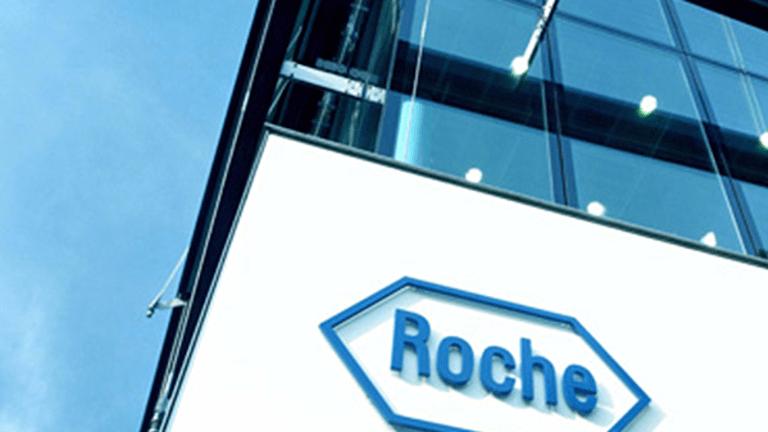 Roche Lifts Full-Year Outlook After Solid Q2 Earnings Beat
Roche sees 'mid-single' digit sales growth in second half.
Roche Holding SA (RHHBY) boosted its full-year outlook Thursday after the world's biggest maker of cancer treatments posted stronger-than-expected first half profits despite increasing competition from generic drug makers.
Roche said core earnings for the first six months of this year came in at Sfr8.23 per share, beating the FactSet consensus of Sfr7.93 per share and rising 6% from the same period last year. Overall group sales rose 5%, Roche said, to Sfr26.3 billion ($27.6 billion), largely in-line with expectations. 
Roche said it now sees sales growing "mid-single digit, at constant exchange rates" for the second half of the year with core earnings expected to rise "broadly in line with sales." It also said it expects to boost if Swiss franc dividend.
"In the first half of the year, both our Pharmaceuticals and Diagnostics Divisions showed strong performance, very much driven by new product launches," said CEO Severin Schwan. "Particularly pleasing is the very successful launch of Ocrevus for the treatment of two forms of multiple sclerosis. Based on our half-year performance, we raised the outlook for the full-year to mid-single digit sales growth."
Roche shares were marked 1.7% higher in opening trading in Zurich and changing hands at Sfr2416.15 each, extending their year-to-date gain to 5%, nearly double the 2.4% advance for the Stoxx Europe TMI Pharmaceuticals subindex. 
Roche shares suffered a major pullback last month, however, after data that indicated a new form of breast cancer treatment, which combined an older drug with a recently developed one, had only a limited impact on patients.
The three-year APHINITY trial showed that using two Roche drugs in combination -- Herceptin and Perjeta -- resulted in only marginally better results for women suffering an early form of breast cancer than those treated only with Herceptin and a placebo. The APHINITY data was announced Monday at the American Society of Clinical Oncology (ASCO) annual meeting.
"The goal of adjuvant treatment is to help each person with cancer have the best chance of a cure, and we come closer to this goal with each advance," said Roche's chief medical officer Sandra Horning on June 6. "In the APHINITY study, the Perjeta-based regimen improved upon the high bar set by Herceptin in people with HER2-positive early breast cancer. We look forward to working with global health authorities to bring this treatment option to patients."
Editor's pick: Originally published at 3:30 am ET. 
More of What's Trending on TheStreet: