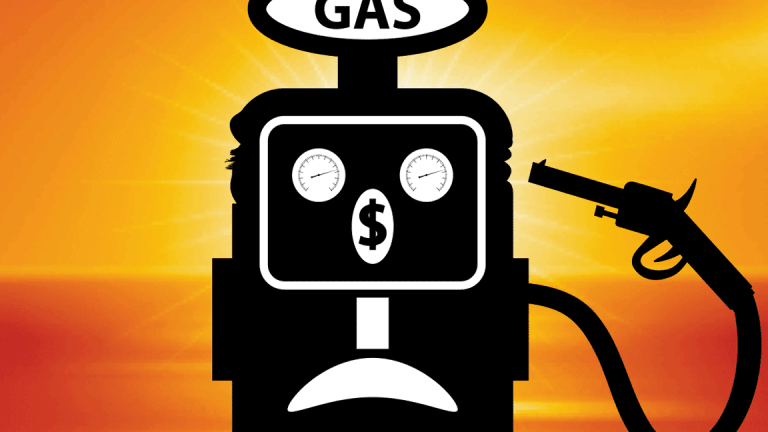 Rising Gas Prices Threaten Consumers, Cutting Into Trump's Tax Cuts
This year's surge in U.S. gas prices at the pump have increased average consumer costs by about $30 a month. An additional spike in oil prices could wipe out the estimated $78 a month on average that American are saving thanks to President Donald Trump's December tax cuts.
In the Trump economy, it's one step forward, one step back.
Surging oil prices -- partly the result of President Donald Trump's promise to renew sanctions against Iran, a major producer -- have pushed up gasoline prices at the pump for American drivers to the highest in four years. And the higher costs are eating into the extra savings workers are reaping from the income-tax cuts Trump signed into law in December.
The recent rise in gasoline prices has added about $30 a month in costs for the average American consumer, Bank of America Corp. economist Joseph Song estimated Wednesday in a report. That compares with an average monthly savings of $78 a month due to the tax cuts.
Pump prices have climbed to a national average of $2.87 per gallon, up from $2.49 at the start of the year, according to the motorists' group AAA. Bank of America's Song estimates that a price of $4 per gallon would completely wipe out all of the savings from Trump's tax cuts.
But already, the gas-price increases could be hurting consumer confidence, and thus depressing retail spending, according to Song.
"Higher gasoline prices could lead to `sticker price shock' at the gas pump, causing consumers to pull back spending more than one-for-one," Song wrote in the report. If crude oil prices rallied significantly from current levels, "the benefits from the tax cuts would be canceled out."
The increase in gas prices adds to a growing list of factors economists are weighing as they try to handicap growth prospects under Trump, including not just the tax cuts but also a potential trade war with China, reduced regulations on industry and a climbing national debt.
To complicate matters further, the Federal Reserve has been raising benchmark U.S. interest rates since late 2015, boosting borrowing costs for households and businesses with variable interest rates on their loans. And, at their meeting in June, officials at the central bank discussed the fact that higher oil prices were causing inflation to accelerate, minutes show; such worries could prompt the Fed to raise rates further, serving as an additional brake on the economy.  
They also discussed the "possible adverse effects of tariffs and other proposed trade restrictions," with some officials indicating that businesses might be scaling back or postponing plans for new investments "as a result of uncertainty over trade policy."  
U.S. Trade Representative Robert Lighthizer announced Tuesday that the president had ordered up 10% tariffs on some $200 billion of Chinese imports, in addition to the 25% tariffs already identified on $50 billion of imports from the country. China has retaliated with its own tariffs on U.S. exports and is threatening additional measures.
The president says China's trade surplus with the U.S. is unfair, but the tiff could push up prices for imported goods, effectively creating an additional tax on consumers that could hamper growth, economists say.
Trump has pushed Saudi Arabia to increase oil output to offset any loss of supplies from Iran. But, according to Song, Bank of America analysts predict that crude prices could jump "should sanctions on Iranian oil exports prove binding."   
So far, the extra cash from the tax cuts has helped consumers to afford higher gas prices. Another $1 per gallon increase in gas prices, however, would cost consumers an additional $60 a month, Song wrote. That amount would be "enough to offset the tax cuts for the majority of consumers."
The gas-price increases could disproportionately affect poorer Americans. The poorest fifth of households got just $5 a month extra on average from the tax cuts, or a 0.4% change in after-tax income, compared with a boost of $637, or 2.9%, for the top fifth.
"An additional downside risk comes from the fact that the 'gasoline tax' is regressive and has a bigger percentage on low income families," Song wrote.
Steve Blitz, chief U.S. economist for the forecasting firm TS Lombard, says Trump's flurry of policy initiatives - with countervalent effects on the economy - could ultimately undermine businesses' willingness to invest in new plants or hire more workers. That's especially true since many of the president's moves could be reversed by Congress or his successor.
When it comes to foreign and economic policy, Trump may be trying to tackle too much at once, Blitz says: Fight trade wars, cut taxes, rip up nuclear-disarmament agreements, shake up healthcare laws, rail against allies like Germany for not paying their fair share of defense spending. The list keeps growing. 
"As a business guy, what are you going to do?" Blitz said. "You're going to put your hands in your pocket and do nothing, until you understand what is the permanent path of all these policies."