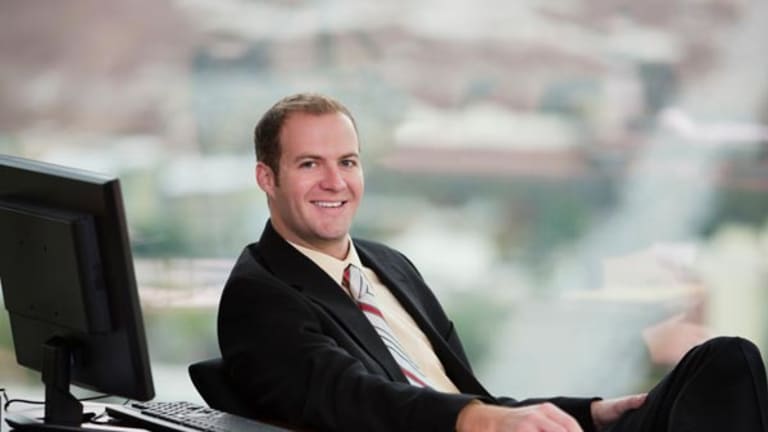 RIM Takes Shots
Wall Street has a hard time believing the device maker's problems can be easily solved.
Despite a disappointing earnings report,
Research In Motion
(RIMM)
is sticking to its mantra: Don't worry, everything's going to be OK.
But it's going to take more than that to reassure investors and analysts.
RIM's stock was down more than 5% in recent trading on Friday after at least two sell-side analysts downgraded it. Meanwhile, investors expressed skepticism about management's response and the company's prospects.
"The quarter concerns me," says Chyanne Fickes, a portfolio manager with Stone Asset Management, which formerly was long RIM shares but doesn't currently have a position. "The growth they showed wasn't up to par, not for the multiple that they're getting."
RIM's fourth-quarter results fell shy of the Street's earnings and revenue expectations. On top of that, the company lowered its guidance for its current first quarter, offering a forecast that was substantially below analysts' earnings and sales targets.
The company did predict a rebound in one closely watched data point: It forecast that the number of subscribers it will add to its BlackBerry service would pick up in the current quarter. But the total number of subscribers it expects to add in the quarter is far below the pace the company was predicting last fall.
On a conference call after releasing the report, RIM co-CEO Jim Balsillie argued that that problems RIM is facing are short term. Part of RIM's troubles had to do with a patent suit that threatened the BlackBerry service, he said. Although the company didn't lose any customers as a result of the suit, which RIM settled last month, some potential customers delayed making purchasing decisions to see how the suit turned out, he said.
Meanwhile, two of the company's carrier partners in the U.S., RIM's biggest market, have delayed rolling out the latest versions of the company's phones. That factor, too, is likely to crimp short-term growth, he said.
But the company's fortunes should turn around in the second half of this year, Balsillie said. The patent suit will be behind the company; the handsets will be in the hands of the carriers; and investments in technology and international markets will start to pay off, he said.
Some investors and analysts, though, aren't convinced.
The carriers' decision to delay introducing RIM's products could be a bad sign for the company, says David Schamens, a portfolio manager at Invictus Funds, which is short RIM. Some of the wireless carriers are starting to market competing products to the BlackBerry pagers that carry their own brands and are made by third-party equipment manufacturers, he notes.
Because RIM depends on the carriers to sell its handsets, the company could be put in a tough position of having to compete against products and services that have the inside track to end customers. The major carriers are all rolling out high-speed data networks, Schamens notes. Those networks could well take away RIM's competitive advantage -- delivering email and other data nearly instantaneously to mobile devices, he says.
"This puts the crunch on RIM in a big-time way," Schamens says. "The biggest thing to watch is for
non-BlackBerry products that use these high-speed networks. That will kill RIM."
Other investors and analysts aren't as negative on RIM as Schamens, but they're still skeptical.
Fickes, for instance, believes RIM remains a good company. But the recent performance and outlook raises questions about whether its prospects have fundamentally changed.
RIM's handling of the patent dispute with holding company NTP potentially could have critically injured RIM, Fickes says. RIM settled the suit last month for $612.5 million. But that was only after years of battling NTP and running the risk -- after the courts ruled that RIM had infringed on NTP's patents -- of having its BlackBerry service shut down in the U.S.
The case not only distracted management, it inspired current and potential customers to look at the competition, if only to protect themselves in the case of a shutdown, Fickes says.
While RIM's executives say that the company is going to get back on track now that the case is over, the company's recent results raise doubts about whether that will happen, she says.
The fact that management didn't settle the case earlier was "a huge disservice to shareholders," she says. "Is the growth rate going to come back? If it doesn't, they did long-term damage to company by waiting as long as they did."
Other investors seemed to be of like mind on Friday. In recent trading, RIM's stock was off $4.40, or 5.2%, to $79.98.