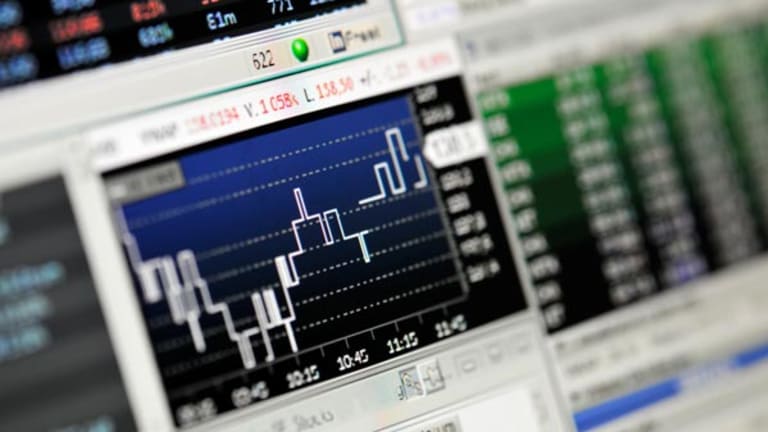 Revenue Focus at IBM
There's keen interest in dollar amounts from service contracts that Big Blue has signed.
Although many Wall Street watchers expect
IBM
(IBM) - Get Free Report
to beat earnings estimates when the technology giant reports first-quarter results after the bell on Tuesday, analysts are -- at best -- keeping their fingers crossed with regard to the company's top line.
"It all hinges on the revenue line at this point," says Sushil Wagle, senior vice president of investments at J. & W. Seligman. He doesn't own shares of the company, but has in the past. He's waiting to see "more consistency" in revenue before he dives back into the stock.
For IBM, any meaningful revenue stability needs to come from the company's services business, which makes up more than half of its overall sales.
"Services is key to IBM -- it drags in hardware and allows it to sell a lot of its software as well," Wagle says. He hopes to see an acceleration in services this quarter, saying it "would be a good start."
Indeed, the dynamic surrounding IBM's results is eerily similar to where the company left off when reporting its fourth-quarter numbers in January. Then, the company posted a
huge earnings beat while revenue proved disappointing, falling 12% when excluding currency effects and the sale of the company's PC business. Services revenue fell 5%.
But in the short term, investors were willing to put their faith in the company's ability to squeeze profit out of a sluggish top line, pushing the stock higher to about $85.
However, that level proved to be a ceiling, as the stock drifted lower despite a steady run-up in tech stocks. Shares of IBM closed Monday at $81.64, down 0.4%.
For the current quarter, a just-revised poll by Thomson First Call analysts forecast that the company will make $1.05 (from $1.04) a share on sales of $20.72 billion.
While analysts see momentum happening in services contracts, the company's short-term signings, which have more of an impact on quarterly results, have been lower, analysts say. "We expect upside to the $1.04 consensus EPS estimate, but think the consensus revenue forecast of $20.72 billion is too optimistic -- particularly given a tough comparable from the PC business in the year-ago quarter," Moor & Cabot analyst Cindy Shaw wrote in a Monday note. Shaw doesn't own shares of IBM, but her firm has banking ties to the company.
Likewise, Bernstein Research analyst Toni Sacconaghi believes any revenue upside is unlikely, given weak short-term services signings growth. The analyst has an outperform rating on the stock; Bernstein does not have an investment banking relationship with the company.
Sacconaghi forecasts signings at the company's main Global Services unit will range from $10.6 billion to $12 billion, up about 13% year over year, driven in part by share gains in outsourcing contracts.
He wrote that trailing 12-month signings are up about 14 % year over year -- the highest in five years -- which have been a good indicator for IBM services growth in the past.
"We attribute the recent strength in total signings to be largely a function of share gains by IBM (20% vs. 10% a year ago) in a tepid market, but are encouraged that total industry signings (new deals plus extensions plus renewals) should show solid growth in 2006," Sacconaghi wrote.
JP Morgan analyst Bill Shope also said recently that IBM appears to be winning larger contracts but that short-term signings growth hasn't yet been sparked.
"We believe the slowdown in IBM's short-term signings growth suggests that services revenues could pressure overall revenue growth over the next several quarters," wrote Shope, whose firm has an investment banking relationship with IBM.
But it's the focus on the long-term that has IBM bulls keeping the faith.
One portfolio manager who holds Big Blue shares said he was expecting IBM to report results in-line with consensus -- with a bit more flexibility on the bottom line than the top line -- and is optimistic about the coming year.
"The backdrop for technology spending in 2005 was good, and I think it will continue to be favorable in 2006," says Jim Grossman of Thrivent Asset Management.