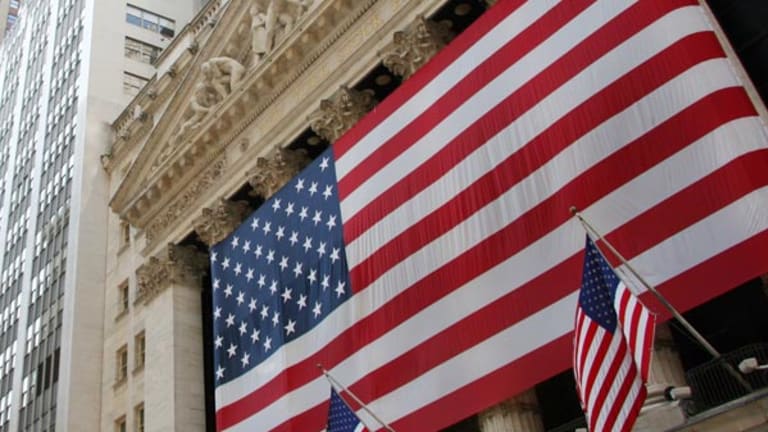 Retail, Builders Lift Stocks
The major averages power higher as Lennar sees home orders rise and Bed Bath & Beyond surges on a good quarter. Fed Chairman Bernanke defends the central bank's actions in the BofA-Merrill Lynch merger.
The major averages power higher as Lennar sees home orders rise and Bed Bath & Beyond surges on a good quarter. Fed Chairman Bernanke defends the central bank's actions in the BofA-Merrill Lynch merger.
Updated with closing prices.
Homebuilding and retail led stocks in New York to their greatest increases of the week on Thursday as corporate news, a Treasury auction and the
Federal Reserve
chairman's testimony in Washington helped mitigate jitters over economic data.
The
Dow Jones Industrial Average
rose 172.54 points, or 2.1%, to 8472.40, while the
S&P 500
climbed 19.32 points, or 2.1%, to 920.26. The
Nasdaq Composite
added 37.20 points, or 2.1%, to 1829.54.
Alcoa
(AA) - Get Report
and
American Express
(HD) - Get Report
had the greatest percentage increases on the Dow, rising 5% and 6.6%, respectively.
Outside of the index, homebuilder
Lennar
(LEN) - Get Report
reported a wider-than-expected
but also said orders rose 63%, inventories fell 53%, and cancellations improved over the prior quarter. Shares rose 17.5%, to $9.19, helping to prop up other homebuilders and the S&P Homebuilders Select Industry Index, which rose 5.1%.
Also,
Bed Bath & Beyond
(BBB)
shares added 9.5% to $31.08 after the company posted an unexpected profit. That, paired with news that
Dress Barn
(DRBN)
will acquire
Tween Brands
(TWB)
-- those stocks rose 8.8% and 27.99%, respectively -- helped to stoke the retail sector, with the S&P Retail Index adding 3.8%.
Early on, the market had economic data -- some better and some worse than expected -- to digest. The Department of Labor reported that new jobless claims rose unexpectedly by 15,000 to 627,000 last week, vs. expectations for 600,000. Meanwhile, the Department of Commerce said the economy contracted by 5.5% in the first quarter, slightly better than previous estimates.
"The jobs numbers keep looking kind of poor, but when you look at the leading indicators released last week and the durable goods data from earlier in the week, they do show signs of improving strength in the economy," says Ryan Detrick, technical strategist at Schaeffer's Investment Research. "But the economy still needs to show that the rally is happening for the right reason."
The jobless numbers caused a short-lived dip in the market, but a "relief rally" soon ensued. This was related to Bernanke's testimony on Capitol Hill on the
Bank of America
(BAC) - Get Report
/ Merrill Lynch merger, says Detrick.
Rep. Darrell Issa (R., Calif.) of the House Oversight and Government Reform Committee surprised and intrigued Wall Street and Washington with a statement ahead of the testimony that alleged the Federal Reserve engaged in a "cover-up" and "deliberately hid" concerns and important details from other federal regulatory agencies.
"The committee has already learned that Ben Bernanke and the Federal Reserve made inappropriate threats to fire Bank of America management unless they went ahead with the 'shotgun wedding' that was the Merrill Lynch acquisition," according to the statement.
On Dec. 17, Bank of America management had informed the Federal Reserve that because of the significant losses at Merrill Lynch it was considering invoking the material adverse event clause in the acquisition contract, in an attempt to back out of the acquisition.
Bernanke, who maintains that he didn't threaten Ken Lewis with his job, said in his testimony that he was concerned that this course of action would lead to significant risks for the financial system and Bank of America for three reasons. First, it might have triggered a broader systemic crisis; second, making the decision after three months of review could have cast doubt in the minds of financial market participants about the due diligence done by Bank of America; and third, they thought the attempt would be unsuccessful and would involve extended and costly litigation, still resulting in Bank of America either paying significant damages or acquiring the firm.
A $27 billion Treasury auction of seven-year notes that wrapped up Thursday afternoon had strong demand, offering some reassurance to the market. Longer-dated Treasuries were rising in price, falling in yield; The 10-year was adding 1-8/32 to yield 3.53%, while the 30-year tacked on 1-26/32, yielding 4.32%.
As for commodities, crude oil rose $1.56 to $70.23 a barrel, while gold added $5.10 to $939.50 an ounce, and the dollar weakened against the pound, euro and yen.
In other corporate news,
Toyota
(TM) - Get Report
will review
its product lineup; and
Yahoo!
(YHOO)
is planning a
. Toyota gained 2.1% to $7.67, while Yahoo! added 0.5% to $5.53.
Stocks abroad were mixed. London's FTSE 100 and the DAX in Frankfurt fell 06% and 0.7%, respectively. In Asia, the Nikkei in Japan added 2.2%, and the Hang Seng in Hong Kong closed 2.1% higher.