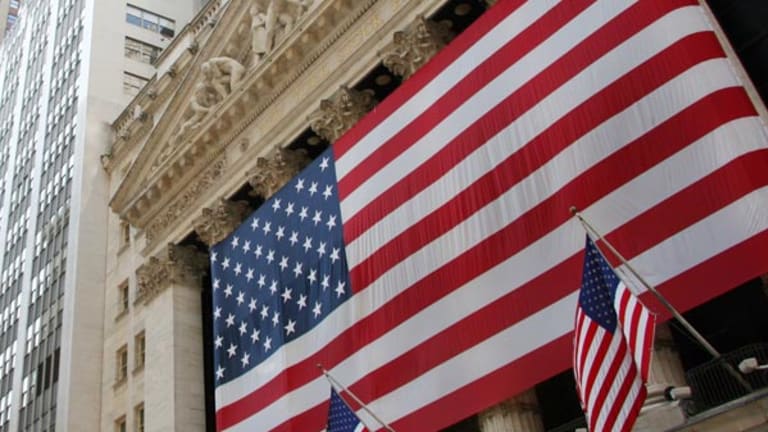 Resurgent Oil Soaks Stocks
A jump in oil sends the indices down about half a percent.
Updated from 4:02 p.m. EDT
Stocks fell Wednesday as a spike in oil had yesterday's
Fed
minutes echoing in investors' ears.
The
Dow Jones Industrial Average
fell 45.88 points, or 0.44%, to 10,457.80. The
fell 4.06 points, or 0.34%, to 1190.01. The
Nasdaq Composite
lost 11.50 points, or 0.56%, to 2050.12, ending an eight-session winning streak for the index. The 10-year Treasury, which has rallied nearly a point in two days, was down 15/32 in price to yield 4.09%. The dollar was higher against the yen and euro.
"Today was a classic back-and-fill type of day," said Bryan Piskorowski, market analyst with Wachovia Securities. "Equities are hurting from the spike in oil, and the Atlanta Fed president has taken quite a bite out of the Treasury market. On the other side of things, the Nasdaq has been on an eight-day winning streak. There's been a ton of rotation the last couple days."
About 1.72 billion shares changed hands on the
New York Stock Exchange
, with decliners beating advancers by a 2-to-1 margin. Volume on the Nasdaq was 1.50 billion shares, with decliners outpacing advancers 2 to 1.
Crude for July delivery closed up $1.31 to $50.98 a barrel after the Energy Department said inventories slipped by 1.6 million barrels last week. Analysts had been forecasting a 1.2 million-barrel increase in inventories.
Exxon Mobil
(XOM)
was one of few gainers on the Dow, rising 64 cents, or 1.2%, to $55.68.
"The market is still digesting last week's upward moves," says Jay Suskind, head of institutional equity trading with Ryan Beck & Co. "There were no blowout numbers either way today, so there's some mixed messages. The way the bond market has been trading has been giving stocks some pause."
The Commerce Department said Wednesday that orders for durable goods rose 1.9% in April, beating estimates, while orders excluding transportation fell slightly. Separately, the Commerce Department said April new-home sales rose 0.2% to 1.316 million, below the expected 1.328 million mark.
"We need more clarity on earnings and economic growth," said Scott Wren, equity strategist with A.G. Edwards. "We're making the transition to slower growth and higher inflation, and at that point in the cycle there's a lot of confusion. The data is slowly turning from mixed to reflecting a buying environment, which is why the market has jumped so much lately. We're starting to get moderate sustainable growth, a good environment for stocks."
Thursday will bring more economic data to the table, with the Commerce Department reporting preliminary first-quarter GDP numbers. Economists are expecting a 3.6% growth rate.
"The GDP number tomorrow is more significant than the durable-goods number," added Suskind. "It'll give more direction to the market, hopefully giving us some more consistency."
Elsewhere, Jack Guynn, the president of the Federal Reserve Bank of Atlanta, spoke at a homebuilder luncheon in Atlanta, saying that because of the recent upward movement in inflation, more rate hikes will be necessary in order to ensure sustainable economic growth.
"Businesses continue to ramp up their investment spending," said Guynn. "And consumer spending keeps chugging along. Labor markets are improving at a solid pace, and the additional paychecks will help fuel more growth. Taken as a whole, these and other factors suggest that our economy has ample strength to withstand further removal of accommodative monetary policy -- in my view, a step that is needed to sustain economic growth."
Energy, telecom services and auto parts suppliers were the leading gainers Wednesday. Weaker areas included technology, transportation, semiconductors, health care and materials.
Restructurings dominated Wednesday's corporate news.
Ford
(F)
outlined an ambitious strategy to prop up parts supplier
Visteon
(VC)
, agreeing to take over 24 plants and offering buyouts to 5,000 hourly workers. The deal should defuse a funding crunch at Visteon that had threatened the company with insolvency.
Ford, which will record hundreds of millions of dollars in charges and operating losses from the transaction, hopes to cement its supply lines for the rest of the decade while keeping costs down. The automaker's shares lost 0.2%, while Visteon shot up 14.3% to $7.17.
Other auto parts makers rallied on the Visteon news.
Delphi
( DPH) gained 15 cents, or 3.3%, to $4.71, while
Dura Automotive
( DRRA) was up 32 cents, or 7.7%, to $4.48.
Meanwhile,
Calpine
(CPN)
announced an operations overhaul that it hopes will accelerate $3 billion in debt reduction from next year to the end of 2005. Plans include up to eight more power-plant sales, finding a partner for its energy trading division and the termination of long-term maintenance pacts. The stock rose 33.3% to $2.64.
U.S. stocks skidded to a mixed finish Tuesday after notes from the Fed's May 3 meeting illustrated policymakers' devotion to the present course of gradual interest rate hikes. While the rift between hawks and doves widened somewhat, Fed members continued to direct most of their concern toward inflation.
Brokers were lower again Wednesday.
Goldman Sachs
(GS)
was down 2.3%,
Charles Schwab
( SCH) was off 1.9%,
Jefferies
(JEF)
was lower by 3.1% and
Merrill Lynch
( MER) lost 0.6%.
"Transaction volumes have not been awe-inspiring, unnerving the group as of late," says Piskorowski. "Overall, the financials haven't been doing well at all. I'm not reading too far into it yet though."
Gartner Group raised its estimate of cell-phone industry handset sales in 2005 to 750 million from 720 million. Gartner cited a strong first quarter, in which phone sales jumped 17% from a year ago to 180.6 million units.
Motorola's
( MOT) first-quarter market share improved by about a half-percentage point in the first quarter to 16.8%, while
Nokia's
(NOK)
gained about 1.5 points to 30.4%, although its U.S. share shrank. Motorola fell 20 cents, or 1.1%, to $17.17. Nokia was off 43 cents, or 2.4%, to close at $17.12.
In earnings news,
AutoZone
(AZO)
said third-quarter earnings rose 3% from a year ago to $147.3 million, or 86 cents a share, beating estimates by 6 cents despite lower same-store sales. A buyback helped boost per-share results. AutoZone lost 41 cents, or 0.5%, to $86.80.
The Wall Street Journal
reported Wednesday that New York Attorney General Eliot Spitzer could file a civil complaint as early as this week against
American International Group
(AIG)
. The suit would accuse the insurance giant of using shoddy accounting to polish its financial results over several years. AIG gained 28 cents, or 0.5%, to $54.08.
Network Appliance
(NTAP)
was lower after saying fourth-quarter earnings rose about 72% from a year ago to $63.4 million, or 16 cents a share, on a 35% jump in revenue to $451.8 million. Adjusted for items, the storage company earned 17 cents a share, matching estimates.
The problem was with the company's first-quarter guidance, which called for earnings of 17 cents or 18 cents a share on sales of $465 million to $479 million. Analysts wanted earnings of 18 cents a share on sales of $473.3 million. Network Appliance fell $1.48, or 4.9%, to $28.92.
L-3 Communications
(LLL)
is close to purchasing defense company
Titan
( TTN) for a share price in the mid-$20 range, according to
The Wall Street Journal
. The companies have been discussing Titan's valuation and how to deal with its legal liabilities. L-3 was down $2.69, or 3.8%, to close at $67.35, while Titan was up 36 cents, or 1.6%, to $22.18.
Internet stocks were mixed despite Goldman Sachs reiterating its outperform ratings on
eBay
(EBAY)
,
Yahoo!
(YHOO)
and
Google
(GOOG)
. The brokerage firm said that all three Internet companies have superior growth and profitability compared with the sector average.
eBay rose 68 cents, or 1.8%, to $37.57. Meanwhile, Yahoo! fell 36 cents, or 1%, to $36.27, and Google gained $4.81, or 1.9%, to $260.81, a new closing high.
In other brokerage action, Lehman Brothers raised its stock price target for
Intel
(INTC)
to $30 from $28 while increasing earnings and revenue forecasts based on an improved gross margin outlook. The firm lifted its second-quarter earnings estimate to 28 cents from 27 cents, and expects 2005 earnings of $1.36 a share vs. its prior estimate of $1.32 a share. Lehman kept its overweight rating on the stock. Intel gained 4 cents, or 0.1%, to close at $27.
Also, Lehman Brothers expressed concern over the valuation of
DuPont
(DD)
shares, sending the stock down 36 cents, or 0.7%, to $46.72.
Overseas markets were lower, with London's FTSE 100 losing 0.2% to 4971 and Germany's Xetra DAX down 0.1% to 4389. In Asia, Japan's Nikkei fell 1.1% overnight to 11,014, while Hong Kong's Hang Seng lost 1.2% to 13,562.
To view Aaron Task's video take on today's market, click here
.