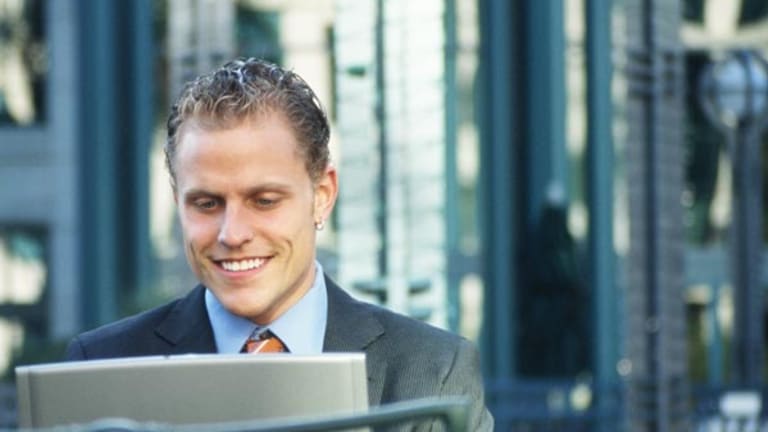 Restaurants Fall Short on New Yardstick
Using new-store sales in analyzing companies yields three to avoid and three to watch.
This column was originally published on RealMoney on Jan. 31 at 1:59 p.m. EST. It's being republished as a bonus for TheStreet.com readers. For more information about subscribing to RealMoney, please click here.
Retail sector analysts typically focus on sales trends at stores open for more than 12 to 18 months, a metric known as "same-store sales." There's a good reason for this: New stores may take a while to get up to speed, so it's better to look at the time-tested outlets to get the big picture.
But what if you compared sales trends at new stores with sales trends at existing stores over longer periods of time? Would consistent underperformance at new stores indicate problems such as customer fatigue or saturation?
Jeremy Perler of the Center for Financial Research and Analysis (CFRA) suspects it might, and he has published a study that I believe establishes a useful new yardstick for retail businesses. Of the 30 or so studies I've looked at in the past few days, this one, titled "Restaurant Review: Scrutinizing Same-Store Sales," stands out. Most analysts ignore new-store sales and take same-store figures as gospel, but this work figures out a way to use new-store sales in analyzing companies. I haven't seen this approach before.
Krispy Kreme's Leaky Filling
For me, the evidence of this analytical approach's value is Perler's highlighting a couple of ominous trends at
Krispy Kreme
(KKD)
in the two years before the stock blew up in early 2004.
Perler compared the rate of change in same-store sales with the change in sales at all stores in operation, known as "revenue per store." Because this second measure includes all stores, it can capture deteriorating trends at new stores.
Indeed, for Krispy Kreme, starting in early 2002, there was a steady decline in the rate of growth in revenue for all stores -- including new stores -- compared with the growth in same-store sales.
This divergence continued to worsen for two years, 2002-2004, while the stock held a trading range of roughly $30-$45. Then disaster struck. The stock blew up, falling from $38 in March 2004 to $5 in less than a year.
Of course, Krispy Kreme was a special case, complete with accounting scandals that contributed to its getting creamed. But relatively poor growth at new stores over time may still be a sign of trouble ahead at other restaurant companies, even if they don't have accounting issues.
"While it is not uncommon for new stores to underperform current stores, a large sustained underperformance may at minimum signal harder same-store sales growth prospects," says Perler.
Here's a look at three casual dining companies that look like they may have trouble ahead, according to this yardstick, and three whose trends may be looking up.
No Piece of CAKE
For three years starting in 2003,
Cheesecake Factory
(CAKE) - Get Cheesecake Factory Incorporated Report
was a mo-mo name in casual dining. Its stock nearly doubled. Then its fortunes reversed in early 2006, when the stock gave back most of its gains.
Anyone who had been following CFRA's all stores/same-store yardstick would have seen the trouble coming. All-stores sales growth began slowing a lot more than growth at "same stores" in early 2004, and the gap continued to widen for several quarters.
In fairness, things improved slightly in 2005, but then the gap continued to widen again last year. And that's the current trend. So even though the stock gapped up early this year and has been in a $26-$28 trading range ever since, it might not be a good idea to put too much faith in a move higher. "Over the past two quarters, revenue per store has fallen faster than same-store sales, which may signal a continued downward trend in same store sales," says Perler.
Livin' a Little Too Good in the Neighborhood
Since late 2004, growth in revenue from all outlets of the family dining chain
Applebee's
(APPB)
has consistently underperformed growth in same-store sales. So it may be no surprise that the stock has gone nowhere in that time frame.
True, the stock has rebounded sharply since the middle of last year. But you may not want to count on further gains. In the third quarter of last year, revenue growth at all stores got worse while same-store sales improved, a tentative signal that recent expansions may not be going well.
Interestingly, Applebee's came under attack this week for executive excess, which can correlate to underperformance for a stock. The theory is that boards that allow execs too many perks or excessive pay aren't really looking after shareholders that much.
Activist investor Richard Breeden recently admonished Douglas Conant, the head of Applebee's compensation committee, points out Michelle Leder of footnoted.org. Breeden's gripe: The chain's corporate jet makes a lot of trips in and out of Galveston, Texas, where former Applebee's CEO Lloyd Hill owns a beach house.
Another cautionary note: Applebee's insiders bought a lot of stock around the lows last summer, but they were selling again in November, according to InsiderScore.com.
Breaded Woes
Panera Bread has posted same store sales growth of 5.6% on average over the past four quarters. That is high compared with restaurants in general and compared with the company's own 4% average for the past four years. But this may not be any reason for shareholders to celebrate. Revenue per store has underperformed same-store sales since late 2002, and the divergence has worsened since mid-2005.
Another problem for Panera: The chain posted exceptionally strong same-store sales for the first quarter of last year, so it will be harder to beat those results this year.
Three Trend-Positive Spots
In contrast, trends for three restaurant chains may be picking up, at least according to CFRA's yardstick.
Late last year, revenue-per-store growth at
Brinker International
(EAT) - Get Brinker International, Inc. Report
jumped in comparison with same-store sales.
In the past two reported quarters, growth in revenue per store has moved higher compared with same-store sales growth at Carl's Jr., a division of
CKE Restaurants
( CKR). What's more, same-store sales growth for Carl's Jr. has averaged 5.5% over the past four quarters, while they've come in at 4.3% for Hardees, another division of CKE Restaurants. In each case, that's higher than both the long-term track records for these chains and casual restaurants overall.
At
Papa John's International
(PZZA) - Get Papa John's International, Inc. Report
, revenue per store has bested same-store sales for the past three reported quarters. Keep in mind, however, that the chain faces tough comps because of a good 2006.
At the time of publication, Brush had no positions in any of the stocks mentioned in this column, although positions may change at any time.
Brush is an award-winning New York-based financial writer. In addition to writing for
RealMoney
, he has a weekly market column on
MSN Money
called Company Focus, and a column called Insiders Corner at InvestorIdeas.com. Brush has covered business and investing for
The New York Times
,
Money
magazine and the Economist Group. He studied at Columbia Business School in the Knight-Bagehot Fellowship program and the Johns Hopkins School of Advanced International Studies. He is the author of
Lessons From the Front Line
, a book that offers insights on investing and the markets based on the experiences of professional money managers.
Under no circumstances does the information in this column represent a recommendation to buy or sell stocks. Brush appreciates your feedback;
to send him an email.