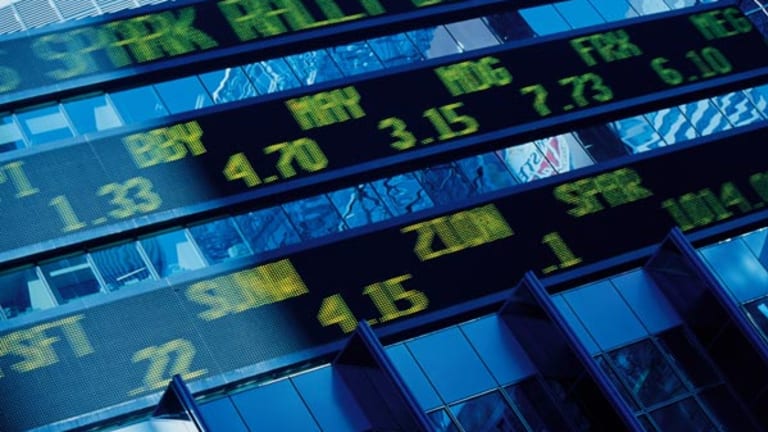 Research In Motion's at Home in a Range
It's close to a breakout. More likely: a turn lower.
This column was originally published on RealMoney on Feb. 9 at 10:59 a.m. EST. It's being republished as a bonus for TheStreet.com readers. For more information about subscribing to RealMoney, please click here.
On Thursday, I talked with several traders about how difficult it can be sometimes to hold a trade that goes against you from the start. The stock doesn't pull back so fast or far that it triggers your stop, but you just start feeling bad about it almost immediately. Do you just sell it and move on, or do you sit there and slowly bleed to death?
I suggested that new trades be treated like new employees. When you are first hired for a job, you are expected to show up for work. But you aren't usually expected to hit the ground running as if you've been there for 20 years. You're given time to get your feet wet. Even the toughest taskmaster shows you where the coffee machine is.
But it's a bit difficult for an employer to give a new employee time to adjust if every last dime has been spent on that employee. I remember when Mike Ditka traded away the New Orleans Saints' entire 1999 draft to draft Ricky Williams. The pressure on Williams was too intense; the Saints essentially had bet everything on Williams.
We can make the same mistake by taking an outsized position on one stock. When we get too big too soon, every little pullback is a big deal.
So try building a position slowly. This gives you breathing room, so you in turn can give the trade a chance to live up to its potential. Do that, and you'll find yourself holding a stock through healthy pullbacks rather than selling reflexively at the first little hiccup.
OK, let's look at some reader picks:
Research In Motion
(RIMM)
,
Cummins Engine
(CMI) - Get Cummins Inc. Report
,
Lexmark
(LXK)
,
Grupo Simec
(SIM) - Get Grupo SIMEC SAB de CV Unsponsored ADR Class B Report
and
Costco
(COST) - Get Costco Wholesale Corporation Report
.
Research In Motion has been bumping its head against $140 since November. During the past couple of months, the stock has been rangebound. This has allowed the 50-day moving average to catch up with the stock and begin rolling over. I believe a move back down to $120 is more likely than a breakout above that range. If the stock failed to bounce again from that level, I'd sell in a hurry.
Cummins has been on a tear since early January. But over the past week, all those aggressive buyers have become sellers. Thursday's selloff was on just average volume, but after the run this stock has had, I wouldn't give it much room. If you're long, try taking some off the table. But it's important to understand that the strongest stocks will run along the upper Bollinger Band, which is just what Cummins is doing. If we see this strength continuing in the form of a move above $140, then I'd consider buying some.
Lexmark gapped down to $62.50, ran up a few bucks and came back down to a lower low. But look at how the stock is acting around the lower Bollinger Band. The late-January low was well outside the lower Band, while the recent low never even closed below the lower Band. That's a higher relative low. At the same time, the relative strength index is moving higher.
These positive divergences are hinting at an end to the decline. If you're looking for a relatively low-risk entry, here's your chance. I'd place my stop around $60.50. If it's weak enough to hit your stop, you don't want to own it.
Grupo Simec is consolidating after a nasty decline in December. Each time the stock has hit $12.50, buying interest has halted the decline. With the stock at $13 now, you might want to keep an eye on it. If it bounces, the trade might be worth about 10%, but if support breaks down, the downtrend continues and I sure wouldn't want to be long.
After breaking above $55 in January, Costco has been trading in a fairly tight range. I've drawn two ideas for potential buy points. First, a pullback to support at $55 would bring the entry so close to the 50-day moving average that a trade there would risk little capital. Alternatively, a breakout above $57 could mark the start of the next leg higher.
Be careful out there.
At the time of publication, Fitzpatrick had no positions in any of the stocks mentioned, though positions may change at any time.
Dan Fitzpatrick is the publisher of StockMarketMentor.com, an advisory newsletter and educational forum dedicated to teaching effective risk management and trading methodologies to aspiring traders and investors. He is a former hedge fund manager and a member of the Market Technicians Association, and he now trades from his home in San Diego, Calif. While Fitzpatrick holds various securities licenses, he does not give recommendations to buy or sell stocks. Under no circumstances does the information in this column represent a recommendation to buy or sell stocks. He appreciates your feedback;
to send him an email.