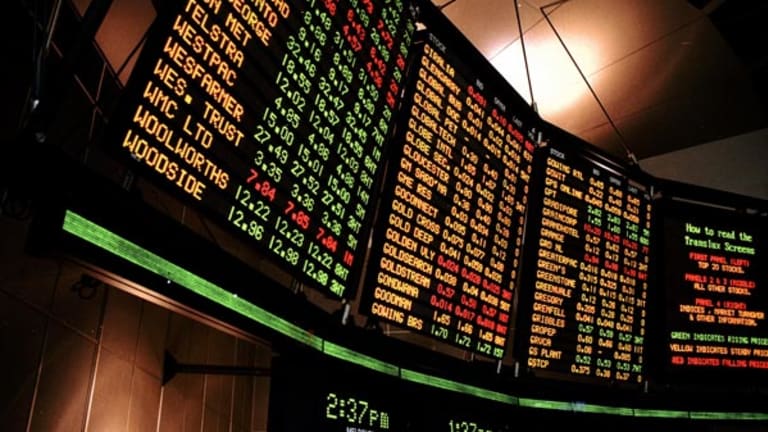 Research In Motion Could Lose Its Edge
The BlackBerry maker's competitors seem more than up to the task of taking market share.
This column was originally published on RealMoney on April 12 at 2:11 p.m. EDT. It's being republished as a bonus for TheStreet.com readers. For more information about subscribing to RealMoney, please click here.
The
Research In Motion
(RIMM)
report was marred by only slight softness in revenue and a lack of upside in guidance. But investors have reasons to be anxious about even small flaws: RIMM's knack of using underpowered models to compete is being tested harshly this year.
Research In Motion just barely missed its revenue expectations -- the reported $930 million in revenue was perhaps $5 million short of expectations. But this is a very sensitive juncture for the firm.
Even as RIMM celebrates vanquishing the first wave of a BlackBerry clone army, the next one is rolling in. By the end of 2007, the old RIMM haven of high-end GSM phones in North America will be shrinking, with the W-CDMA launches of
AT&T
(T) - Get Free Report
and
T-Mobile
.
The first major BlackBerry competition in North America arrived last summer in the form of the Q from
Motorola
(MOT)
and the E-61 from
Nokia
(NOK) - Get Free Report
.
BlackBerry Bites Back
RIMM hit back with the highly successful Pearl model. This first BlackBerry with solid multimedia features arrived at T-Mobile last September and then made a big splash at AT&T Wireless by the end of the year. Lo and behold, during the Christmas quarter, RIMM beat back the first wave. Both the Q and E-61 missed their sales projections in the U.S., while Pearl turned into a big hit.
It was an impressive winter -- successfully defeating the clones while moving from business-focused models into the consumer space. Ecstatic investors reacted by driving the market cap to $27 billion.
And in that, they went too far, ignoring the limited nature of this initial skirmish. RIMM deserves a party after the Pearl success, but this $27 billion Bacchanalia is too much. Despite Motorola's and Nokia's early wobbles, the email phone competition is piling on -- and the second wave is bigger than the first. Samsung's new Blackjack model broke the curse of the BlackBerry clones by giving Pearl a run for its money at Cingular. Sony Ericsson's new M600 is another second-wave clone with superior display tech and network support. It has not been picked up by a U.S. carrier, but it has been a niche 3G hit in Europe.
All of these models are getting ambitious upgrades in 2007, and the product cycles of phone vendors are notably faster than RIMM's, as they are used to fixing first-run problems rapidly, adding features while slimming down and cutting prices.
The Pearl's success demonstrated that RIMM can design a model that appeals to consumers despite the lack of a cutting-edge display and 3G or WiFi support. But this niche of high-end phones with low-end technology is limited -- the W-CDMA growth may not be matching most optimistic expectations, but it is the fastest-growing segment of the handset business.
RIMM has a W-CDMA model out, but it weighs nearly 140 grams and does not support HSDPA, the 3G upgrade technology offering a notable boost to data speeds launched this year by both AT&T and T-Mobile. This paucity of 3G prowess is a troubling sign for 2007.
When introduced, the E-61 and Q had notably weak specifications. Cingular demanded that Nokia drop 3G and WiFi support from its model, and the Q was underpowered to begin with. The current European entries of Nokia, Sony Ericsson and Samsung already pack 3G and dazzling displays in the current generation and will leap to the HSDPA era by the end of 2007.
The Magnificent Amberson?
Paradoxically, RIMM has slipped behind in the hardware race even while consolidating its grip on the North American market this past winter. Since AT&T has not yet done a national launch of its 3G network in America and T-Mobile has not launched it at all, RIMM has been able to squeeze the last drops out of the obsolescent GSM smartphone market.
This may be akin to the last flourish of the carriage industry in 1890s. RIMM has not demonstrated it can catch up in the specification race against the phone guys. By the end of 2007, Cingular will be marketing HSDPA-enabled W-CDMA models to compete against Verizon's 3G program. T-Mobile will also start launching its HSDPA/W-CDMA program. In both Europe and North America, WiFi shows signs of becoming more important for smartphone buyers.
RIMM must be already feeling the feature gap in the European market, which was supposed to provide possible revenue upside for thepast quarter. It did not.
The company has benefited a great deal from AT&T and T-Mobile's W-CDMA delays but hasn't stepped up its product development pace. The latest model, BlackBerry 8800, is surely the last 130-gram smartphone launched without 3G or WiFi support and with just a 65K color display. This feature/weight combination would seem to indicate that RIMM is having trouble managing miniaturization while improving display quality even in the absence of HSDPA or WiFi support.
Of course, RIMM will launch both HSDPA and WiFi models later on -- but will they be competitive against the new generation of 100-gram smartphones packed tight with 3G, WiFi and 16-million-color display tech? The dog that has not barked this winter is the lack of compelling product announcements from RIMM.
It is a mistake to fixate too much on cutting-edge technology. But the handset sector history shows that no vendor has been able to duck margin damage if it falls too far behind industry norms in miniaturization, radio and display technology races. Great user interface and nifty software have never patched up hardware shortcomings in this industry in the long run.
I don't think the latest run-up in RIMM share price reflects the fact that the winter success was driven by remarkably modestly featured models -- and that this feat hinged largely on the anomaly of America having two major GSM operators that have not yet launched W-CDMA service.
At time of publication, Kuittinen had no positions in the stocks mentioned, although holdings can change at any time.
Tero Kuittinen is a senior product specialist for Nordic Partners, Inc., a pan-Nordic brokerage firm. Although Kuittinen is an employee of Nordic Partners, Inc., the statements above are being made in Kuittinen's personal capacity and are in no way are the statements of Nordic Partners, Inc., nor attributable to the company. Under no circumstances does the information in this column represent a recommendation to buy or sell stocks. Kuittinen appreciates your feedback;
to send an email.