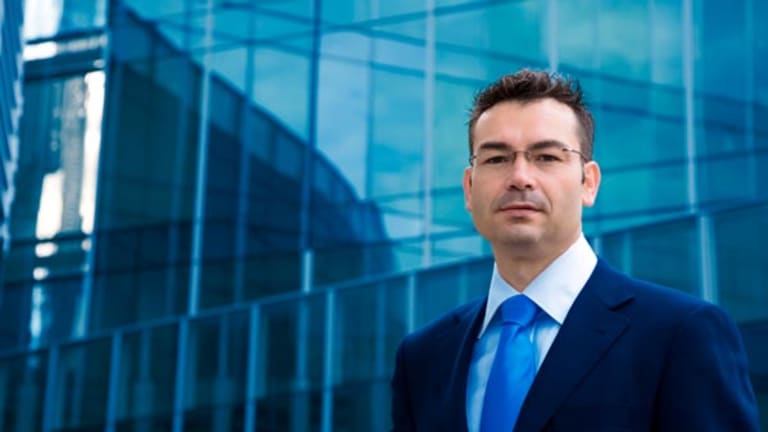 REIT Stands Out From Crowd
Franklin Street Properties finds relative safety in doing things differently.
This column was originally published on RealMoney on Jan. 22 at 1:59 p.m. EST. It's being republished as a bonus for TheStreet.com readers. For more information about subscribing to RealMoney, please click here.
It takes all kinds of positions to make a well-balanced portfolio, and although it's much more exciting to present high-risk/high-reward ideas in my columns, insiders are good at bringing me investment ideas across the spectrum of risk.
On the lower end of that scale is
Franklin Street Properties
(FSP)
. Franklin is not your run-of-the-mill real estate investment trust. I like how it stands out from the crowd, and the prospects for this security's total return over the coming year.
Franklin manages a portfolio of primarily suburban office buildings. But it also acts as an investment banker by syndicating new properties to accredited investors. This REIT therefore generates banking fees, along with rental income and gains from property sales.
If Franklin's management feels particularly bullish on a piece of syndicated property, it offers to roll the preferred shares of that syndicate into the portfolio of the publicly traded REIT. Given that Franklin has been banker, buyer and seller by the time management decides to merge with a syndicate, decisions to merge can be seen as Franklin "cherry-picking" the best of its own syndication deals for the benefit of the public REIT.
Merging a group of its syndicates together is actually how FSP first started trading on the stock exchange in the summer of 2005. There was no IPO and no raising of money. Franklin merely registered the preferred shareholders of numerous syndicates, and FSP was born.
What Franklin saved in IPO costs, however, it lost in the way of potential analyst coverage. Coming to market so oddly, and not needing money, FSP remains woefully underfollowed on Wall Street, despite its $1.4 billion market cap.
This REIT's oddities, and the lack of coverage, is likely why FSP has a relatively low valuation relative to its peers. The security's trailing-price/funds-from-operations (FFO) per share of less than 13 is a good 15% below its industry's average. At the same time, FSP's indicated yield of 6.3% is double that of most its peers. Meanwhile, Franklin's return on equity of 10% is at the high end for its group -- despite the fact that the REIT has no debt.
That's right, absolutely no leverage. This is arguably the major difference between FSP and its peers. Most REITs are leveraged by between 100% and 300% of their equity as a matter of course to help boost returns. But Franklin eschews leverage as a matter of philosophy.
"There is some degree of risk in putting debt on a property," points out Franklin's CFO, John Demeritt. "You have to manage interest rate risk, and there is dividend risk if rates make interest payments climb." Without either interest rate or dividend risks, FSP's returns come with a lower degree of risk than most of its peers'.
The lack of leverage during the recent good times for real estate, however, has been most obvious for making Franklin's funds-from-operations growth less than its peers'. So even though the income portion of FSP is safer, the penalty for lower growth has recently made FSP a laggard in its group on a total-return basis. But FSP's safe indicated yield should provide decent downside support going forward, and anyone worried about a slowdown in the economy should appreciate Franklin's clean balance sheet for the safety net it provides the yield if weakness rears its head.
And what if a real estate crash causes fire sales in the suburban office environment Franklin considers its core competency? Would Franklin consider finally leveraging itself to make the most of the opportunity? "We would have to consider it," admits Demeritt. "It would challenge the
no-debt philosophy."
A large challenge for Franklin right now, however, is just getting noticed. With no obvious banking business to try for, only Oppenheimer's Marvin Loh has found FSP worth getting to know. He rates the stock a buy with a $24 price target. If reached, that would yield a 28% total return over the coming year.
With the interest of private-equity funds in REITs these days -- most notably for
Equity Office Properties
undefined
-- I wondered whether FSP could reasonably expect some pin action. After all, the private-equity guys love to use leverage to make their deals pay off, and FSP has the most room to add leverage in the REIT industry, as far as I can tell.
But a couple of factors would likely get in the way of that happening. Size, for one. Franklin is less than a tenth the size of EOP, so only a small private-equity firm would likely find it substantial enough to pursue. Even then, it's unlikely any private-equity firm would appreciate the syndication and banking fee part of Franklin.
For their part, insiders certainly think the shares are worth investing in at these levels. Last year, eight executives and directors invested nearly $950,000 in FSP at an average price of $20.03. The prior year, five insiders put over $1 million into the stock at an average of $18.58.
So FSP isn't a raving buy for growth investors or those looking for a private-equity play, but company insiders obviously see something they like. Despite the fact that the investment banking aspect of revenues can make for lumpy earnings, and little FFO growth is forecast in 2007 by the analyst Loh, I think this REIT is a solid addition to any portfolio looking for a low-risk/moderate-return position.
At the time of publication, Moreland was long Franklin Street Properties, although holdings can change at any time.
Jonathan Moreland is director of research and publisher of the weekly publication InsiderInsights, founder of the Web site InsiderInsights.com and the director of research at Insider Asset Management LLC. Under no circumstances does the information in this column represent a recommendation to buy or sell stocks. While he cannot provide investment advice or recommendations, Moreland appreciates your feedback;
to send him an email.