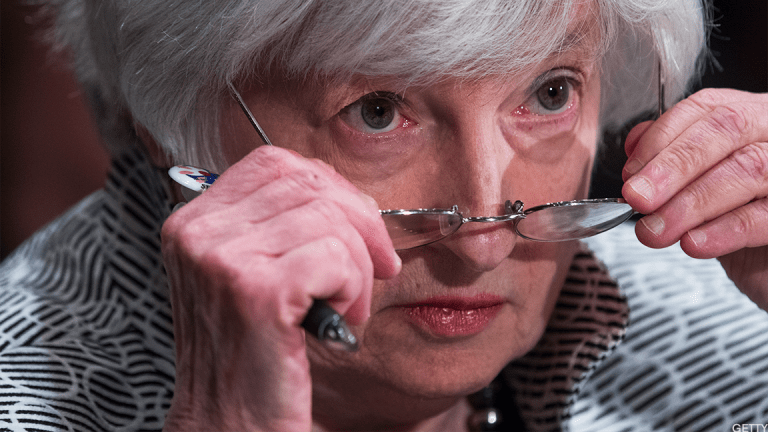 Senate's Dodd-Frank Revision Moves in the Right Direction, Yellen Says
A Senate plan to loosen some banking rules is the most significant piece of regulation since Dodd-Frank, one analyst says.
A U.S. Senate bill loosening Dodd-Frank Act rules for small and mid-size banks is a step in the right direction, allowing the government to adjust its supervision based on risk rather than size alone, Federal Reserve Chair Janet Yellen told lawmakers.
While Dodd-Frank, passed in the wake of the 2008 financial crisis, "provided an excellent road map to a series of changes that have led to a far safer and sounder banking system," Yellen told Congress's Joint Economic Committee on Wednesday, Nov. 29, that "it's appropriate to tailor regulations." The U.S. central bank has long favored raising some of the asset-size thresholds at which heightened standards are applied to firms, she said.
The Senate proposal to modify the 2010 law, a compromise between Republicans including Banking Committee Chair Mike Crapo and at least eight Democrats, would raise the size at which banks are subjected to heightened supervision to $250 billion in assets from $50 billion, while maintaining the Fed's authority to apply stricter rules to firms with $100 billion to $250 billion. The legislation also exempts banks with less than $10 billion in assets from the Volcker Rule's ban on proprietary trading.
"Community banks face substantial regulatory burdens," Yellen noted, and "it's very appropriate for the Fed and other bank regulators to look at ways to reduce the compliance burdens they face." Federal Reserve officials have met a number of community bank executives to discuss their concerns, she added.
Along with addressing such concerns by stretching the intervals at which smaller banks are examined by regulators, the Senate plan contains a number of other provisions such as easing the standards for mortgage loans that are supported by the American Bankers Association, a lobbying group for the $17 trillion banking industry.
"The bill, if passed, will be the most significant piece of regulation since Dodd Frank" though it's more modest than either a proposal by U.S. Rep. Jeb Hensarling that stalled in the House or recommendations by Treasury Secretary Steve Mnuchin, said Greg Hertrich, head of U.S. depository strategies for Nomura. It's unlikely to get a vote by the full Senate before the end of the year, he wrote in a report.
The compromise plan jibes with Yellen's past support for only incremental revisions to post-financial crisis regulations, as opposed to the broader changes sought by President Donald Trump, a real-estate mogul who argued that excessive rules have hampered U.S. economic growth.
Such rules -- which would remain in place for the biggest Wall Street firms -- include a requirement that companies from JPMorgan Chase & Co. (JPM) - Get Report to Citigroup Inc. (C) - Get Report and Bank of America Corp. (BAC) - Get Report undergo annual stress tests that gauge whether they have adequate reserves needed to weather a severe downturn.
Additionally, they must regularly complete resolution plans, or living wills, detailing how they could be wound down in the event of a collapse. The government intended the latter measure to prevent the confusion that ensued with the September 2008 failure of investment bank Lehman Brothers, which froze global credit markets and prompted billions of dollars in taxpayer bailouts.
Citigroup is a holding in Jim Cramer's Action Alerts PLUS charitable trust portfolio. Want to be alerted before Cramer and the AAP team buy or sell the stock? Learn more now.
Both stress tests and living wills remain important tools for the Fed, particularly in oversight of the largest banks. 
"It's important that the Fed retain authority to impose enhanced prudential standards on banking firms," particularly in the $100 billion- to $250 billion-asset range, Yellen said Wednesday. "Stress testing, we think, is a particularly important component of the safety-and-soundness approach." Yellen's term as Fed chair ends in February.
Trump's nominee to replace her, Jerome Powell, expressed similar views on tailoring post-crisis rules during a confirmation hearing a day earlier.
"I'm not going to characterize what we're doing as deregulation," Powell told Sen. Elizabeth Warren, a Massachusetts Democrat who has supported stronger oversight of Wall Street. "I would rather think of it as looking back over eight years of what is very innovative regulation in many cases -- things that have never been done, like liquidity requirements, resolutions, stress-testing -- looking back over what we did and making sure it makes sense."
More of What's Trending on TheStreet: