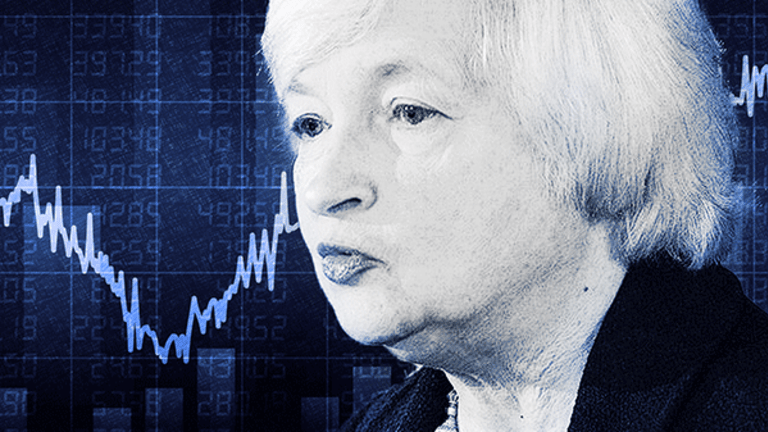 What's Keeping Congress Up at Night? Janet Yellen's Lunch Dates
House members found time during a Wednesday hearing to inquire about how strongly the central bank supports Trump's agenda, take potshots at his predecessor and comment on Yellen's famous inscrutability.
As chairman of the House's capital markets subcommittee, Bill Huizenga thinks it's important to keep track of who Janet Yellen eats lunch with.
Does the Federal Reserve chair, in fact, plan to take as many midday meals with Steve Mnuchin, the Treasury Secretary appointed by Republican President Donald Trump, as she did with Jacob Lew, who held the same post under Democrat Barack Obama, Huizenga asked during Yellen's semiannual testimony before the House Financial Services Committee on Wednesday.
"Yes, absolutely," Yellen said. "I look forward to a very strong working relationship."
That's good, said Huizenga, a Michigan Republican whose staff reviewed Yellen's public calendar and found that she had 68 official meetings with Lew over the past three years but only 32 meetings with members of Congress.
Huizenga would like to hear from Yellen more often, he said: It's just "good communication."
That tidbit was one of several shared during a rambling -- and for lawmakers, sometimes emotional -- hearing in the people's house that didn't hesitate to delve into rabbit holes unexplored during Yellen's dryer appearance before the Senate Banking Committee a day earlier.
Along with questions about interest-rate policy, the future of banking regulation and when the central bank might wind down a $4.5 trillion balance sheet, House members found time to inquire about how strongly the central bank supports Trump's agenda, take potshots at his predecessor and comment on Yellen's famous inscrutability.
"You have a wonderful poker face," said U.S. Rep. Sean Duffy, a Wisconsin Republican. "You testify well, but I must say that your staff behind you does not. It's interesting to watch your staff as the political shots are taken from the other side of the aisle, the little smiles and the joy that they take, and the grimaces from our side."
Democrats weren't the only ones taking shots, though. Wednesday's hearing was full of politically loaded comments from both parties.
For instance, Duffy's Republican colleague, Stevan Pearce of New Mexico, asked Yellen whether she agreed with a New York Times article that he said suggested the Federal Reserve would take steps to slow economic growth if it accelerated too much because of Trump's improvement efforts.
When she demurred, he pondered aloud whether the piece constituted "fake news," a label coined to describe false stories during a bitter election campaign between Trump and Clinton, and one which the new president has appropriated to attack reports he disagrees with.
Democrat Michael Capuano of Massachusetts, meanwhile, asked a series of questions about whether Yellen and senior Federal Reserve staff are allowed to hold stock in the companies the bank regulates. (Yes, this was a buildup to a bigger point.)
No, said Yellen. "We have a stringent set of ethics requirements that we adhere to."
It's unfortunate, replied Capuano, that "not everybody agrees with that approach. It's been very troubling."
While Capuano didn't mention the president directly or name any names, the lawmaker's party has been vocal in its criticism of Trump's decision not to separate himself entirely from his sprawling businesses.
Withn the past week, Trump made headlines by blasting retailerNordstrom (JWN) - Get Nordstrom, Inc. (JWN) Report on Twitter (TWTR) - Get Twitter, Inc. Report for dropping his daughter Ivanka's clothing line.
His senior adviser, Kellyanne Conway, followed up by plugging the line on Fox & Friends; the Office of Government Ethics has since said her "free commercial" violated government rules against using public office to promote private enterprises.
While the House hearing also devoted substantial time to topics actually under Yellen's purview, lawmakers' questions yielded little that was different from her Senate testimony the day before.
The Fed chair said she disagrees with the conclusion of a report from The Clearing House, the oldest U.S. banking association, that the central bank's annual stress tests have curbed lending.
The tests, which include a review of whether the biggest U.S. banks' plans for dividends and stock-buybacks would leave them unable to withstand a severe economic shock, have helped them obtain an edge relative to international competitors, Yellen reiterated.
While the tests have increased compliance costs significantly for banks, all six of the largest U.S. firms -- including JPMorgan Chase (JPM) - Get JPMorgan Chase & Co. (JPM) Report , Bank of America (BAC) - Get Bank of America Corp Report , Goldman Sachs (GS) - Get Goldman Sachs Group, Inc. (GS) Report and Citigroup (C) - Get Citigroup Inc. Report -- passed last year.
That was far from the only query about regulation. Republicans suggested repeatedly that excess rules are killing growth and jobs while Democrats countered that a stricter regime was necessary in the wake of the 2008 financial crisis, which sent unemployment as high as 10%.
More than one GOP member pointed out that Obama was the first president since Herbert Hoover, who held the White House during the start of the Great Depression in the 1930s, not to boost growth beyond 3%.
The barb didn't go unnoticed.
The country is basically being "told to blame Obama for the fact that the catastrophe he inherited has not been rebounded enough," complained U.S. Rep. Brad Sherman, D-Calif.
"That's like blaming a firefighter for the fact that there was a fire," Sherman continued. He found this country in free fall. We're now on the upswing, and those who were here at the time the policies were set that created the free fall are saying, 'Why isn't the upswing better?'"
EXCLUSIVE LOOK INSIDE: Citigroup is a holding in Jim Cramer's Action Alerts PLUS charitable trust portfolio. Want to be alerted before Cramer and the AAP team buy or sell the stock? Learn more now.