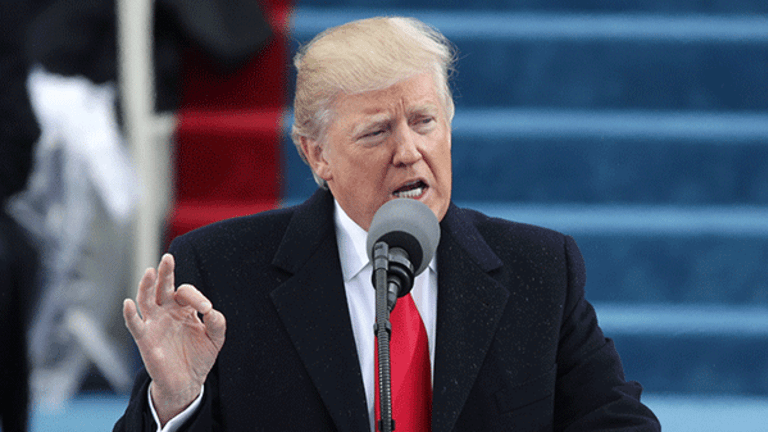 Trump's Quick Health Care Moves Have Serious Ramifications for Hospitals, Medicaid-Heavy Insurers
Investors may regret a "complacency trade" that allowed shares to rebound after election plunge.
Obamacare, or the Affordable Care Act, is fading. And the effects of its repeal, the wheels for which were set in motion on Friday, will likely wreak havoc on a number of sub-sectors of the health care world.
Managed care organizations with a heavy dose of Medicaid customers as well as many hospitals may be under more financial pressure following President Trump's inauguration night order which gave federal officials the authority to stop enforcing Obamacare's individual mandate and other regulatory burdens of the healthcare initiative.
The order's effect will roll out slowly but any move encouraging healthy individuals to stop buying coverage from health insurance exchanges set up under the ACA could further hurt margins for carriers operating in the exchange market, wrote Credit Suisse analyst Scott Fidel in a note Monday.
Fidel also predicted that Trump's order, issued late Friday, Jan. 20, will test the "complacency trade" in the stocks of hospitals and Medicaid managed care outfits, which led to a rebound in those shares after an initial sell off after the new president's election. "We remain cautious that the repeal and replace process may be a bit messier than investors currently seem to expect," he wrote. "We remain cautious on the Medicaid MCO and hospital subsectors at the current levels.
He singled out two that have increased their exposure to the exchanges in 2017, Centene (CNC) - Get Centene Corporation Report and Molina Healthcare (MOH) - Get Molina Healthcare, Inc. Report   and said hospitals could also be be hurt by a repeal if fewer patients have insurance costs. That could force hospitals to eat the cost of providing treatment to people too poor to pay for treatment themselves. 
Fidel currently has underperform ratings on Community Health (CYH) - Get Community Health Systems, Inc. Report  and Molina and neutral ratings on Centene, LifePoint Health (LPNT) , Quorum Health (QHC) - Get Quorum Health Corp. Report , Tenet Healthcare (THC) - Get Tenet Healthcare Corporation Report , Universal Health Services (UHS) - Get Universal Health Services, Inc. Class B Report .
Ana Gupte, of Leerink, shares the bearish sentiment on acute care facilities but is less worried about the order's impact on managed care organizations. She said insurers appear to be in "a productive dialog" with GOP leaders on Capitol Hill about drafting repeal and replace legislation in a way that avoids the risks an immediate elimination of Obamacare would cause. As a result, "We see . . . less threat of any withdrawals from exchanges for 2018 than is feared."
One reason that mass withdrawals might not be imminent is that the immediate effect of Trump's order may be more symbolic than practical say healthcare experts in Washington. The executive order does not change the current law but only directs the Department of Health and Human Services (HHS), the IRS and other agencies charged with enforcing elements of the ACA to use latitude they already have to minimize the law's impact. That includes waiving, deferring, granting exemptions from, or delaying the implementation of any portion of the law that would impose a fiscal burden on any state or impose a cost on individuals, families, healthcare providers, health insurers, or makers of medical products.
It won't be clear how the order will play out until the agencies begin implementing it, but, it does allow President Trump to say one of his first actions on "Day One" was to roll back Obamacare.
"President Trump's ACA Executive order does not grant agencies any new authority or discretion unavailable under current law, and appears largely to set the stage for future agency actions," said Kenneth Choe, a partner at Hogan Lovells' Washington office.
Lamar Alexander of Tennessee, chairman of the Senate Committee on Health, Education, Labor and Pensions, confirmed that the order was largely an attempt to show Americans that ACA repeal is a top priority and may not have an immediate result. "President Trump is right to make the urgent work of rescuing Americans trapped in a collapsing Obamacare system a top priority on his first day in office," Alexander said when the order was issued. "I look forward to working with him, Vice President Pence, and [HHS Secretary nominee Tom] Price, when confirmed, to begin the process of repealing Obamacare and replacing it simultaneously with concrete, practical reforms that give Americans access to truly affordable health care."
Lawmakers held a second hearing on Price's nomination Tuesday, this time it was the Senate Finance Committee. Price would not state Tuesday that no Americans will lose coverage under the president's executive order to ease ACA rules. Price testified before Alexander's committee last week but the Finance panel will be the one that actually votes on recommending his confirmation by the full Senate.
Price also declined to reiterate Trump's promise that an ACA repeal and replace bill will provide "insurance for everybody." Trump has called on Price to have a draft of legislation available as soon has he is confirmed.
Whenever they do act on the president's order, conceivable actions federal agencies may take include expanding financial hardship exemptions or limiting or eliminating enforcement of the penalty for individuals who don't obtain insurance and allowing wider use and ACA provision exempting states major portions of the law if they establish their own healthcare framework with coverage comparable to what ACA requires.
Timothy Costa, a principal in Buchanan Ingersoll & Rooney's government relations practice, said White House officials and lawmakers aren't likely to take dramatic action immediately because insurers are well into the process of designing proposed policies and premiums for 2018, which must be approved by state insurance officials this spring.
"There's an understanding that some of this stuff is baked-in because of the timelines everyone has to deal with," Costa said. As a result, much of the ACA framework "is going to continue for certain period of time," he said.