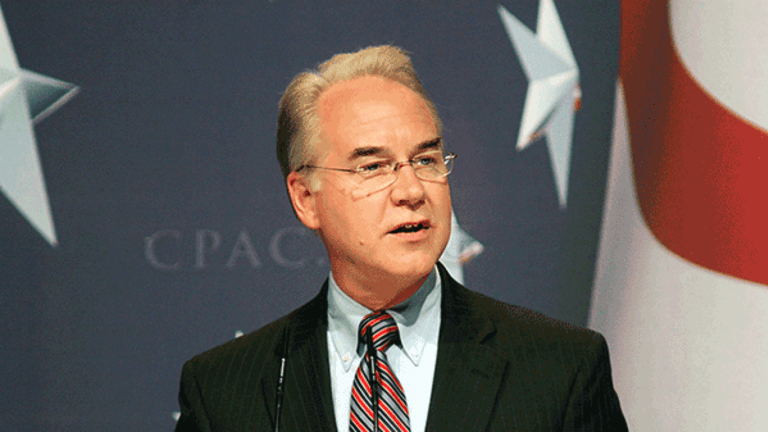 Trump's Health Care Pick Looms Over Hospital, Medicaid Stocks
President-elect calls Tom Price and Seema Verma a health care "dream team," but analysts say hospital and health insurance stocks could be in for a shock.
By picking a fierce critic of Barack Obama's 2010 health care reform law to oversee the government's role in delivering medical care in the U.S., President-elect Donald Trump may be casting a pall over hospitals and operators of other acute care facilities and over HMOs specializing in covering Medicaid patients under state contracts.
Trump announced Tuesday that he would nominate current House Budget Chairman Tom Price, R-Ga., to head the Department of Health and Human Services, the department that the Centers for Medicare and Medicaid Services, the Food and Drug Administration and the National Institutes of Health.
Price, a former physician has introduced his own legislation to repeal the law that, like a plan mapped out in House Speaker Paul Ryan's,  R-Wis., "Better Way" agenda, would replace direct federal funding with block grants to the states. Price's legislation, however, would provide much less funding for grants meant to help fund coverage for patients with pre-existing conditions and other high-risk individuals. Price's plan would provide just $3 billion in grants to cover those individuals whereas Ryan's would provide $25 billion.
The appointment of Price would further stoke fears among investors that Trump's pledge to repeal and replace the Accountable Care Act, Obama's most prized legislative accomplishment, would hit hospitals and Medicaid HMOs particularly hard. 
Among those in line for a big revenue hit are HCA Holdings (HCA) - Get HCA Healthcare Inc Report and Universal Health Services (UHS) - Get Universal Health Services, Inc. Class B Report  , RBC Capital Markets analyst Jonathan Golub has predicted.
Other analysts have made similar predictions, Mizuho Securities USA's Sheryl Skolnick said the Republican sweep of both chambers of Congress and the White House will mean that hospitals no longer receive the revenue from patients covered under Obamacare. Meanwhile, cuts to hospital reimbursements and the taxes and fees on managed care imposed on them to partially pay for the program will remain, because Washington won't give up the $1 trillion those cuts and levies are predicted to raise over the next 10 years.
Eliminating coverage benefits while leaving the pay-fors in place "is the worst of all possible worlds for hospitals," she wrote.
Other stocks likely to be hit include Centene (CNC) - Get Centene Corporation Report  and Molina Healthcare (MOH) - Get Molina Healthcare, Inc. Report  which provide services to government health care programs, Leerink analyst Ana Gupta wrote in a Nov. 22 note. She estimated that repealing and replacing Obamacare could have a one-time earnings downside of 17% and 50%, respectively.
Also vulnerable, though less so, she said, is insurer Anthem (ANTM) - Get Anthem, Inc. Report , which could suffer an earnings hit of 7%. Anthem operates the Blue Cross/Blue Shield organizations in 14 states. Blue Cross outfits are generally the core of the Obamacare exchanges across the country. 
Price's pick didn't lead to an immediate drop in shares of the companies vulnerable to ACA repeal Tuesday morning, as a strongly performing overall health care sector helped push Nasdaq to an all time high. Through mid-day trading HCA had risen from an opening of $69.90 to $71.41, UHS from $122.20 to $123.38, MOH climbed from $53.20 to $53.64, CNC from $56.09 to %57.27 and ANTM from $143.73 to $145.38.
But outright repeal and replace may be much tougher politically than Trump and his new team seem to believe, and Gupta predicted the likelihood of deep cuts to federal cost-sharing subsidiaries as "small though finite."
A Republican effort to repeal the health care law is expected to include a transition period to allow individuals now on the insurance exchanges time to get new coverage. As head of HHS Price would have broad authority over how to phase out the current system. There has been speculation that GOP lawmakers will seek to suspend enforcement of the mandate requiring individuals to have health insurance, a critical component of the ACA's financial stability.
Brian Pinheiro, head of Ballard Spahr LLP's Employee Benefits Group said the GOP faces a daunting task because many lawmakers hope to keep the parts of the ACA that consumers like, such as the prohibition on insurers denying coverage for preexisting conditions, while doing away with the parts many hate, namely the individual mandate.
"If they keep parts of system people like and do away with individual mandate, there will be no way to pay for all the people getting coverage," he said. "I'm not sure that what Price and Ryan are proposing balances the equation."
As a result, Pinheiro said any moves made in the short-term are are likely to be "political decisions" that provide no lasting solution to the dilemma of make coverage available to all and at the same time making the health coverage regime financially stable.
As head of HHS and a former congressman and committee chairman, Price would have profound influence over how the reform effort is crafted.
Price said in a statement that he is "humbled by the incredible challenges that lay ahead," adding that "there is much work to be done to ensure we have a health care system that works for patients, families, and doctors; that leads the world in the cure and prevention of illness; and that is based on sensible rules to protect the well-being of the country while embracing its innovative spirit."
Price's largest campaign donors include several physician groups such as the American Medical Association and the American Academy of Dermatology, according to the nonpartisan Center for Responsive Politics. The AMA Tuesday said it strongly supported Price's nomination.
Trump on Tuesday morning picked the founder and CEO of a health policy consulting firm, Seema Verma, to serve as Administrator of the Centers for Medicare and Medicaid Services.
"I am pleased to nominate Seema Verma to serve as Administrator of the Centers for Medicare and Medicaid Services," said President-elect Trump in a statement. "She has decades of experience advising on Medicare and Medicaid policy and helping states navigate our complicated systems. Together, Chairman Price and Seema Verma are the dream team that will transform our health care system for the benefit of all Americans."
Trump on Tuesday also named the founder and CEO of a health policy consulting firm, Seema Verma, to serve as Administrator of the Centers for Medicare and Medicaid Services. The Indiana resident has close ties to Vice President-elect Mike Pence and designed his Obamacare Medicaid expansion model and has advised other Republican states on how to add conservative-favored components such as health savings accounts and employment requirements to their programs.