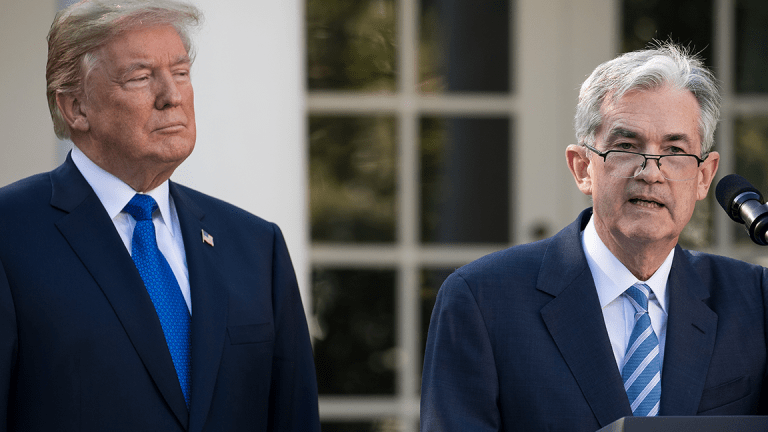 Trump's Renewed Venting Against Fed Chief Raises Concerns: Report
President Donald Trump reportedly is fuming again about Fed Chief Jerome Powell, blaming him for putting a damper on the economy and the stock market and for the rising budget deficit as well.
President Donald Trump continues to fume over the performance of Federal Reserve Chief Jerome Powell, in private as well as in public, even venting his displeasure in a phone call to the central bank leader, new reports indicate.
In a March 8 phone call, Trump reportedly told Powell point blank, "I guess I'm stuck with you," according to a story Tuesday evening in the online edition of The Wall Street Journal citing an unnamed person who said they heard the comments in a meeting.
The phone call came after rising concern over the U.S. job market triggered the biggest weekly stock drop of the year, Bloomberg reported.
It's no secret Trump has not been a fan of Powell, having publicly blasted the Fed and its chairman for hiking rates last year.
But the Fed has since taken steps that would appear to be following the president's suggested playbook,  backing off on plans to continue boosting interest rates and holding back on shrinking its portfolio of assets built up during the Great Recession and its aftermath as a way of expanding monetary supply.
However, Trump's dissatisfaction with the Fed chief appears to be waxing rather than waning, according to the Journal report, with the president complaining to staffers, supporters and Republican senators that the Fed has been a wet blanket on stocks and economic growth, which, in turn, has helped expand the federal budget deficit. The Journal also cited as sources administration officials.
Trump's comments and actions, combined with the Fed's recent reversals on interest rates and asset sales, have raised concerns among market observers that political pressure may be influencing the central bank's decisions -- an idea Powell has disputed. Trump's statements also are raising concerns that he might want to fire Powell, a move that could have wide-ranging implications, both legally and for global markets.
"Trump also has to consider what it would mean to the market in terms of uncertainty were he to formally consider removing Powell," Chris Versace, chief investment officer at Tematica Research and a columnist for TheStreet's Real Money premium site for active traders, told TheStreet in late December.
"The market is grappling with a number of issues and uncertainties as it is, and removing a Fed chair that has been on the job for just under a year would only add to them," Versace said at the time.