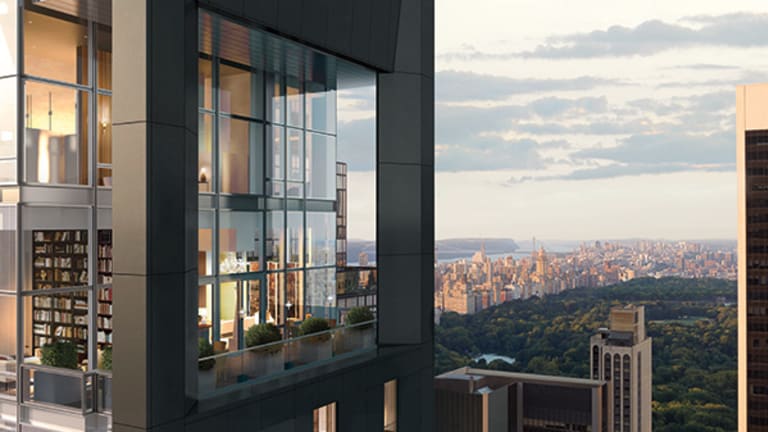 The Commercial Real Estate Risk Pushing the Fed to Raise Rates
Eight years of low rates fueled a commercial real estate boom. Reining it in now might keep the U.S. economy safer in the long run, the Boston Fed chief says.
Will the risk of overheating in the U.S. commercial real estate market prompt the Federal Reserve to move more quickly on rate hikes despite lackluster economic growth?
Perhaps, says Boston Fed President Eric Rosengren, it should.
Eight years of extremely low interest rates have pushed commercial real estate prices up rapidly, and they might also decline rapidly if economic conditions change, Rosengren said in remarks prepared for an event hosted by the Shanghai Advanced Institute of Finance this morning in Beijing.
Because many banks hold real estate debt, they might sustain losses that force them to decrease consumer lending, sending shock waves through the consumer-driven U.S. economy.
While Rosengren, a voting member of the U.S. central bank's monetary policy committee, isn't predicting such an event, it could "make a recession worse than it would have been had policymakers normalized interest rates more rapidly," he noted.
It's an important consideration for the Federal Reserve as its monetary policy committee weighs what would be only its second hike in short-term interest rates since they were cut to nearly zero to bolster the economy during the 2008 financial crisis. 
While the central bank indicated it might raise rates as many as four times this year after a 25 basis-point boost in December, it later halved the forecast amid market volatility.
Rates, which now range from 0.25% to 0.5%, haven't been touched since, though Fed Chair Janet Yellen said this month that a strong labor market strengthens the case for an increase. Still, price inflation, the other half of the Fed's monetary policy calculus, remains below the central bank's 2% goal, as Rosengren noted.
"Given the persistently weak economic growth in the United States during the recovery from the Great Recession, it has been appropriate to be patient about normalizing rates," he said. That leads to other risks, however, particularly for financial institutions.
Banks from Citigroup (C) to JPMorgan Chase (JPM) and Bank of America (BAC) , which typically benefit from passing on rate hikes more quickly to borrowers than to depositors, have found an important revenue stream crimped for close to a decade.
EXCLUSIVE LOOK INSIDE: Citigroup is a holding in Jim Cramer's Action Alerts PLUS charitable trust portfolio. Want to be alerted before he buys or sells the stock? Learn more now.
Net interest margin, a gauge of lending profitability, tightened from 3.44% in 2008 to 2.54% in the first quarter of this year for the four biggest U.S. banks, according to analysis by TheStreet.
At the same time, investors from institutions such as pension funds and insurance companies to individual consumers have seen returns dwindle on the safest long-term investments, prompting many to move money into riskier assets to boost yield.
"A key risk to an environment characterized by reaching for yield is that, should a large negative shock occur, firms and households would be exposed to greater losses through their holdings of riskier assets," Rosengren said. "To the extent that reaching for yield is more likely in a low interest-rate environment,
policymakers may need to weigh this particular risk related to low rates against the benefits of
supporting the economy."
Of the $3.6 trillion in U.S. mortgages on commercial real estate, apartments and condominiums as of the end of March, slightly more than half was held by banks, with the rest distributed among life insurers, pension funds and companies including Fannie Mae, government data shows.
The potential danger that could cause in a sudden downturn in real estate, one of the biggest U.S. markets, was illustrated during the financial crisis when the collapse of a housing bubble driven by easy credit led to widespread mortgage defaults.
In the years leading up to the crisis, financial institutions had been packaging mortgages of widely varying quality into securities, which were then sold to Wall Street and other investors, enabling them to record profits immediately.
Since the lenders weren't holding the loans they made on their own books, they were less concerned with borrowers' ability to repay, and home buyers often purchased residences beyond their means, believing that a continuous surge in the housing market would enable them to refinance before the higher rates on adjustable-rate mortgages kicked in.
The mortgage market for one- to four-family homes widened 46% to a peak of $11.3 trillion in the four years through March 2008, according to Federal Reserve data.
As the housing market contracted, though, buyers dried up and borrowers were stuck with loans they couldn't pay. Defaults surged and mortgage-backed securities became impossible to value, threatening many of the firms that held them, including investment bank Lehman Brothers, which collapsed.
Afterward, the government spent billions on bailouts of other financial institutions to protect the broader economy during a downturn so severe it became known as the "Great Recession."
"Many financial institutions experienced large losses," Rosengren said. "These real estate-related losses within financial intermediaries led to credit availability problems for households and businesses that contributed to the severity of the Great Recession."
That shows the importance of considering the Fed's goals of maximum employment and stable growth not only "at the current time, but also through time," he said. "Policymakers must weigh the benefits of low interest rates now against the potential costs in the future of possibly spurring financial instability."