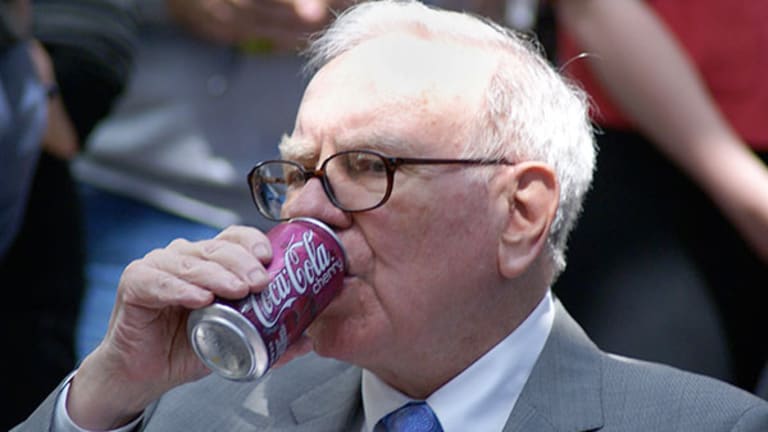 The $15 Trillion Security Warren Buffett Considers Radioactive
The credit derivatives market is worth trillions, but are they really a time bomb waiting to decimate the financial markets? Warren Buffett's warnings haven't scared Citigroup.
Billionaire Warren Buffett has long warned that derivatives -- complex financial instruments whose value is based on underlying assets from stocks and bonds to gold -- are "time bombs" that require cautious handling, but that hasn't kept companies from using them.
"These instruments will almost certainly multiply in variety and number until some event makes their toxicity clear," the Berkshire Hathaway (BRK.A) CEO, who recently exited his remaining credit-derivative contracts, said in 2003. "Derivatives are financial weapons of mass destruction, carrying dangers that, while now latent, are potentially lethal."
The financial crisis five years later illustrated the validity of Buffett's assessment, with arcane instruments like mortgage-backed securities and credit-default swaps becoming almost household terms.
Today, though, the financial system still holds massive amounts of derivatives, with the global market valued at nearly $15 trillion. Citigroup (C) has become the largest U.S. holder of the instruments, a position fueled by the purchases of large portfolios from European lenders Credit Suisse (CS)  and Deutsche Bank (DB) . 
While the market encompasses securities from futures contracts to stock options, it's one particular type -- credit-default swaps -- that have drawn the most pointed criticism in recent years. The swaps, which function as insurance to protect purchasers against losses in other securities, gained notoriety when insurance giant AIG (AIG) -- a prominent issuer -- required a $182 billion bailout to meet its payout obligations during the crisis.
"Credit derivatives ought to be more of a concern for regulators than other kinds of derivatives," University of Colorado-Boulder law professor Erik Gerding said in a phone interview. "Credit derivatives allow parties to offload risk and to extend more credit. Increases in credit can turn a normal market into a booming market, and even into a bubbly market."
The securities should be viewed somewhat like nuclear power, he said, employing a metaphor similar to Buffett's. 
"Nuclear power is great," Gerding noted. "But you better really understand the technology, and you better have all sorts of devices that check for potential human error."
Citigroup had securities with notional values totaling $55.6 trillion as of the first quarter, followed by JPMorgan Chase (JPM) with $52.4 trillion, Goldman Sachs (GS) at $52.3 trillion, and Bank of America (BAC) at $43 trillion.
A "small group of large financial institutions continues to dominate derivative activity," the Office of the Comptroller of the Currency noted in its first-quarter report on bank trading.
In the U.S., which has a market for credit-default swaps of nearly $2.6 trillion, according to the Bank for International Settlements, post-financial crisis reforms have attempted to curb the potential risk. The Dodd-Frank Act, for instance, requires that over-the-counter derivatives be traded through an exchange or clearing house, while setting collateral standards for those that aren't.
In credit derivatives alone, JPMorgan Chase had $3.1 trillion in holdings, compared with Citibank's $2.1 trillion, according to the Currency Comptroller's Office.
While the amounts are staggering, it's important to remember that notional value may be exponentially higher than market value because it calculates the total dollar amount invested in the derivative contract, not the potential purchase price. That's in part because numerous derivatives can be applied to the same assets. 
For example, an investor might hold 100 options to sell an oil company's stock as $10 a share and 100 more options to buy it at the same price. The securities would have a notional value of $2,000, but their market value wouldn't be determined until they were exercised, at which point, the price of the underlying stock would prove critical.
If the stock were trading at $8 a share, the "buy" options would be worthless, notional value notwithstanding.
It's a system that prompted Huffington Post founder Arianna Huffington to observe in the wake of the financial crisis that America's problem is that "it stopped making things, and started making things up."
EXCLUSIVE LOOK INSIDE: Citigroup is a holding in Jim Cramer's Action Alerts PLUS Charitable Trust Portfolio. Want to be alerted before he buys or sells this stock? Learn more now.
While financial services companies value derivatives as useful hedges against potential losses, they also enable casino-size bets.
"We have a huge amount of legalized gambling," Buffett's partner Charlie Munger, Berkshire's vice chairman, said earlier this year. "Instead of betting on horses or prizefights, we can bet on the price of securities or the price of derivatives relating to securities."
That's one of the reasons why, in the second quarter of this year, Omaha, Neb.-based Berkshire said it terminated $195 million in credit-default swap contracts after a mutual agreement with an unidentified counterparty.
Berkshire still has liabilities of $4.4 billion in equity-index put options, which are simpler contracts that rely on the four major equity indexes, the company said in its recent SEC filing. A put option is a contract to sell an asset at an agreed price in the future.
New York-based Citigroup, meanwhile, purchased a credit-default swap portfolio earlier this month with a notional value of roughly $380 billion from Credit Suisse, according to Bloomberg, as the Switzerland-based bank struggled with excess risk and pressure from investors. The price wasn't disclosed.
Citigroup, which received a $45 billion bailout during the crisis, is still paring the unit where it grouped non-core assets including those that lost value when the housing bubble collapsed, though the lion's share have already been shed and CEO Michael Corbat has emphasized the company's renewed strength. 
Last year, the bank purchased a credit default swap portfolio of $250 billion from Deutsche Bank, which has struggled with litigation issues and profitability.  
"Citigroup is taking advantage of its excess capital position," and the move will benefit earnings, Rafferty Capital Markets analyst Dick Bove said in an interview. Derivatives bolstered Citigroup's second-quarter earnings as markets and securities revenue grew by 10% to $4.7 billion, executives said on an earnings call. 
The use of such instruments continues to increase because they serve a financial need, Bove argued. 
"As a result of all the regulations put in place, there are fewer derivatives being created simply for the purpose of creating a financial profit," Bove said in a phone interview. "If the contract is based around a genuine commercial need, industrial need, manufacturing need, it's a lot safer because you do have a different type of collateral than if the derivative was put in place simply to generate a financial profit." 
For example, a pure-profit derivative is one that hedges against another derivative contract. 
Bove says that Buffett's comments may be somewhat hypocritical, since one of his main businesses is insurance and derivative contracts can be seen as alternatives to insurance.
"Who is the derivatives industry's biggest competitor?" Bove asks. "The insurance industry. They insure debt, they insure financial instruments."
No matter who is right or wrong, Gerding said that if regulators and the markets don't monitor credit derivatives carefully, a market downturn could prompt financial institutions to deleverage rapidly, causing the markets to go "from boom to bust very, very quickly."